JOHN H. GROVES, Private, Company "B"
---
Submitted by Dr. William L. Baran.
(Compiled Military Service File 962)
Pvt. John H. Groves was listed as 18 years of age when he enlisted as a recruit 10th of February 1864 in the town of Wheeling, West VA. He was born in Monroe Co. OH, occupation farmer. He had blue eyes, brown hair, fair complexion and was 5 ft 7"tall. He was mustered into Co. B First Regiment of Virginia Cavalry Volunteers on the 16th of February 1864 at Wheeling, W. VA. as a Recruit. He was listed on the company Muster Roll Sept 1864 with remarks: Recruit First roll on which borne. His last company roll was Nov–Dec 1864 as present. He was placed on the company Muster-Out Roll Wheeling W. VA July 8, 1865 with Remarks: Recruit died whilst a prisoner of War. Died May 10, 1865 at Emory Hospital, Washington D. C. of Typhoid Fever. (x cancelled by red line).
Was listed on Hospital Muster Roll March-April 1865 station W. City Point VA. attached to hospital Apr. 14, 1865. Present Section B. Ward 10.
Record of Death and Interment: John H. Groves Ward G Emory Hospital from 1st Va Cav. Private Co "D" (sic Co B). Single; David Groves Bondsville, Belmont Co., OH given as next of kin (father). 18 years of age, cause of death Typhoid Fever Nativity; American date of death and burial May 10th, May 12th 11 AM 1865.
Memoranda: one pocket book; one uniform jacket, one trowsers, one suspenders. Items in care of Surg. N.R. Moseley. Items sent to father David Groves of Bondsville, Belmont Co. OH.(David Groves listed in 1850 Census Index Monroe Co., OH. G612 Washington Twp. P. 381.) He received them on June 19th, 1865. Pvt. Groves was officially discharged at Clouds Mills, VA 2nd day of June 1865.
Looking at the hospital report below he was admitted on May 7th 1865 from City Point. He may have contacted the typhoid fever while serving in the Section B, Ward 10?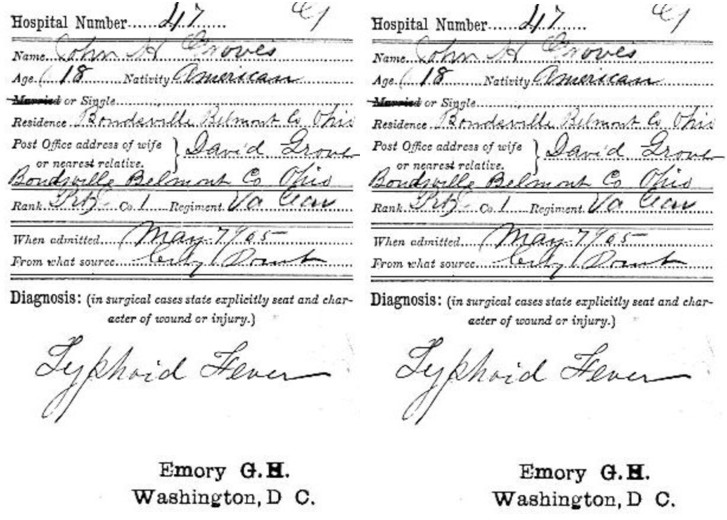 ---