JOHN JOHNSTON, SERGEANT, Company "K"
---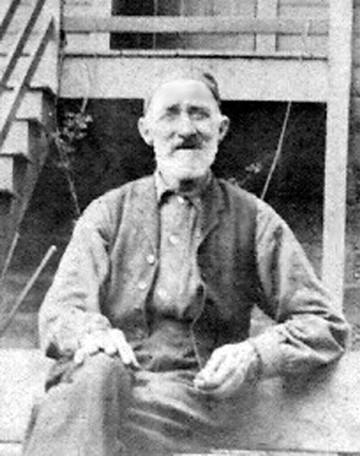 Submitted by Diana Devine.
JOHN JOHNSTON married Marie Robinson in Ohio County, West Virginia on 4 Apr 1867 and they made their home at 18 Vermont Street on Wheeling Island. They had 6 children: Armour b: 16 Mar 1868, d: 20 Jan 1918; Robert Robinson (my grandfather) b: 01 Jul 1870, d: 13 Dec 1948; Jesse Hall b: 26 Sep 1874, d: 24 Feb 1965; Sarah Jane (Johnston) Welsh b: 30 May 1877, d: unknown; John Johnston, Jr. b: 25 Aug 1879, d: 23 Feb 1918 and Anna Marie b: 27 Feb 1882, d: 06 Jan 1959. John and Anna never married. Armour married but his wife died young, they had no children and he never married again. Jesse and Sarah married but Jesse had no children; not sure about Sarah. Robert, my grandfather, is the only one who had children and they were late in his life. He met my grandmother when she was too young to marry and just waited around for her to get old enough to marry. She was 19 and he was 32 when they married.
The death of John Johnston occurred in May 1913 and he was was interred at Mt. Wood Cemetery, Wheeling on 29 May 1913. His wife, Marie was buried there on 14 April 1891.
---
Submitted by Karen Graham.
John Johnston is named in the biography of his brother Robert, also in Company "K" 1st West Virginia Cavalry.
Robert Johnson - Was Born Aug. 31, 1839, at Wheeling, W. Va., where he was married Jan. 11, 1870, to Elizabeth Watterson, also a native of Wheeling, born in 1842. Their union was blessed with five children, namely: Mary J., Reby N., dec., James G., Margaret and Catherine B. Comrade Johnston's parents, William J. and Mary J. (Armour) Johnston, are deceased, as are also his wife's parents, Robert and Mary (Fletcher) Watterson. May 21, 1861, while living in Ohio county, W. Va., emloyed as an iron moulder, Comrade Johnston joined Co. K, 1st Va. Inf., Gen. Morris' Div., for three months as corporal, and was discharged from first enlistment Aug. 27, same year, re-enlisting at the same time and place in Co. K, 1st W. Va. Cav.; he was in hospital four weeks with pneumonia, after which he was granted a furlough for ten days, the same being renewed on account of sickness; he was on special duty from spring to fall of 1862, first as mounted orderly at brigadier headquarters, and then at division headquarters of Gen. Milroy. He took part in the battles of Phillippi, Laurel Hill or Bealington, Carrick's Ford, Worthington, Holly River, Weston, Moorefield, Winchester, Middletown, 2d Winchester, Jeffersonville, Cove Mountain, Lynchburg, Liberty, Salem, Carter's Farm, Kernstown, Winchester, Chambersburg, Moorefield, Winchester, Martinsburg, Summit Point and Martinsburg, recieving his honorable discharge Dec. 27, 1864, at Wheeling. A brother, John, served in Co. K, 1st W. Va. Cav., and was captured at Moorefield in December, 1862, and held until June, 1863, as a prisioner of War. Comrade Johnston is manager of the Bellaire Stove Foundry at Bellaire, O. By strick attention to his business, the firm are securing a good share of the stove trade of that section of the country; he is a faithful member of the U. P. church, being conscientious in the discharge of all his duties. He does not draw a pension, having never made and application.
From family owned book, Presidents, Soldiers, Statesmen, published in 1892 by H. H. Hardesty. -- Presented unedited.
---