JOSEPH SHAW, Company "H"
---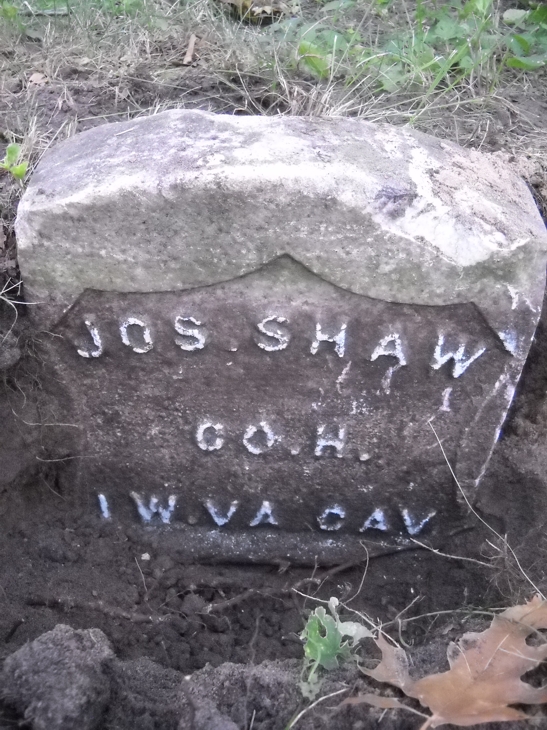 Oak Hill Cemetery in Hammond, Lake County, Indiana.
Submitted by Andy Gappa.
Joseph Shaw was transferred to Company "C" First Regiment West Virginia Veteran Infantry.

The death of Joseph Shaw occurred on March 3, 1911. He received pension certificate 674.982, and his widow received a pension after his death.
---
1st West Virginia Cavalry
JOSEPH SHAW
Son of William and Mary (Coulter) Shaw
Submitted by Virginia Robertson.
Joseph Shaw was born January 11, 1847 in Wheeling, Virginia and lived with his family until he enlisted in the Union Army.

Joseph entered the service on October 3, 1861 at Grafton in the 1st West Virginia Calvary, the same unit as his father and brother Victor. From October 31, 1861 until December 23, 1863, Joseph was present for duty. In April 1864, Joseph was admitted to a hospital at Parkersburg and remained there until June of that year. This may have been after the Battle at Alexandria, Virginia where he became ill from exposure during the fighting. The notation for December 31, 1864 indicated that Joseph was under arrest in the hands of Brig. Prov. Guard, the reason is unknown. He was transferred to the 1st West Virginia Veteran Volunteers January 18, 1865. He mustered out of the Cavalry on July 21, 1865 at Cumberland, Maryland.

Joseph went to Cleveland around 1870 where he stayed in a boarding house and worked as a general labourer. He returned to Belmont, Ohio and married Hannah Boehm on November 17, 1877. The service was performed by Reverend R. G. Wallace. Hannah was born August 3, 1859 in Woodstock, Ontario, Canada, the daughter of David Boehm.

Joseph and Hannah had a daughter Mary in August of 1878. In 1880, Joseph and family are living with his brother in law and sister, John and Mary Archey. He is working as a nail feeder at the local nail factory. A son, Joseph Shannon was born June 11, 1880 in Putney Township, Belmont. Three more children arrived: Christina Hattie on September 1, 1882, George William on August 29, 1885 and Chester Clyde on October 7, 1887. He died later at the age of 3 on April 6, 1891.

The 1900 Census found the family living on Jefferson Street in Bellaire. Joseph was working as a day labourer and several of his children were also working. Around 1910, Joseph and Hannah moved to Gary Indiana. Joseph was working in a mill there. He had suffered from rheumatism and heart problems since serving in the Civil War. On the 3rd of May 1911, Joseph passed away at his home at 637 Adams Street in Gary and was buried at Oak Hill Cemetery, Hammond, Lake, Indiana.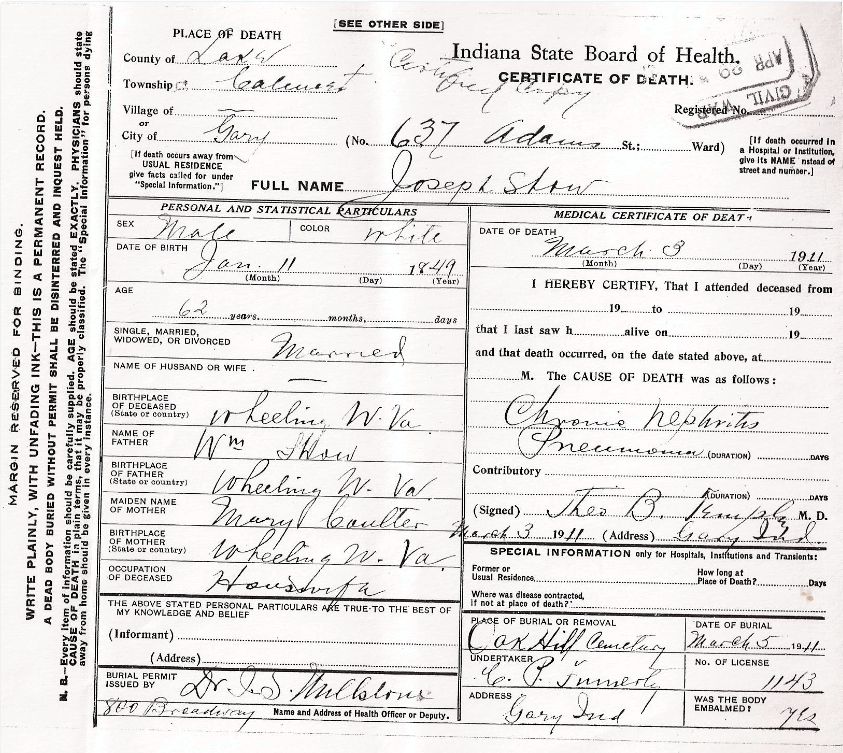 Death Certificate of Joseph Shaw.
After Joseph's death, Hannah moved to Youngstown, Mahoning, Ohio and lived with her daughter Christina and her husband Frank Hernon. Hannah passed away at Christina's home November 11, 1927. The cause of death was Cancer and the informant was Blanche Shaw. Hannah was buried November 14, 1929 in Columbiana County Cemetery.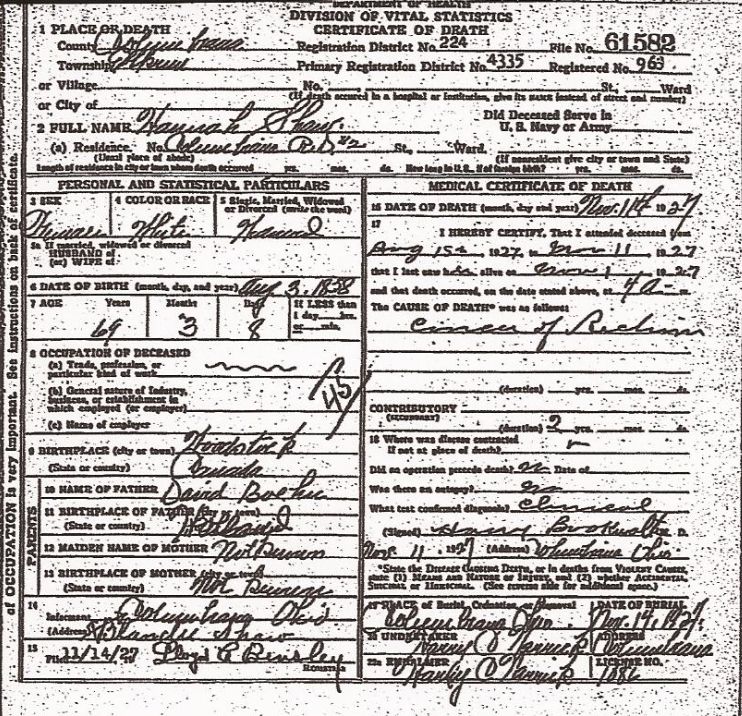 Death Certificate of Hannah Bohem Shaw.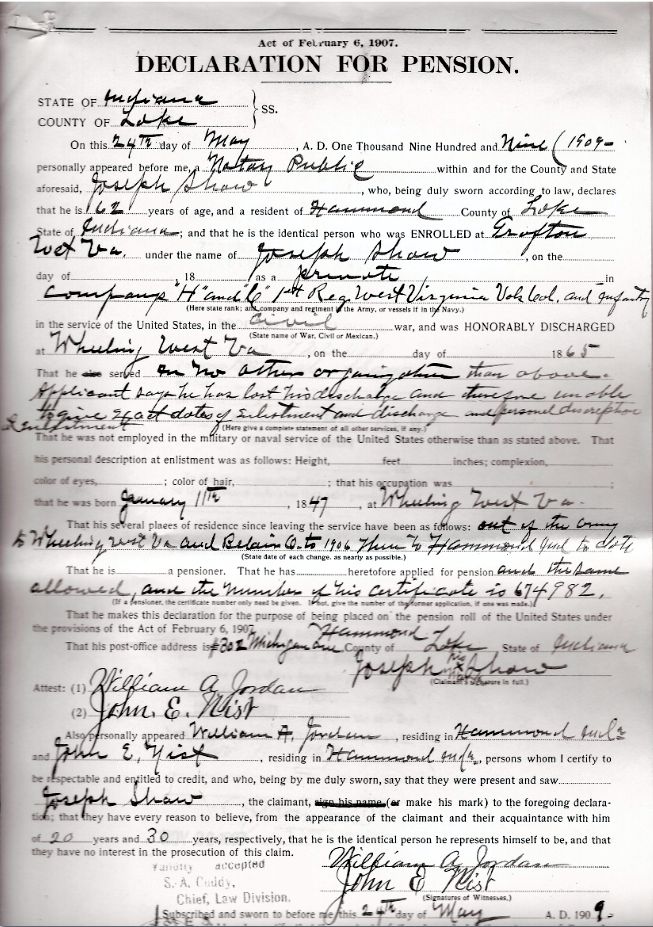 Declaration for Pension.