JAMES SHAW, Q.M. Sergeant, Company "B"
---
FIRST CAVALRY FLAG AUCTIONED ON EBAY, 2008.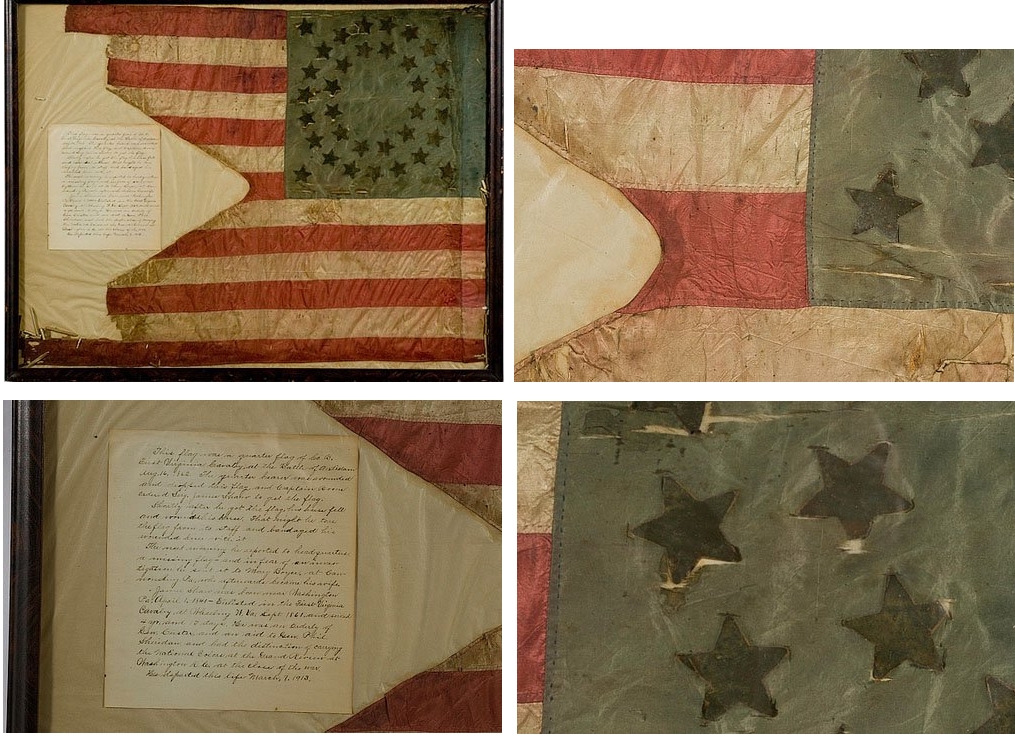 Transcription of Letter
This flag was a quarter flag of Co. B. First Virginia Cavalry at the Battle of Antietam Aug 16, 1862. The quarter bearer was wounded and dropped this flag, and Captain Boone ordered Serg. James Shaw to get the flag.

Shortly after he got the flag, his horse fell and wounded his knee. That night he tore the flag from the staff and bandaged his wounded horse with it.

The next morning he reported to headquarters a missing flag and in fear of an investigation he sent it to Mary Boyce at Cannonsburg, Pa who afterward became his wife.

James Shaw was born near Washington, Pa April 1, 1841 - Enlisted in the First Virginia Cavalry at Wheeling, W. Va. Sept 1861 and served 4 years and 13 days. He was an Orderly of Gen. Custer and an aid to Gen. Phil Sheridan and had the distinction of carrying the National Colors at the Grand Review at Washington, D. C. at the close of the war.

He departed this life March 8, 1913.
Note: Provenance and authenticity not known. No record of service at Antietam on Aug 16, 1862.
---
JAMES SHAW, is named in the biography of the SHAW FAMILY in Commemorative Biographical Record of Washington County, Pennsylvania, by J. H. Beers, 1893; page 1258.
JOSEPH SHAW is one of the most prosperous agriculturists, of Chartiers township, giving especial attention to the raising of fine stock, and is a representative of one of the oldest pioneer families of Washington county. He is the second son of John Shaw, and a grandson of Joseph Shaw, the latter of whom was born in the North of Ireland, and married a Miss Sankey, finally settling in Chartiers township, Washington county.
John Shaw (a son of the above-named couple) was born in 1804, on the pioneer farm in Chartiers township, this county. In 1832 he was married to Sarah Harsha, a native of the same county, and they settled on the home farm, where the following children were born to them: Esther Ann and Jane (both deceased in infancy), William D. (who enlisted in Company A, Eighty-fifth Regiment, P. V. I., serving three years, two months and ten days, married Sarah Bancroft, have two sons and one daughter, and is now living in Adams county, Iowa), Joseph, John H. (deceased at the age of fourteen years), an infant and James (twins, the latter of whom was a veteran of Company B, First Virginia Cavalry; married Mary Boyce, who died, leaving four sons and three daughters; he then married Rella St. Clare, by which union there is one son now living in Guernsey county, Ohio), Sarah Jane (who married J. L. Henderson, and died leaving four sons and one daughter), Harrison Marshall (who died of typhoid fever, at the age of seven years), Thomas (residing on the old pioneer farm, married Hannah Grounds, who died leaving one son, and he then married Jennie W. Agnew, by whom he has one son and two daughters), Rebecca Agnes (deceased in youth), Robert Theodore (a graduate of Washington and Jefferson College, now a physician and surgeon at Silver Plume, Colo., and who has served twice as a member of the Legislature from his county) and Harriet (married about the year 1878 to David Bedow, to whom she bore a son; she died in March, 1880). The mother of this family died of apoplexy in 1869. She was a daughter of John Harsha, whose parents were early pioneers of Washington county, of Scotch-Irish ancestry. John Harsha was a hunter in Kentucky in the days of Daniel Boone, but in his younger life he had learned the trade of chair maker in his native State. He married Esther Ann McMillan, a native of Chartiers township, also a member of an early pioneer family. They died in this county. John Shaw was a Democrat until 1840, when he became a Whig, and upon the organization of the Republican party, he joined its ranks; he was an enthusiastic worker with them, and one of the most patriotic of men, universally respected. In church relationship he was a member of and elder in the United Presbyterian Church of Cross Roads, in Chartiers township. He died in February, 1879.
Joseph Shaw (whose name opens this biography) was born August 10, 1837, on the home farm in Chartiers township, this county, and was educated in District No. 2, that township. On September 13, 1861, he enlisted in Company A, Eighty-fifth Regiment P. V. I., for a term of three years, or during the war, and was assigned to the army of the Potomac under Gen. MacClellan. The army of the Potomac then lay encamped from Fortress Monroe to Newport News, and commenced movement on May 4, 1862. The enemy evacuated his position at Yorktown the night before, and upon discovering this the Union army began a hot pursuit, overtaking them at Williamsburg, where a terrible fight ensued, lasting till night, when the Confederates retreated. The regiment then followed, taking part in a few skirmishes, and finally halted at Fair Oaks. From here, after a fierce battle, they were forced to retreat to Harrison's Landing, the retreat including what is termed the Seven Days Fight. The army soon afterward evacuated Harrison's Landing, proceeding to Fortress Monroe and Hampton Roads. At this juncture, Companies A and F were detailed to guard the hospital at Point Lookout for three months. Companies A and F received orders to join the regiment at Suffolk, Va., and while there had a skirmish with the enemy at Blackwater. In the latter part of January, 1863, they were sent to St. Helen's Island, on a fleet comprising about fifty wooden and iron-clad vessels. They landed February 8, 1863, and saw the engagement which took place at Charleston Harbor, many vessels being engaged, also the bombardment of Ft. Sumpter by Dupont. The Union troops were then in possession of Folly Island. A battery was there ambushed which enabled them to take Morris Island, and there followed the siege with Forts Wagner and Gregg, which were protecting Charleston. Joseph Shaw assisted in building the "Swamp Angel," after the siege. The regiment was then transferred to Hilton Head, where it remained until April 23, 1864. An expedition was then sent to Bermuda Hundred, being the first regiment to land under Gen. Ben. Butler, and afterward took part in the bloody battles near Petersburg. Leaving there they went to Turkey Bend, thence to the Gap, where a heavy fight ensued on Chapman's Farm, at Deep Bottom. In this engagement the Eighty- fifth Regiment captured two stands of colors, but nearly half of those heroic men fell martyrs to the Union cause that fearful day, and Mr. Shaw received a flesh wound. From there they went to Norfolk on duty, and on November 22, 1864, Joseph Shaw received an honorable discharge at Pittsburgh, Penn., and he immediately returned to Washington county. On December 5, 1865, the wedding bells proclaimed the union of Joseph Shaw and Helen Jane McBurney, a native of Canton township, this county, reared and educated in Washington. She is a daughter of Ebenezer and Mary (Maxwell) McBurney, natives of South Strabane township, descended from Scotch ancestors, members of the U. P. Church. The mother died in 1888, and in 1889 the father passed away, while residing at Antelope Gap (his ranch near Goldthwaite, Mills Co., Texas).
Mr. and Mrs. Shaw passed the first years of their married life on the place known as the Samuel Morgan farm, which he sold, and in 1881 he purchased the farm of over 127 acres which he now owns in Chartiers township. Five children have been born to them, viz.: Dr. John H. (a dentist of Pittsburgh, Penn.), Harry McBurney (a farmer), Mary, Florence and Margaret E.; the daughters all attend the Washington Female Seminary. Mr. Shaw has given special attention to raising English Shropshire sheep. He and his wife and family are members of the United Presbyterian Church at Houstonville, and they are now living in that village. Politically Mr. Shaw voted with the Republican party.
Submitted by Linda Fluharty.
---