JOHN KING, Company "K"
---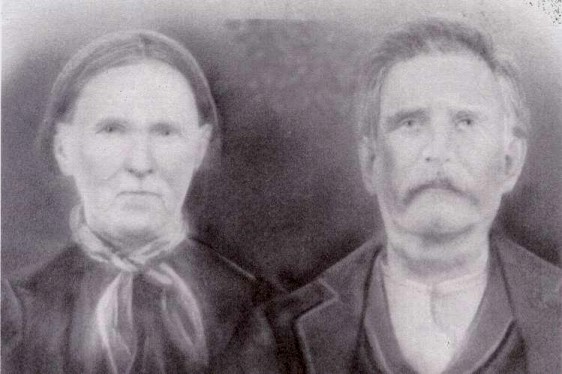 Nancy (Williams) and John King
---
Image and biography provided by Ray King, Grandson of John King.
John King was born 25 Feb 1830 in Harrison County, (W) Va., near Jane Lew, Lewis County. Some say that John said his real name was Tillman Green. They do not know why he said that. His father, Elijah, died before he was born and sources say that no wedding has been recorded for his mother, Nancy Hurst.
John enlisted in the army at Weston, Lewis County, (W.) Va. 30 Dec 1861 as a Private and was discharged at Wheeling in Feb 1863. He re-enlisted and was discharged 8 Jul 1865. He received a gunshot in right shoulder and a saber wound in the right arm. From the government he drew a pension (#448529) of $30.00 a month. Some of the family still has his "Honorably Discharged" Civil War medal, 1861-1865.
He was married to Nancy Williams on 5 Jan 1855 in Weston, Lewis County, W. Va by Rev. Nester. Nancy Williams was born on 12 May 1834 in Monongalia County (W) Va. [Lewis County marriage book gives the date as 2 Jan.]
The children of John King and Nancy Williams were:
Lloyd King.
Frances Marion King.
Alonzo (Lonnie) King.
William Aaron (Bill) King.
Victoria Adeline (Vickie) King.
Anna Bell (Annie) King.
Joseph Howard King.
Emma King, b 12 Dec 1875, Gilmer Co, W. Va.; d 18 May 1895, Gilmer Co, W. Va.
John King died of Dropsy on 8 Mar 1914 in Cox's Mill, Gilmer County, W. Va. He was buried on 11 Mar 1914 in Conley Chapel Cemetery, near Alice, Gilmer County, W. Va. Nancy died on 16 Aug 1908 in Alice and she was buried at the Conley Chapel Cemetery 20 Aug 1908.
OBITUARY
"John King was born in Harrison County W.Va. Feb 25 1830. Died at the home of D. F. Emerson near Alice, March 8 1914, Age 84 years and 11 days. Early in life he was married to Miss Nancy Williams; to this union were born eight children, five boys and three girls. Two children Lloyd and Emma together with his wife proceeded him to the spirit world. He is survived by six children: Alonzo King of Chapel Hill, Braxton County; Howard King, W. A. King, and Mrs. Anna Emerson of Lucerne; Marion King of Glenville and Mrs. Victoria Messenger of Baldwin. Besides his children he leaves a number of grandchildren and a host of friends to mourn his loss. We realize it is hard to give up our loved ones. But God knows best and we should be willing to yield to his will, and after a few days or a few years at the most we have hopes of meeting again in an other and better world. Funeral services were held at Connley Chapel, and were in charge of Rev. Ofa Bennett. After which the remains were laid to rest at the cemetry nearby to await the resurrection of the just. Undertaker Roy B McGee of Lucerne had charge of the remains."
---