WILLIAM D. McKIRAHAN, Sergeant, Company "D"
---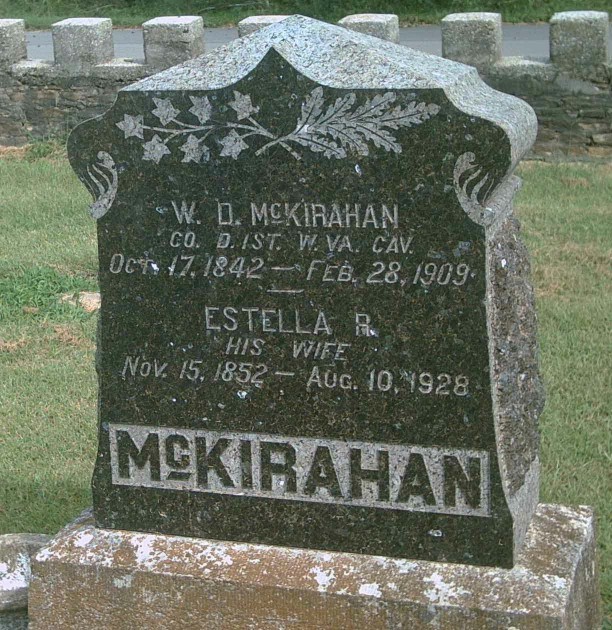 Grace Lawn Cemetery, Howard, Elk County, Kansas.
OBITUARY
The Howard Courant, March 11, 1909, Vol. XXXIX, No. 10
W. D. McKirahan was born in Belmont county, Ohio, October 17, 1842. Died at his home in Howard, Kansas, February 28, 1909, at 4 p. m., age 67 years, 4 months, 11 days.
His parents were members of the Seceder Church, and he was brought up in strict conformity to the teachings of that people.
Early in life he gave his heart to The Savior and became a member of the Church at Demar, Ohio.
On August 15, 1861, he enlisted as a volunteer in Co. D, 1st W. Va. Cavalry. On December 21, 1863, he was discharged that he might re-enlist as a veteran at New Creek, W. Va. Altogether he served three years and eleven months, seven months of which time were spent as a prisoner of war at Danville, Va.
He was educated in the common school, was a graduate of the Iron City Business College, and spent one year at college at Northwood, Logan county, Ohio, and followed teaching for a number of years.
In 1871, he came to Kansas and took a claim and on September 15, 1872, he was married to Miss Estella E. Hand. To this union were born three sons, Burleigh T., Hurley P., and Frank A., and one daughter, Bessie Jane.
In February 1904, Mr. McKirahan began to decline in health, and for five years he has battled with the last enemy, which is Death.
Mr. McKirahan seemed to rest serene in the blessed hope of eternal life. He leaves a wife, four children, together with other relatives and friends to mourn his departure.
The funeral services over the remains of the late W. D. McKirahan were held at the home, Tuesday, March 2, at 10:40 a. m. Elder Gilbert Park, pastor of the Howard Christian Church, made a short, appropriate address, his scriptural text being from Num. xxii. 10. The burial was in Grace Lawn Cemetery, E. M. Stanton Post, No. 23, G. A. R., having charge. The burial service of that order is beautiful and impressive, closing with "taps," or "lights out," by the bugler.
Years ago the leader of the Howard Band blew "taps" on a bugle at the close of the funeral services of the G. A. R., at the burial of an old soldier in Grace Lawn Cemetery, it was perhaps the first time the bugle had ever been heard in that place at a Grand Army funeral service. The late Mr. McKirahan, himself an old soldier, attended the service, and with the other comrades stood with bared, bowed head as the bugle notes softly sang, "Go to sleep." He that day personally requested of the bugler that, if alive when he should come to be buried, he would blow "taps" over his grave. Mr. McKirahan was then a strong man, in comparatively good health, and death seemed far away but he earnestly made the request and the promise was given. And last Tuesday the sad duty was performed, by the same bugler, for his departed friend who had made the request many years ago
Photo & Obit submitted by John A. Jackson.
---