MARTIN RILEY, Company "B"
---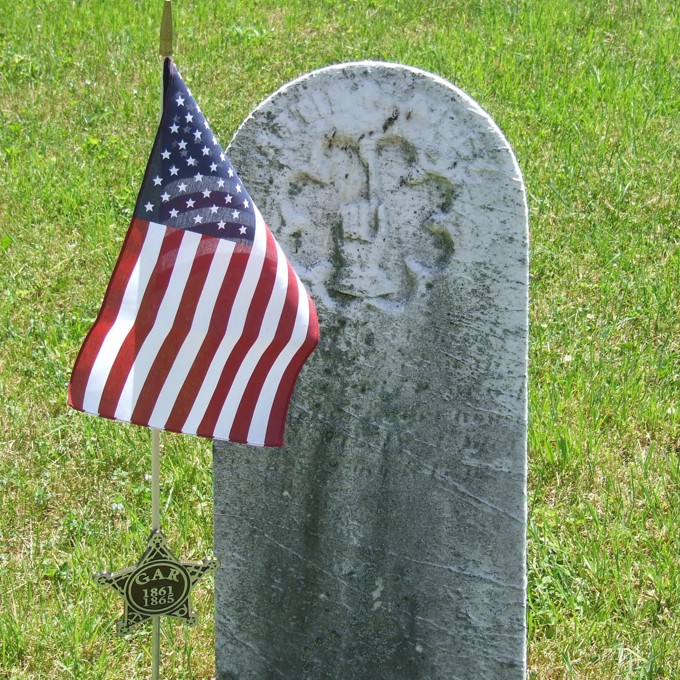 Grave of Martin Riley at Hopewell Cemetery, Center Township, Greene County, Pennsylvania.
Photo & obit provided by Brad Jarvis.
OBITUARY
DIED - On the 20th day of April, 1863, at the Regimental Hospital of 1st Va. Cavalry, Fairfax Court House, Va., MARTIN RILEY, a private of Co. B. [Day of death is 19 or 20]
This young man was one of those quiet and unassuming persons who gain the affections and confidence of all their friends by doing their duty wel and promptly; and to say this of a soldier comprises all tha makes a good one. His constitution had became [sic] somewhat shattered by exposure, incident to camp life in the mountains of West Virginia; but he was ever found ready and willing to do his duty when called upon until within a few weeks, when he had to give up to disease. He was taken into the Hospital, where every possible care was given him by the Surgeon, Henry Capehart, who watched over him as he would over a brother or son. All honor is due to the officers and men of Co. B, for making up enough money to have the body embalmed and sent home to his friends in Greene county, Pa.
S.H.B.
May 6, 1863
---
NATIONAL ARCHIVES PENSION FILE
(partial)

Transcribed by Nola Elliott from pension file provided by Linda Fluharty.
---
Declaration for Mother's Pension
No. 22,821
ACT OF JULY 14, 1862
Nancy Iams, (Greene Co. Pa.) Mother Martin Riley, Co. B. 1 Va. Cav Vols. Died at Fairfax C.H. Va April 19,1863 of a fever.
PENSION OFFICE,
June 1, 1863.
Respectfully referred to the ADJUTANT GENERAL, for official evidence of service and death.
Joseph H. Barnett, Commissioner.
RECEIVED, May 28, 1863 Black & Phelan Waynesburg, Pa.
(Back of page)
No. 33844
Pennsylvania
Nancy Iams
Mother of Martin Riley
Rank Priv.
Company "B"
Regiment 1 Va. Cav. Vols
Pittsburgh Agency
Rate per month, $ 8
Commencing 20 April 63
Certificate dated 9 Nov. '64
and sent to Black and Phelan, Waynesburg Pa.
Act 14th July, 1862.
Book B Vol. 5 Page 49
---
ADJUTANT GENERAL'S OFFICE
Washington, D.C.
September 4th 1863
Sir:
I have the honor to acknowledge the receipt from your Office of application for Pension NO. 22,821, and to return it herewith, with such information as is furnished by the files of this Office
It appears from the Rolls on file in this Office, that Martin Riley was enrolled on the 6th day of August, 1861, at Washington, Pa. in Co. "B" 1st Regiment of Virginia Cav. Volunteers, to serve Three years, or during the war, and mustered into service as a private on the 19th day of September, 1861, at Wheeling Va., in Co. "B", 1st Regiment of Virginia Cav. Volunteers, to serve Three years, or during the war. On the Muster Roll of Co. "B" of that Regiment, for the months of March & April 1863, he is reported "Died, April 20, 1863, of Typhoid Fever"
I am, Sir, very respectfully, Your obedient servant,
Sam Meek
Assistant Adjuant General
The Commissioner of Pensions, Washington, D.C.
Memoranda
Name of applicant: Nancy Iams
Address: Waynesburg, Greene Co. Pa.
---
Affidavit
Additional Evidence in the support of the claim of Nancy Iams for a Pension on account of dependence upon her Dearest son Martin Riley. Dec'd
State of Pennsylvania
County of Greene
John Riley being duly affirmed saith his means of knowing the dependence of Nancy Iams on her dearest son Martin Riley. Dec'd, for support arises from his intimate acquaintance with the party - the said Nancy Iams and Martin Riley. Mrs. Iams is the sister of the deponent and she and her son lived a portion of the time before the departure of Martin Riley on a farm which deponent rented for them and the mother of deponent, and all the time since the death of her husband of the said Nancy Iams (which event took place about four years ago) these parties lived in the immediate neighborhood. My sister is an aged woman and is not able to do much for herself, and this son was the only means she had for affording her the means of a livelihood when he went into the army and while he was in the army before his death.
Affirmed
November 28th 1863.
Simon Rinehart, J.P.
John C. Riley
---
Affidavit
State of Pennsylvania
County of Greene
Daniel Owen being duly affirmed saith that he has for the past nineteen years been well acquainted with Nancy Iams the mother of Martin Riley, Dec'd, both before and since her marriage to Rezin Iams Dec'd (whose death took place some four years ago). The deponent lived in the house of the father of Mrs. Iams before she was married and has been intimately acquainted with her and her circumstances from that time to the present. At the time of the death of her husband, she was left without means other than the little ?? she could do herself, except that by said deceased son Martin Riley. She is now an old woman and not able to labor much and from thence her dependence upon her said sons labor at the time he went into the service of the country -- this dependence was known to the deponent from his intimate acquaintance with the parties above affirmed to.
Affirmed
November 28, 1863 before me
Simon Rinehart, J. Peace
Daniel Owen
---
Affidavit
State of Pennsylvania
County of Greene
Personally appeared before me a Justice of the Peace in the said County of Greene, Richard Iams of Morris Township Greene County Pa.who being duly sworn says: That he is intimately acquainted with Nancy Iams and with her son Martin Riley, before he went into the Military Service of the United States in the Company of Capt. ? (Co. B) 1st Va. Cavalry. The said Nancy Iams whos son Martin lived on my farm two years - having left it about a year before Martin went into the service. Martin lived with me and worked for me during the time he and his mother lived on my farm. This circumstance makes me to know that during the above mentioned period Mrs. Nancy Iams, the mother, was wholly dependent upon her said son Martin for her support. I paid his wages to her, which enabled her to support herself. I have no doubt from this and other circumstances also known to me that this said Nancy Iams was wholly dependent on her said son for support. After they left my place, they lived in my immediate neighborhood, and I know that Martin still continued to support her up to the time he went into the service as above stated. The said Martin was under age at the time he entered the military service of the United States. I have no interest in this application.
Affirmed before me February 13th 1864
John I. Worley, Justice of the Peace
Richard Iams
---
PITTS
WAR OF 1861
Brief in the case of Mrs. Nancy Iams, Mother of Martin Riley, private in Co. B 1 Va. Cav., Greene County and State of Pa. Act of July 14, 1862
Post Office address of Applicant, Waynesburg, Pa.
Claim for Mothers Pension
Declaration and Identification in due Form
Proof Exhibited
Service
The Rolls of the Adjut.Genl. show that the soldier was mustered Sept. 19, 1861 and that he died April 29, 1863 of Typhoid Fever.
Dependence
Relationship Widowhood ? and that soldier left no widow nor any minor child shown by credible witnesses
Attorney
Black & Phelan
Admitted Nov. 5, 1864, to a Pension of $ 8.00 per month, commencing Apr. 20, 1863
Black & Phelan Waynesburg, Pa.
---