AARON NEWMAN, Company "B"
---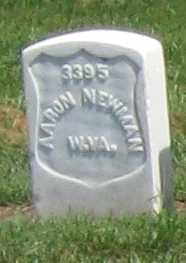 Grave at Andersonville National Cemetery
Aaron Newman, the son of Abraham and Catharine Newman, was born in Washington County, Pa. At the time of the 1860 census of West Finley Twp., his siblings, all older, were William, George and Samuel.
At age 21, he enlisted 3 Feb 1864 to serve in Company "B" 1st West Virginia Cavalry. He was 6 feet tall, with fair complexion, hazel eyes, brown hair; occupation farmer. Missing in action 10 May 10 1864 at Wytheville, Virginia. Died in Andersonville, Georgia prison 16 July 1864. Buried in grave # 3395.
Aaron's father, Abraham, also served in Company "B." He died of illness in October 1864. Brother, Samuel, of that company died 6 Sep 1864, at Martinsburg, W.Va., from gun shot wound to the bowels sustained 5 Sept 1864 in a battle at Bunker Hill, near Martinsburg.
The Civil War medals of Abraham, Samuel and Aaron, issued by the state of West Virginia, are owned by David Aeberli.
---