THOMAS D. PUGH
2nd Lieutenant, Companies "A" & "G"
---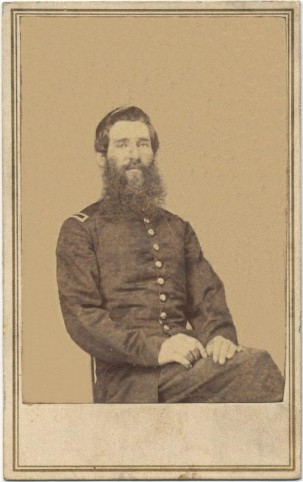 Thomas Danks Pugh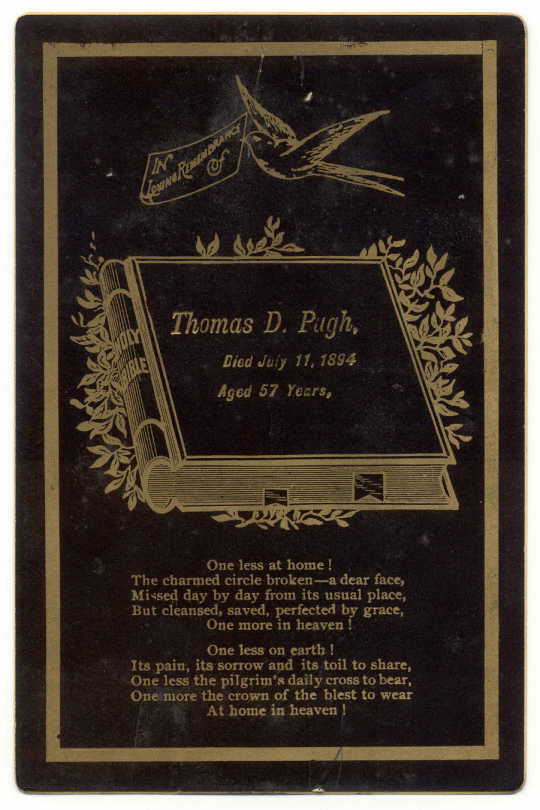 Memorial

Carte de Visite, Memorial and Biography provided by Joanna L. Ross.
LOST FILE. PLEASE SEND PHOTO AGAIN!
---
Thomas Danks Pugh was born May 27, 1838 in Virginia to John Pugh and Mary Ann Jones. John and Mary Pugh immigrated from Wales to Fayette county, Pennsylvania in 1832. John apparently owned a foundry close to the West Virginia/Pennsylvania border. Thomas had about nine siblings.
Thomas enlisted July 18, 1861 from Uniontown, Pennsylvania as a Sgt.; re-enlisted on February 24, 1864; promoted to 2nd Lieut. in December 1864; discharged July 8, 1865.
Following the war, Thomas was a member of the Will F. Stewart Post 180, G. A. R.
Thomas married Mary Price in 1870, a daughter of West Virginia senator, William Price and Catherine Brown of Core, West Virginia. They began their family at Oak Hills farm in Springhill, Fayette County, Pennsylvania, which was his father's farm. Later they would live in Cheat Neck which was just across the border in Monongalia county, West Virginia. Thomas and Mary owned a farm there and had four children: Anna Catherine who married Edgar Lowery Williams of Fairchance, Pennsylvania; William John who died in young adulthood while studying at seminary; Louther Brown Pugh who married Estella Marple, and Elizabeth Jane Pugh who became a college professor and lived in Pittsburgh and Morgantown.
Thomas died on July 11, 1894. He was buried beside his parents in the church cemetery at Springhill Furnace Presbyterian Church in Fayette county, Pennsylvania. Their plot is surrounded by a wrought iron fence crafted at the Pugh's foundry. Mary Pugh continued to live in Cheat Neck, West Virginia. She died about 1914 and was buried in the Old Oak Grove Cemetery, Morgantown, West Virginia. All four of Thomas and Mary's children were later laid to rest at Oak Grove Cemetery. Both Thomas and Mary were devout Christians who were active members at their church in Cheat Neck.
I am Thomas' great great grandaughter through his daughter Anna Catherine Pugh Williams. If you would like to exchange information about these families, please contact me - Joanna Ross.
---