DAVID R. RANDALL, Company "I"
---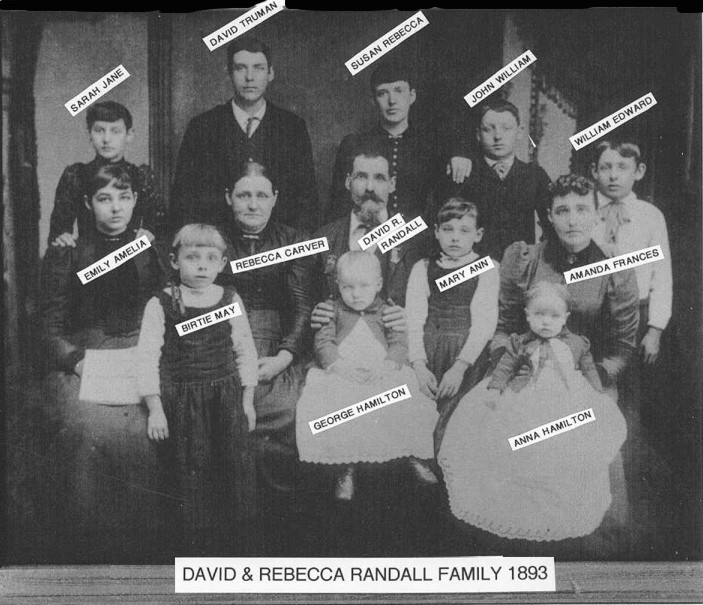 Submitted by David Machin.
David R. Randall, the son of William and Lucinda Randall, was born 18 May 1842 and died 25 Sep 1928. At the time of the 1850 census, the family was residing at Hampshire County (W) Virginia.
#1433/1433
William Randle, 34, Laborer, b VA
Lucinda, 33, b VA
James, 12, b VA
Sarah, 11, b VA
William, 9, b VA
David, 7, b VA
Levi, 5, b VA
Mary, 3, b VA
Harriett, 2, b VA
Peter Flanagan, 26, Blacksmith, b Germany
David married Rebecca Carver, born 3 Feb 1847; died 12 Aug 1910.
The children of David and Rebecca were:
Elizabeth Catherine Randall, b 5 Jun 1868; d at Cabin Run, W.Va. 13 Mar 1870
Amanda "Mandy" Frances Randall, b 26 Nov 1869; d 16 Oct 1945
Susan "Susie" Rebecca Randall, b 15 Oct 1872; d 8 May 1913
David "Davie" Truman Randall, b 21 Aug 1874; 31 Nov 1944
Emily "Emma" Amelia Randall, b 1 Jun 1876; d 14 Feb 1955
Sarah Jane "Jenny" Randall, b 16 Sep 1878; d 9 Aug 1968
John William "Johnnie" Randall, b 17 Jun 1880; d 6 Jul 1971
William Edward "Tip" Randall, b 5 May 1882; d 7 Jun 1948
Mary Ann "Molly" Randall, b 7 Feb 1884; d 1 Oct 1902 (cause: Asthma)
Birtie May Randall, b 12 Jan 1886; d 24 Jun 1964 (Married John Samuel Machin)
---
David Randall's Rife - Owned by David Machin.
---
In 1893, David Randall, a resident of Maryland, applied for and received a government pension, Certificate #908271.
David and Rebecca are buried at Frostburg, Maryland.
---
WILLIAM & LUCINDA (URICE) RANDALL'S FAMILY
Parents of David Randall.

Written by EMMA (MACHIN) STEMP
As told by JOHN SAMUEL MACHIN
David Randall's grandparents were in a group of several hundred mixed up in a rebellion in Ireland. They were deported from that country and settled in the "Valley of Virginia" in the late sixteen hundreds.
Grandfather's father, William, was born at Cabin Run, W. Va., near Keyser. From there he moved to New Creek, W. Va., where he became a sharecropper.
Grandfather told of the time he and his brother, Levi, were playing along New Creek and the water was high. Levi fell in and grandfather ran down the road and crossed over on a fallen tree. As Levi came by he got hold of his collar and pulled him out. He was pretty well gone, but Grandfather got him over a log and worked him across it until the water came out of his lungs.
Grandfather had quite a number of brothers and sisters, but the only ones I recall (this is being told by his son-in-law John Samuel Machin ) were Tom, Levi, Jane and Susan, James Henry. Susan, Jane, Tom and James Henry all married and went to Illinois.
Levi married and went to Hutchinson, Kansas. He had two daughters. One went up in a balloon. She was coming down in a parachute and it didn't open and she was killed. His other daughter was killed in an accident on a ferris wheel. Levi got had a spot of cancer on his neck and the worry of it caused him to shoot himself.
James Henry, had six children. Jennie, Lily, Molly, Will, Hershel & Burke. They lived at Cross, W. Va. Lily married Charles Orville Tasker. Charles brother, George was the father of Charlie Tasker. Mary Wilson, daughter of Pete & Susan Wilson married Charlie Tasker Charles's nephew.
When Grandfather was 20 years old, he joined the Virginia Cavalry, Company 1, during the Civil War. He had 14 horses and a mule shot out from under him. When he returned from the war he married Rebecca Carver who was from the Valley of Virginia. Her grandparents had also come from Ireland. During the war she stayed with Kalbaugh's at Cross. The rebels raided Kalbaugh's farm several different times. Grandmother was a strict, stern, religious person.
Grandfather's daughter, Susan Rebecca, married Pete Wilson. They were the parents of Alice, Mary, Josephine, David & Thomas. Pete and Susan died a year apart, Pete died of typhoid fever on Westernport Hill in April 1912. Susan died of tuberculosis of the intestines in Franklin on May 8, 1913.
Grandfather's daughter Elizabeth Catherine, died at the age of two at Cabin Run.
Mary Ann (Molly) died of asthma when only 18 years of age.
Bertie May, youngest daughter married she continued to stay with her parents. Grandfather lived to be 86. His main recreation was chopping wood. He was at this work when he got a hemorrhage of the brain. He lived in a coma for about four hours before he died. He was a wonderful man.
---