HENRY REXROAD, Company "B"
---
Submitted by Dr. William L. Baran.
(Compiled Military Service File 2113.)
Henry Rexroad was born in Highland County, VA and listed as 18 years old when enlisting on March 8th 1865 in the town of Wheeling, in the state of W. VA. He enlisted for only one year. The soldier has gray eyes, Black hair, florid complexion, is five feet and 11 inches high. Recruit is entitled to a bounty. Occupation is Farmer.
His enlistment was credited to 40th ward in the town of Weston in the County of Lewis, 1st congressional district, State of West Virginia. He was paid $33.33/100 and due $66.66/100.
Appears on Hospital Muster Roll: USA General Hospital, Cumberland, MD. For March and April 1865 being attached to hospital Apr 25, 1865 and present.
Appears on Returns as follows:
March 1865 Gain recruit from depot. Absent in Remount Camp.
Apr. 1865 Absent in Remount camp.
May-June 1865 Absent sick in Hospital at Harpers Ferry, VA
Appears on Co. Muster-out Roll dated Wheeling W.VA July 8, 1865 due 49/100.
Recruit absent sick in hospital not officially informed where.
Appears on Individual Muster-out Roll Cumberland, MD June 5, 1865 Remarks: No record of clothing or bounty on this list. No evidence of payment on file at the Adjt. Name not taken up on any company roll. Muster out USG Hospital Cumberland, MD Under 6.77 CS ACS AGO.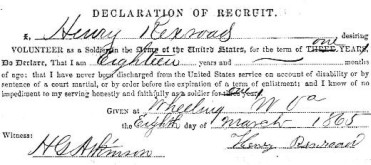 ---
Linda Cunningham Fluharty, © August 2007
---