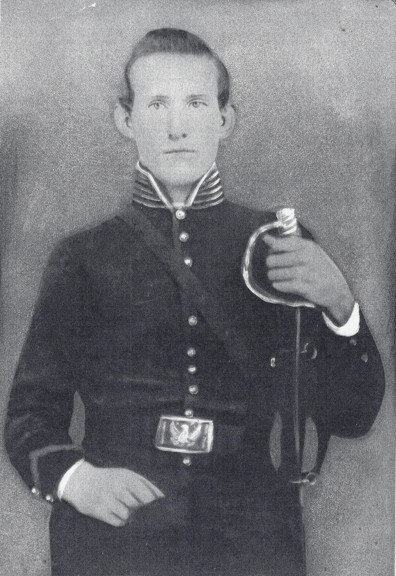 ROBERT H. CARROLL, Company "B"
Robert H. Carroll, KIA at Bloomery Gap Skirmish, 14 Feb 1862.
Photo provided by Lou Emeterio and William L. Baran.

From the Civil War collection of David L. Aeberli.
Letter written to Miss Molly Huchesson by Robert H. Carroll.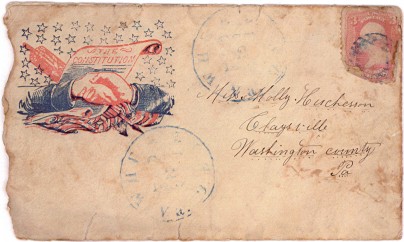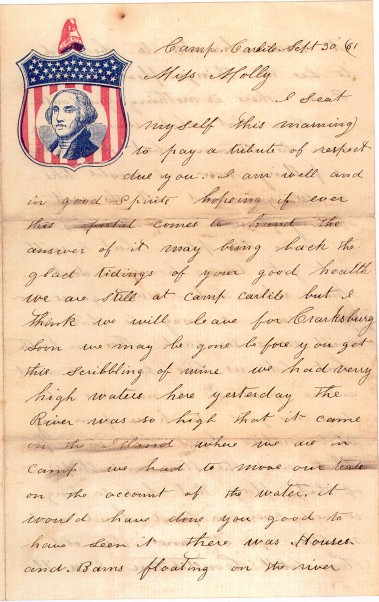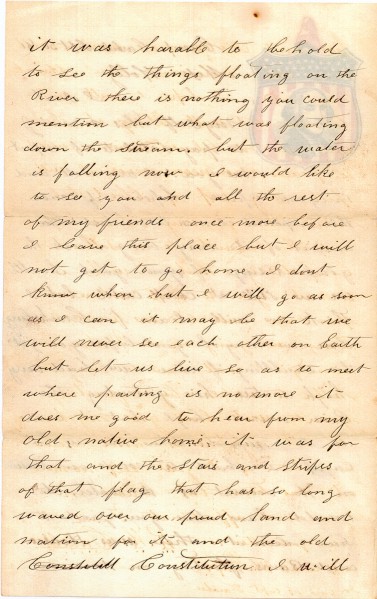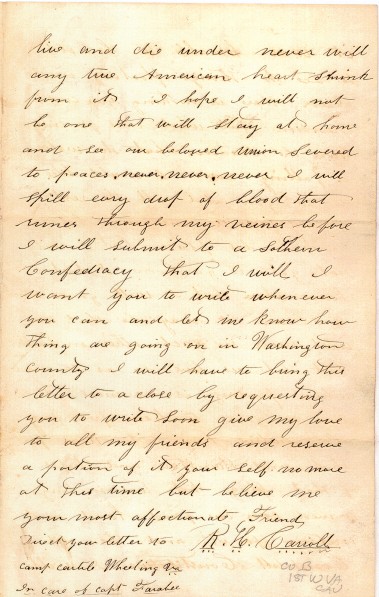 A biography of the CARROLL FAMILY is found in the Commemorative Biographical Record of Washington County, Pennsylvania, J. H. Beers & Co., 1893; page 1447.
MRS. JANE CARROLL. Among the brave pioneers of Washington county, and they are many, none have surpassed, in bravery, intelligence and perseverance, the members of the Carroll family.
Robert Carroll and wife, accompanied by his two brothers, John and Hamilton, and a sister Jane, emigrated in 1760 from Ireland to America, locating in a place called Mingo, western Pennsylvania, thence moving in a few years to East Finley township, Washington county, where they settled on one of the headwaters of Wheeling creek, near the present postoffice of Gale, and began cutting down the forest trees until a space was cleared for the log cabin (perhaps the first in that district), which they soon erected. Like all the pioneer settlers, they were in hourly danger from the hostile savages, and endured the inevitable hardships of backwoods life. In 1781 work began in earnest, and Washington county was founded. In the summer of that year, John and Hamilton Carroll, who resided with their brother Robert, went out one morning, and when but a short distance from the cabin both men were shot down by the Indians. Robert's wife (who with her two children was in the cabin) heard the report, and knowing the boys had no firearms with them, immediately grasped the situation; she snatched the infant from his couch and with him in her arms, and her little son of four years clinging to her side, ran to a cornfield near by, where she waited till the Indians reached the cabin. The faithful dog remained on guard at the door, and barked vigorously at the murderers who were obliged to kill him before they could enter the house. The heroic mother knew when the barking of the dog ceased that the Indians were busy ransacking the house, and immediately taking advantage of the opportunity, ran for life to the nearest fort, which was five miles distant (now at Prosperity), though she had to travel much farther; but she reached it safely at last, the infant in her arms, and little James running by her side. While these terrible scenes were in progress, the husband and father was absent, having left home a day or two before, and gone to a mill on the Monongahela river. On returning home, he was horrified to find the floor stained with blood, and other evidences of the presence of the marauding savages. Almost heart-broken, the poor man hurried to the fort, and was overjoyed to find his wife and children safe within, but heard with anguish of the terrible fate of his brothers. A few days later a party of men left the fort, and finding the dead bodies of John and Hamilton (whose scalps the Indians had taken as trophies), buried them in what has since been known as the Carroll graveyard; these two victims of Indian fury being the first who were there interred. The burying ground is but a short distance from where the cabin stood. After all traces of the Indians had disappeared, Robert and his wife returned home, and were not again molested. The infant Robert, who was saved from the Indians by his mother, grew to manhood, and married Margaret Craig, who bore him one daughter, and James, whose little feet proved of such good service on that memorable day, was united in marriage with Margaret Marshall, and to their union the following children were born: William, Robert, John, Hamilton, James, Hugh, Joseph, Thomas, Mary and Jane.
Hamilton Carroll was born April 15, 1804, in East Finley township, Washington county, and was early inured to the toil, danger and privation of frontier life; his education was of necessity very limited. On April 5, 1832, he was united in marriage with Jane Marshall, who was born October 10, 1807, daughter of Gabriel Marshall, of East Finley township, who was also of Irish descent. The children born to this union were Marshall, born March 10, 1833 (deceased in 1890; he always lived at home assisting in the farm work, and caring for his parents); James Bell, born December 27, 1834 (deceased January 15, 1836); Martha, born October 30, 1836 (living at home and assisting with household duties); Robert M., born April 18, 1839 (of whom further mention is made); Anderson, born January 10,1841 (a farmer, living near Pleasant Grove, East Finley township, this county); William David, born September 5, 1844 (deceased October 23, 1862); Mary Margaret, born March 13, 1847 (deceased January 7, 1852); Eliza Jane, born December 27, 1848 (wife of George Montgomery, of East Finley township); and John, born March 15, 1851 (married to Olive Post, and living in East Finley township, this county). Robert M. of the above family, enlisted August 22, 1861, in the first Virginia Cavalry, and on February 14, 1862, was killed at Blooming Gap, Va. His corpse was sent home, and with it came the following order:
DIV. HEADQUARTERS, CAMP CHASE, VA., Feb. 15, 1862. Special Order, No. 57. Robert Carroll, a private of Capt. Farrabee's company 1st Va. Cavalry, having been killed, after capturing three wagons from the enemy, aided by two other privates of that company (David Howell and Franklin Jones), will be escorted by the two privates mentioned to his residence and the body delivered to the family of the deceased man, with compliments of the Commanding General. Had he lived he would have received promotion. The expenses of the escort and burial will be paid.
By command of BRIG. GEN. SANDER.
H. C. Armstrong, A. A. A. Gen. [Note: Buried at (Old) Carroll Graveyard in East Finley/Morris, Pa, per information from Lou Emeterio.]
Soon after his marriage Mr. Carroll began farming on the farm where his widow is yet living, which is situated about half a mile northwest of Gale postoffice, in East Finley township. Here he passed the remainder of his life, successfully pursuing the vocation of agriculture. During the war he took an active part in the home musters. In politics Mr. Carroll was a stanch Republican, and a valued member of the party. He possessed unusual vitality, and was capable of great physical endurance. In religious faith he was a member of the U. P. Church. He died in 1890; his widow, who is also a member of the U. P. Church, survives him, enjoying in her old age a respite from the cares and sorrows of earlier life; she is much esteemed and respected.
NOTE FROM BEN ALLISON, Sept 2012: "Just a tidbit of info to add. Robert Carroll (KIA at Bloomery Gap) is the 1st cousin of Robert Allison. Robert Carroll's mother Jane Marshall is the sister of Robert Allison's mother Mary Marshall."
Submitted by Linda Fluharty.
---