CHARLES RUBLE, Company "G"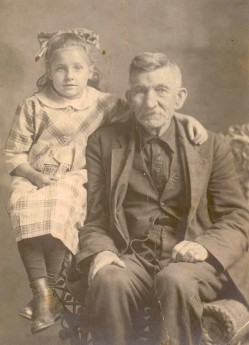 Charles Ruble with granddaughter, Ruby Workman
Photo provided by Charles Hale, great-grandson.
---
SULTANA SURVIVOR
By Linda Cunningham Fluharty
Charles Ruble was a survivor of the explosion of the steamship, Sultana, April 27, 1865, on the Mississippi River, near Memphis, Tennessee. The Sultana, built to accomodate only 376 passengers, was carrying more than 2,000 recently released Union prisoners of war. When the massive boilers exploded, the ship burned and sank, leaving more than 1700 dead.
Charles RUPEL, Company G, 1st WV Cavalry, is found on the list of those aboard the ill-fated ship. However, his fate is not stated in the many books on the subject, perhaps because the misspelling of his name impeded searches for information about him.
A clue about the survival of Charles Ruble was found in the 1890 "Special" Federal Census for West Virginia that lists Civil War soldiers and widows. Charles RUBLE was residing in Raleigh County and the information, "1st WV Cav., POW Andersonville," suggested his identity, since there was no other with a similar surname in the 1st West Virginia Cavalry.
The pension file of Charles Ruble at the National Archives confirms that he was the Charles RUPEL aboad the Sultana, and that he survived the disaster.
Charles married Cynthia Ann Porter on 15 Feb 1861 in Cabell County, West Virginia. Their children were: William Milton Ruble, born 5 Jul 1866; Stephen Dolliver Ruble, born 5 Apr 1868; Sarah Emily, born 20 Oct 1871; Mary Ann, born 10 Feb 1874 (twin); Martha Virginia, born 10 Feb 1874 (twin); George Walter, born 14 Feb 1877; Cora Eseline, born 27 Feb 1879.
---
National Archives Pension File (Partial)
DECLARATION FOR AN ORIGINAL INVALID
This must be executed before a Court of Record or some Officer thereof having Custody of the Seal.
State of VIRGINIA, County of TAZWELL, ss.
On this 2nd day of APRIL A.D. one thousand eight hundred and eighty-eight personally appeared before me T. E. George, Clerk of the County Court a court of record within and for the county and State aforesaid CHARLES RUBLE age 47 years, who, being duly sworn according to law, declares tht he is the identical CHARLES RUBLE who was enrolled on the - day of October 1861, in company "G" of the 1st regiment of WVa Vols (Cavalry) commanded by CAPT WINTERS and was honorably discharged at Wheeling, WVa on the 6th day of June 1865; That his personal description is as follows: Age 47 years; height 5 feet 9 inches; complexion light; hair light; eyes blue. That while a member of the organization aforesaid in the service and in the line of his duty as a PRISONER AT ANDERSONVILLE GA on or about 1864, he contracted Rheumatism caused by the exposure and hardships he endured at that place. He was suffering from Rhuematism after his sixteen months of imprisonment, upon his return to his command, and was also suffering at date of discharge, and his Rheumatism has existed ever since having become chronic disabling him almost entirely from performing manual labor.
That since leaving the service this applicant has resided in Counties Cabell Co West Virginia and Tazwell in the state of Virginia and that his occupation has been that of a farmer. That prior to his entry into the service above he was a man of good, sound, physical health, being when enrolled a FARMER. That he is now ALMOST TOTALLY disabled from obtaining his subsistance by manual labor by reason of his injuries, above described, received in the service of the United States; and he therefore makes this declaration for the purpose of being placed on the invalid pension roll of the United States. He hereby appoints with full power of substitution and revocation.
J. C. & S. Wright of Washington, DC his true and lawful attorneys to prosecute his claim. That he has not received nor applied for a pension; that his residence is Tazwell County, Va and that his post office address is SHAWVERS MILLS TAZWELL COUNTY, VIRGINIA.
Charles (His X) Ruble
Witnesses S. J. Cundiff & D. I. Riffle
---
DISABILITY AFFADAVIT
State of Virginia
County of Tazwell
In the Matter of Original INVALID Pension Claim No. 649381 of Charles Rubel
On this fourth day of June A.D. 1888, personally appeared before me, a clerk of said county in and for the aforesaid County, duly authorized to administer oaths CHARLES RUBEL, aged 48 years, a resident of TAZWELL in the County of TAZWELL and State of VIRGINIA, well known to me to be reputable and entitled to credit, and who, being duly sworn, declares in relation to his claim for pension as follows: My Post Office address is SHAWVERS MILLS TAZWELL CO WVA.
For 3 years immediately preceding my enlistment into the service of the United States on the FIRST day of OCTOBER 1861, I resided in the following named places CABEL CO WVA AND NEAR THE TOWN OF BARBOURSVILLE and my occupation is FARMER. Since my discharge from said service on the 25 of JUNE 1865, I have resided in CABELL CO WVA AND IN THE COUNTY OF TAZWELL VA and my occupation has been that of FARMER.
I futher state that the disability for which I claim a pension arises from RHEUMATISM which was contracted IN ANDERSONVILLE PRISON BUY THE HARD SHIPES AND EXPOSURE OF 16 MONTHS IN THAT PRISON PEN THE NEXT DORE TO HELL.
From my said discharge to the present time, I have received the following medical treatment for said disease IHAV RESEIVED NO TREAT MENT WHAT EVER FOR NO DISEASE
Since the origin of the disability for which pension is claimed, I have suffered with the following acute diseases RUMATISM IT FIRST TAKEN ME WITH SEVERE PAIN IN MY LEGES AND THEN CHANGED TO MY BACK AND PILES AND IHAV SUFFERED - - - AND IT IS GITTING WORS. (Next page not copied.)
---
WAR DEPARTMENT Adjutant General's Office,
Washington, July 10, 1888
Respectfully returned to the Commissioner of Pensions.
CHARLES RUBLE, a PVT of Company G, 1st Regiment W.Va. CAV Volunteers, was enrolled on the 1 day of OCT, 1861, at CEREDO VA. 3 YRS, and is reported on roll. Jany & Feby/62, 1st on file. Present same to Feby 24(?)/64 Captured while on picket @ Sommersville Ford Va. Ind. m/o roll dates Wheeling, WVa June 26/65. Present m/o said date & place with remark "Paroled prisoner of war" Reported form Camp Chase Ohio for m/o May 11/65.
Regtl Hosp Record not on file.
Prisoner of War Records show him captured at Mitchells Sta. Va. November 28. 1863. Conf'd at Richmond, Va., Nov 30. 63, sent to Andersonville, Ga. Febry 17, 64 where he was conf'd date not given. Paroled at Vicksburg Miss. on or about April 21. 1865. Survived disaster to Str "Sultana" April 27. 65. Reported at Camp Chase Ohio, May 7. 65.
R. C. DRUM, Adjutant General
---
RECORD AND PENSION OFFICE
War Department,
Washington, Dec 11, 1895
Respectfully returned to Commissioner of Pensions with the information that in the case of CHARLES RUBLE CO G 1 W.Va. Cav.
This organization was known as Capt Winters Co "Va Mtd. Vols until Jan or Feb 62 when des was changed to Co G 1" Mtd Vols. des was again changed between Feb 29/64 & Mar to Co G 1" W.Va Cav.
He was en. Oct 1/61
Military records furnish nothing add'l to that contained in statement of July 10/88
Medical records show him treated as follows: AS CHARLES RUPLE CO G 1 VA CAV ON LIST OF SURVIVORS STEAMER SULTANA DISASTER APR 27. 65, (NO DIAGNOSIS) NOTHING ADDITIONAL FOUND
---
DEPARTMENT OF THE INTERIOR
Bureau of Pensions,
Washington, DC Certificate No. 680045
Name: CHARLES RUBLE
Sir: In forwarding to the pension agent the executed voucher for your next quarterly payment please favor me by returning this circular to him with replies to the questions enumerated below.
Very Respectfully, H. Clay Evans(?), Commissioner
First. Are you married? If so, please state your wife's full name and her maiden name.
Answer. Yes. Cynthia Ann Ruble formerly Cynthia Ann Porter.
Second. When, where, and by whom were you married?
Feb 15" 1861, Cabell County, W.Va. Rev Rolen Bias.
Third. What record of marriage exists?
Answer. I suppose a record exists in the county clerk's office of of Cabell Co. W.Va. at Huntington, W.Va.
Fourth. Were you previously married? If so please state the name of your former wife and the date and place of her death or divorce.
Answer. Was not previously married
Fifth. Have you any children living? If so, please state their names and the dates of their birth.
Answer. Yes. William Milton Ruble, born July 5" 1866; Stephen Dolliver Ruble, born April 5" 1868; Sarah Emily, born October 20" 1871; Mary Ann, born Feb 10" Feb 1874; Martha Virginia, born Feb 10" 1874 (the two last twins); George Walter, born Feb 14" 1877; Cora Eseline, born Feb 27" 1879.
Charles (His X) Ruble
Date of reply, June 4, 1898
---
Act of May 11, 1912
DECLARATION FOR PENSION
State of West Virginia
County of MERCER
On this 17th of JUNE, A.D. one thousand nine hundred and TWELVE, personally appeared before me, a NOTARY PUBLIC within and for the county and State aforesaid, CHARLES RUBLE, who, being duly sworn according to law, declares that he is 72 years of age, and a resident of MERCER COUNTY WEST VIRGINIA, State of - - ; and that he is the identical person who was enrolled at BARBOURSVILLE, W.VA under the name of CHARLES RUBLE on the 1st day of OCTOBER, 1861, as a PRIVATE, in CO G. FIRST REGIMENT WEST VIRGINIA CAVALRY commanded by Col. Richmond in the service of the United States, in the Civil war, and was honorably discharged at Wheeling WVa, on the 26th day of JUNE, 1865.
That he also served in NO OTHER REGIMENT.
That he was not employed in the military or naval service of the United States otherwise than as stated above. Tha his personal description at enlistment was as follows: Height, 5 feet 8 inches; complexion, light; color of eyes, grey; color of hair, now grey; that his occupation was FARMER; that he was born in GILES COUNTY in 1840, was 21 years old when enlisted.
That his several places of residence since leaving the service have been as follows: Settled in Cabell Co WVa in 1865 and lived there 19 years, in Tazwell Co Va 7 ys. in Raleigh Co WVa 2 ys and 19 ys in Mercer Co WVa.
That he is a pensioner under certificate No. 680045
That he has also applied for pension under original No. 313145.
That he makes this declaration for the purpose of being placed on the pension roll of the United States under the provisions of the act of May 11, 1912.
That his Post Office ddress is BLUEFIELD, county of MERCER, State of West virginia.
Charles (His X) Ruble
18 June 1912.
---
DECLARATION
I, Charles Ruble, do hereby certify that from the best information I am able to furnish I was born in the year 1840. By some mistake in my first application I gave in my birth in the year 1838. My brother, Madison Ruble, who died September 1st, 1913, informed me that he was born in 1830, that I voted in Nov, 1860 in the Presidential election, I married in March 1861, and enlisted on the 1st day of Oct, 1861 in Co. "F", 1st regiment W.Va. Cavalry and was discharged at Wheeling, W.Va. by Wm. D. Fields, 1st Lieutenant, on the 26th day of June, 1865. I enlisted at Ceredo (now) W.Va.
My first pension was for $8.00 per month, renewed for $10.00 per month, and again renewed (No. 680045) on the 19th day of Nov. 1907, for $12.00 per month.
My father and mother both died when I was a small child, I was bound out and grew up without any education, and at this time I can neither read nor write. This is the only information regarding my age that I can furnish. My brother, Madison Ruble, put my birth, as near as he could establish it, in the year 1840. I remember being entered by the Registrar as a voter prior to the presidential election above referred to, which was done in Cabell County, (now) W.Va.
Given under my hand the 26th day of April, 1915.
Charles (His X) Ruble
Witnessed by D. M. Baldwin, Notary Public
---