HARRISON SHANNON, Company "G"
---
Submitted by Curt Adams.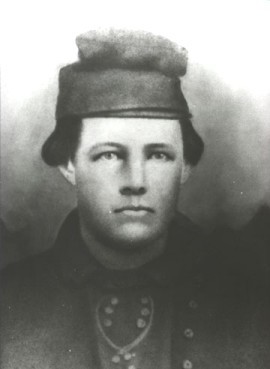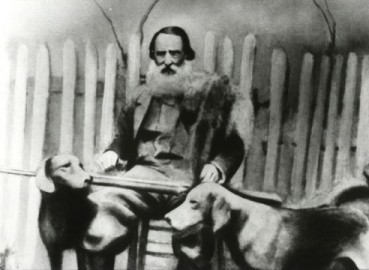 Presidents, Soldiers, and Statesmen
H. H. Hardesty, New York; Toledo, & Chicago. 1893.

Harry J. Shannon was born in Lawrence County, Kentucky, on May 14, 1841, and was a son of Thomas and Rebecca (Ally) Shannon. The former died in Kentucky; the latter is still spared. He was married, first to Louisa Ballard, who was born in Wayne County, Illinois, in 1848, and died in this county in 1884. They married in 1867, and six children were born to them: Rebecca, James, Harvey, John B., William M., Sheridan. He married secondly, in this county on November 9, 1888, Sarah Cox, who was born here on September 14, 1854. Three children were born to them: Emma, Thomas J. and Lilla. Sarah was formerly married to George Compton on May 30, 1875, by whom she had three children: Frances E., Mariah S., and Nancy J. Her father, Bennett Cox is deceased; her mother, Frances (Baysden) is also deceased.
Comrade Shannon was a farmer by occupation when he entered the military service on September 6, 1861, as Private in Company G - 1st W.Va. Volunteer Cavalry, 6th A.C. In 1863, he was granted a leave of 5 days. He was captured by General Mosby on May 3, 1863. The 5th N.Y. Regiment opened fire on them and he was released.....he then aided in capturing nearly all of his captors. He was detailed in pioneer corps to dig rifle pits. He was also an active participant in the engagements of: 2nd Bull Run, Winchester, Gettysburg, Stone River, Currentown, Cross Keys and several others. He was honorably discharged at Wheeling, W. Va. in 1864. He had two brothers in service - William and Andy.-.the former in 13th W. Va. V.I. as 2nd Lieutenant, and the latter in the 5th W. Va. L.I. His wife's father served in 14th Ky. L.L., and is now deceased. Comrade Shannon and his wife belong to the M E Church. He is a member of Burgess Post; is a farmer by occupation, and his address is Gallup, Ky.
---