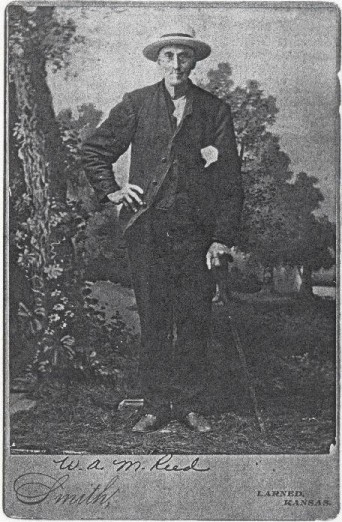 WILLISON A. M. REED, Company "C"
---
Submitted by Ron Burkett, gr-gr-gr-grandson.
---
BIOGRAPHY
Hardesty's Biographical Atlas of Wood County, West Virginia, 1882; pg 89.
Willison A. M. Reed - with his father, Samuel B. Reed, came to this county in 1846. His father died in 1848, and his mother, Sarah (Buck) Reed, died in 1818. He was born in Allegheny County, Pennsylvania, July 29, 1815; and in Armstrong county, Pennsylvania, May 28, 1836, was united in marriage with Elizabeth, daughter of John and Nancy (Clark) McKelvy, both deceased. His wife was born in Allegheny county, Pennsylvania, January 1, 1815. They have had four children, whose record follows: James M., born November 29, 1838; Sarah A. (married to Joseph Grim), born July 2, 1840, resides in this district; Susan Catherine (married to Henry Turner), born June 28, 1843, lives in Larned, Pawnee county, Kansas; Matilda A. (married to L. H. Turner), born February 15, 1845, died July 6, 1871. Mr. and Mrs. Reed adopted Matilda's son, William Henry, born April 24, 1868. He now lives in Union district. Mr. Reed's wife was the first postmistress in Boreman, in 1866. He was justice of the peace under the old Virginia law from 1855 to 1861, and again elected in 1871. In 1874 and 1875 he was overseer of the poor, and has been notary public since 1868. He enlisted in E [C] Company, 1st Virginia (Federal) Cavalry, September 1, 1861, and was wounded in the same day in a fight. He was in the hospital at Parkersburg three years and twenty-six days; was shot through the hips and disabled for life. His son, James enlisted in the 5th Ohio Volunteers, commanded by Colonel Dunham, toward the close of the war. The family failed to hear from him, and he has never been heard from since. He was unmarried. W. A. M. Reed is a farmer and fruit-grower in Union district, near Boreman. Postoffice address, Boreman, Wood county, West Virginia.
---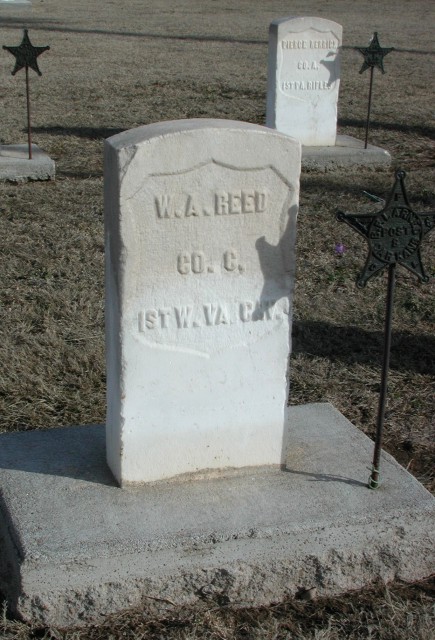 Buried at Larned Cemetery, Larned, Pawnee County, Kansas
---