AUGUSTUS WIEDEBUSCH, COMPANY "H"
---
Compiled by Linda Fluharty.
According to his Service Record at the National Archives, Augustus Wiedebusch (numerous spelling variations), a shoemaker, enlisted at Wheeling in Feb 1864. He was Absent Without Leave at Winchester, Va. on 28 Dec 1864 (probably). He was arrested 9 Feb 1865 at Moundsville. Court Martial charges, presented below, do not reveal the verdict, but he was evidently permitted to rejoin the regiment, was honorably discharged, and mustered out with the company in July 1865.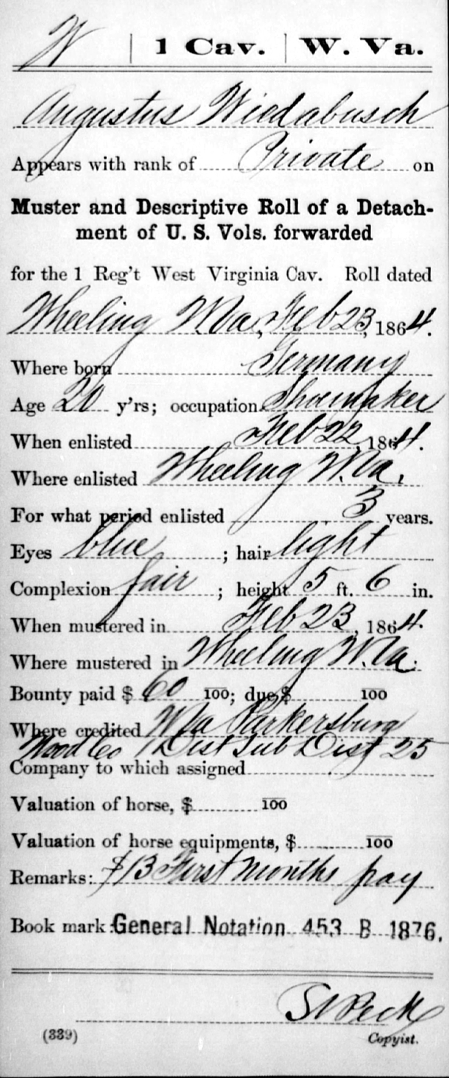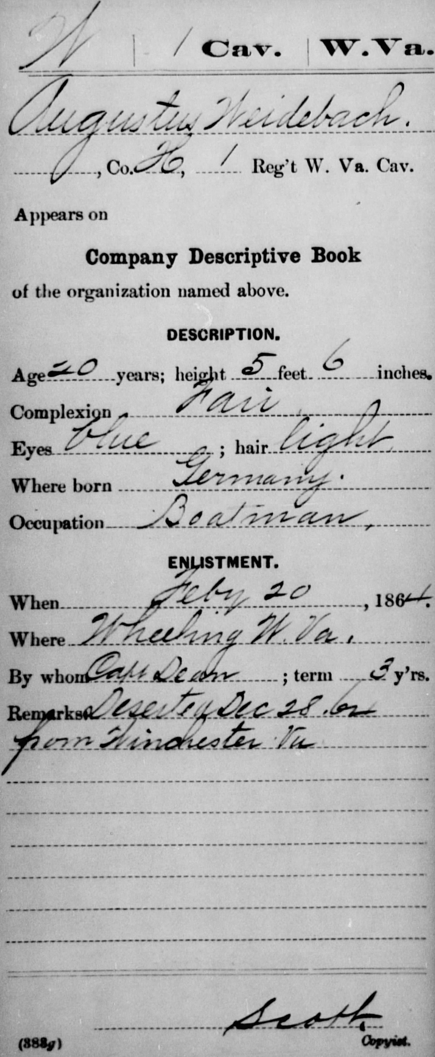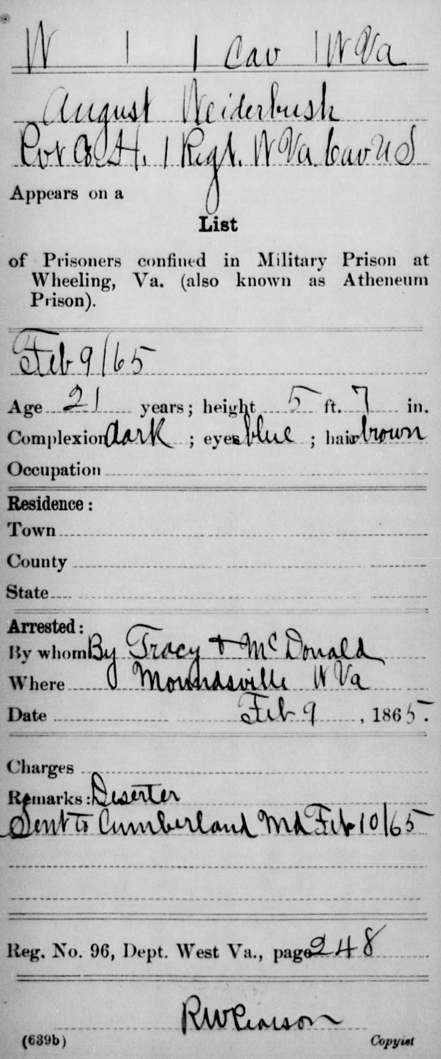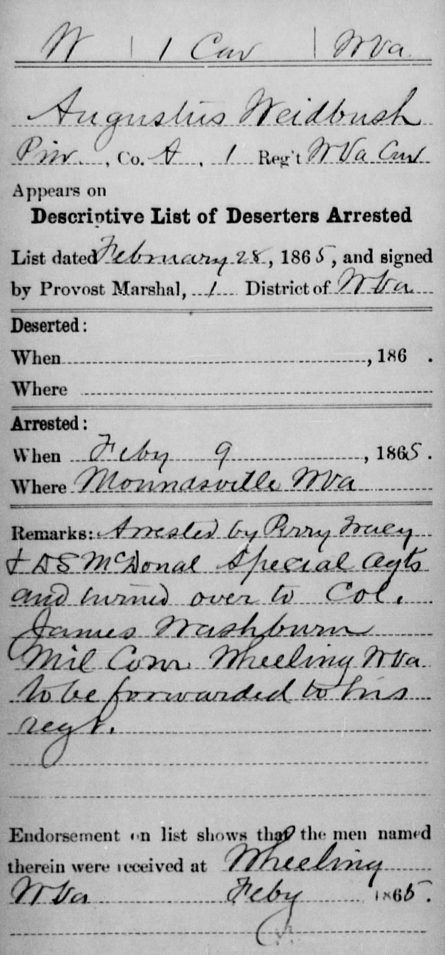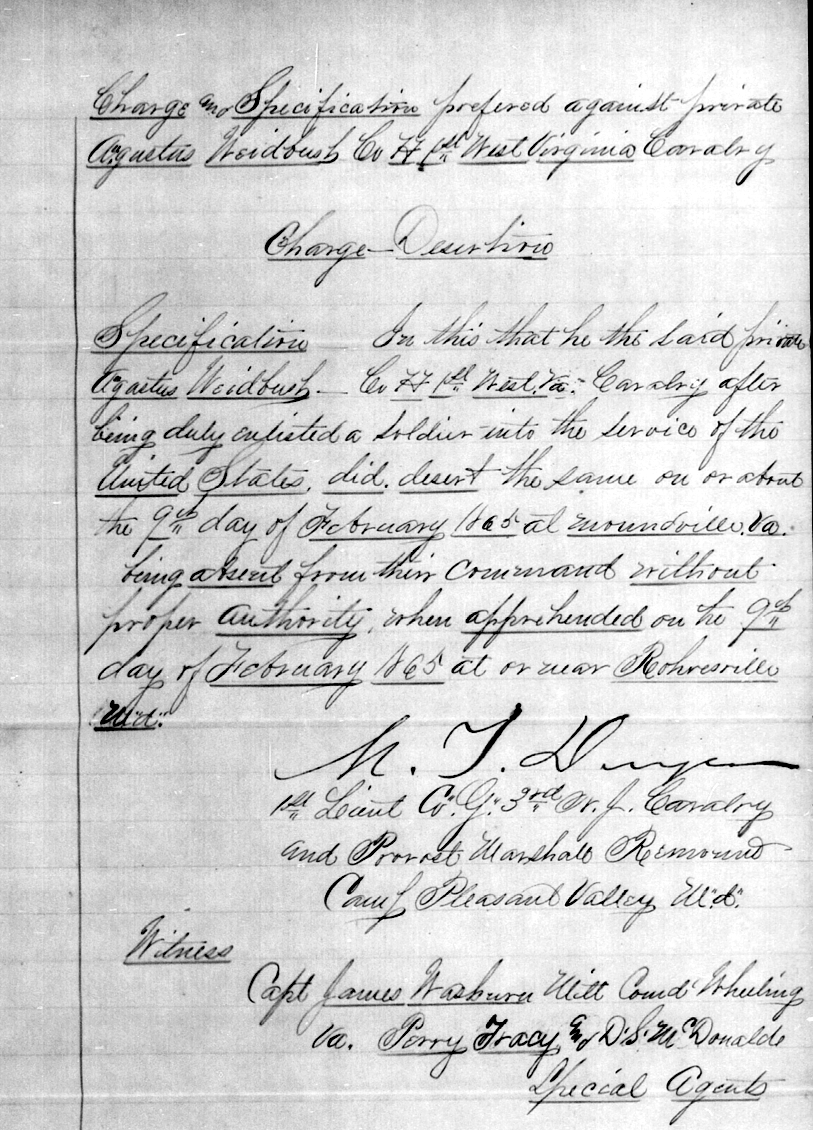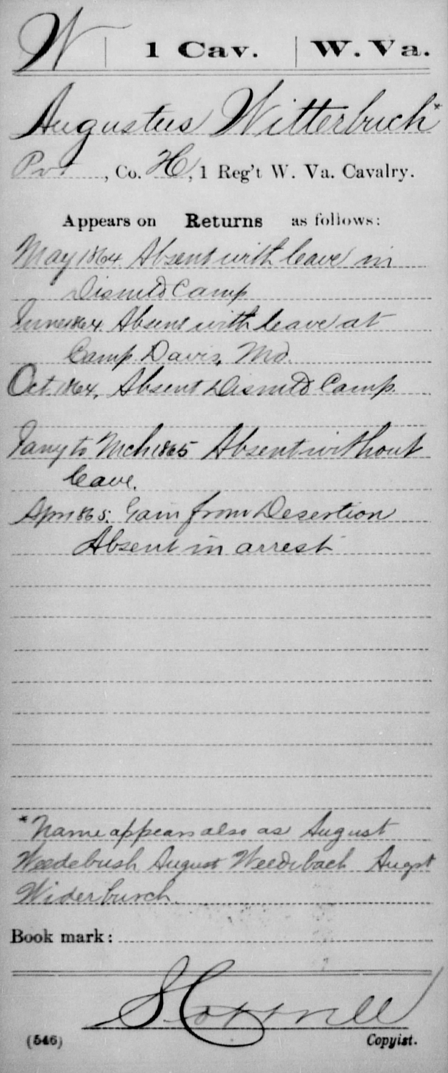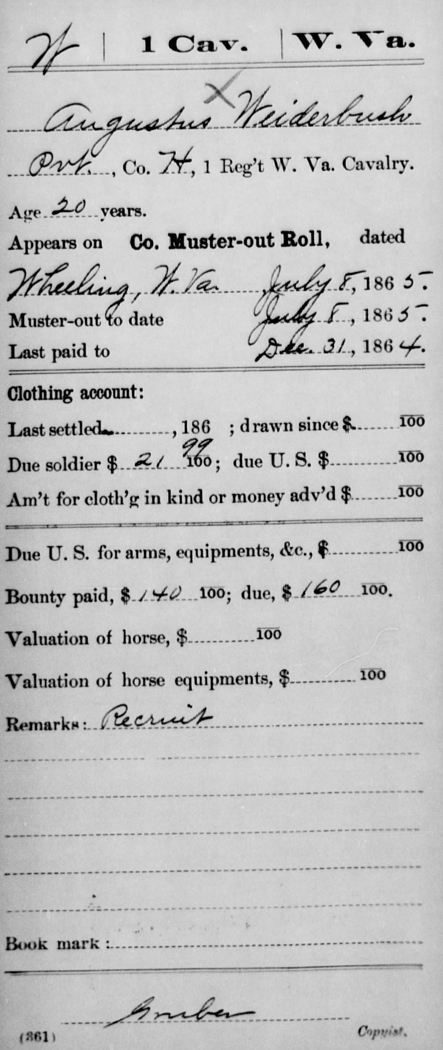 Augustus Wiedebusch, born in Germany about 1843, was the son of Henry and Louisa Wiedebusch. Augustus married Gertrude Weneke. He died July 19, 1887 and is buried at Mt. Rose Cemetery, Moundsville, Marshall County, W. Va. Prior to his death, he applied for a government pension, application number 615.322. No certificate was issued, but his widow applied for a pension was awarded certificate #352.480.
1860 Census, South Wheeling, Ohio County, W. Va.
WEIDERBUSCH, #3864
Henry,43, Shoemaker, $75 personal, b Ger
Louisa, 39, b Ger
August, 16, b Ger
Adam, 14, b Ger
Louisa, 12, b Ger
Mena, 10, b Va
Margaret, 6, bGer
Augusta, 4, b Va
Caroline, 6 mos, b Va

1870 Census, Washington District, Marshall County, W. Va.
WEIDEBUSCH, #45
August...26-wm...$200... ...shoemaker...Brunswick
Gertrude...21-wf...WV
Adolph...1-wm...WV
Charles...1-wm...WV

WEIDEBUSCH, #44
Henry...52-wm...$900... ...shoemaker...Brunswick
Louisa...48...Hanover
Maria...16-wf...WV
Margaret...14-wf...WV
Augusta...12-wf...WV
Caroline...10-wf...WV
Sophia...8-wf...WV
Mary...6-wf...WV
Henry...4-wm...WV

[Note: Adolph Weidebusch, 26, was #46 in the 1870 Census and is evidently the brother of Augustus. He served in Co. A 25th Ohio Infantry and was wounded at Gettysburg. A biography of the family includes much information about Adolph: BIOGRAPHY.]

1880 Census, Clay District, Marshall County, W. Va.
WEIDEBUSCH (36)
August...36-wm...sewing ships...GER....GER....GER
Girtrude...31-wf...keeping house...VA...GER....GER
Adolph...11-wm...WV...GER....VA
August...8-wm...WV...GER....VA
William...6-wm...WV...GER....VA
Albert...1-wm...WV...GER....VA
---