WILLIAM P. WILKIN, Captain, Company "F"
---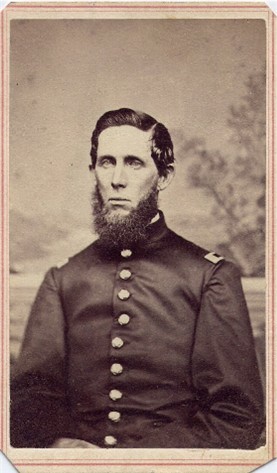 Captain William P. Wilkin
(CDV owned by Michael Phillips.)
---
DIARY OF CAPTAIN WILLIAM P. WILKIN
Submitted by Justin Young.
---
William Porter Wilkin was born about 1825 in Pennsylvania. He married Harriett McKown 15 Mar 1848 in Athens, Ohio.
1850 Census, Alexander, Athens County, Ohio
#800/825
William P. Wilkins, 25, Farmer, $1400, b Pa
Harriet, 20, b Pa
Mary, 8 mos., b Ohio

1860 Census, Athens, Athens County, Ohio
Wm P. Wilkins, 35, Farmer, b Pa
Hariett, 30, b Pa
Mary A., 10, b Ohio
Wm H., 8, b Ohio
Charles A., 6, b Ohio
Martha E., 3, b Ohio
John, 3 mos, b Ohio

1870 Census, Clay, Ralls County, Missouri
W. P. Wilkins, 45, Ins. Agent, $6000, $600, b Pa.
Harriet, 40, Keeping House, b Pa.
Mary, 20, b Ohio
Francis, 18, Farm Hand, b Ohio
Charles, 16, Farm Hand, b Ohio
Elizabeth, 12, b Ohio
Willie, 10/11, b Ohio
Hattie, 7, b Ohio
Lutie, 3, b Ohio
William P. Wilkin was taken prisoner at Hagerstown, Md., July 6, 1863 (Gettysburg Campaign); no information about his exchange. Commissioned 1st Lieut. 12 Aug 1863. Commissioned Captain 25 Nov 1863; resigned 27 Feb 1865.
OBITUARY - Unknown Newspaper.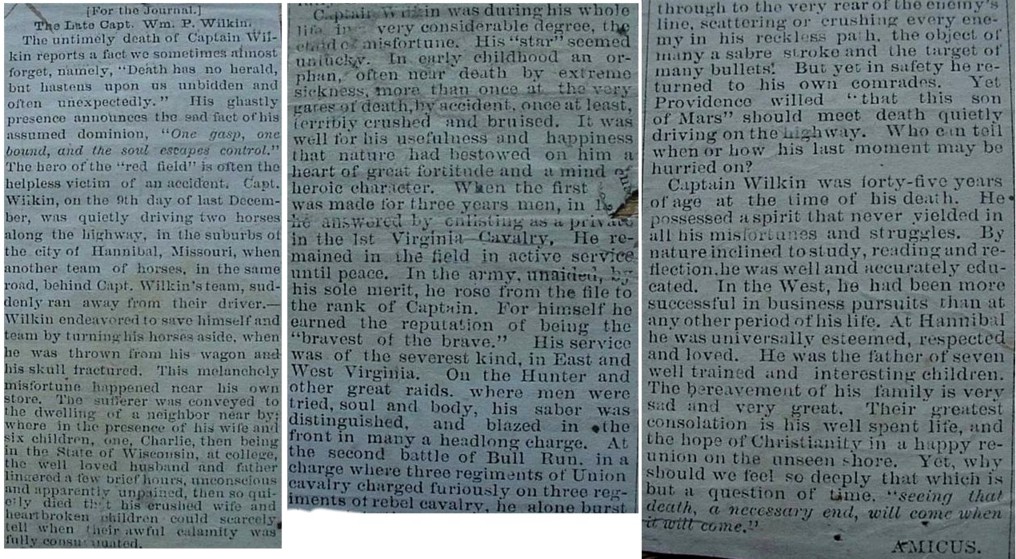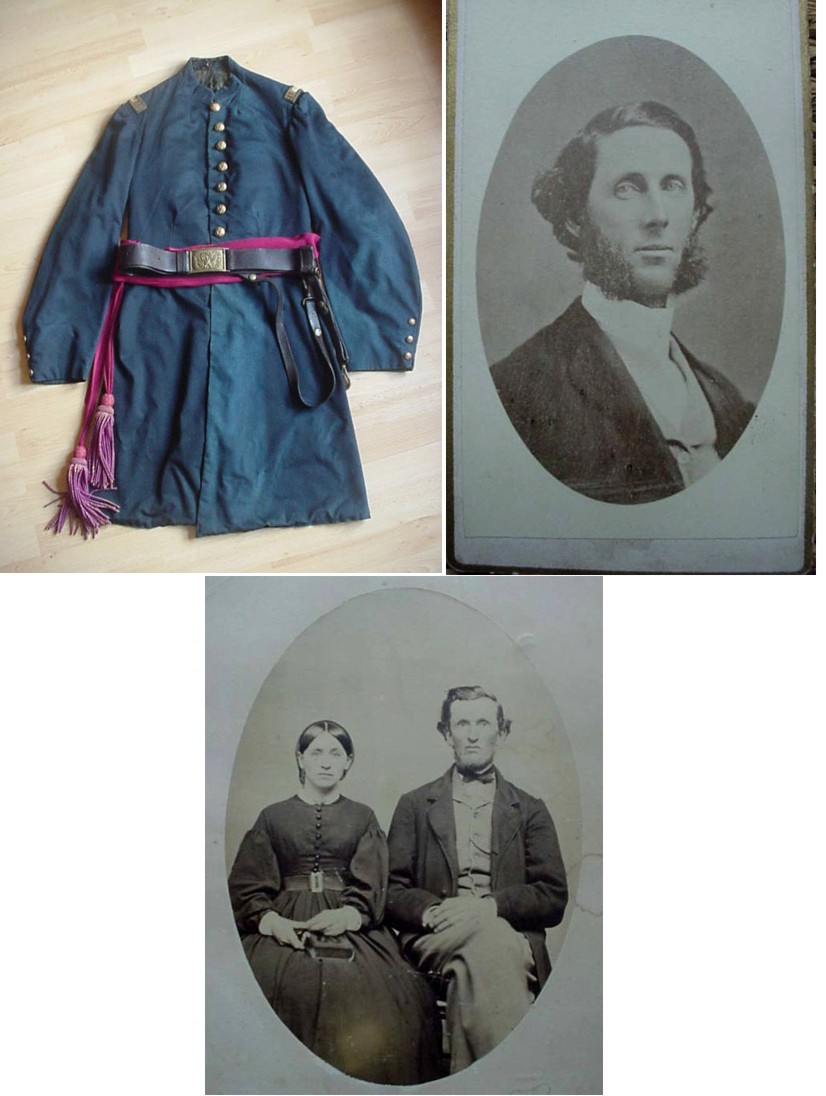 Items auctioned on eBay June 2009 by an eBay user in Scotland.
---
Submitted by CYNTHIA WREN, descendant.
William Porter Wilkin enlisted August 19, 1861 as a Sergeant in the Company "F," 1st West Virginia Cavalry. On July 1, 1862 he was appointed 1st Sergeant. After a two-month furlough he rejoined his unit in time to take part in the Gettysburg Campaign. During the battle, 1st Sergeant Wilkin took part in the famous Farnsworth's cavalry charge. Wilkin endured the charge only to be captured three days later on July 6, 1863, while in Hagerstown, Maryland. He was taken to Richmond where he remained until his parole at City Point on July 23, 1863. After his return to this regiment, he was promoted to 1st Lieutenant in August 1863 and to Captain of Company "F" in March 1864. Wilkin spent the months of September and October 1864 dismounted in Hagerstown. In November 1864, he returned to his unit and was mustered out on February 1865, having resigned. Wilkin returned to his wife and three children, and died on December 9, 1871 in Missouri, after being thrown from a runaway wagon.
The widow of Captain Wilkin was residing in Athens Ohio in 1880:
1880 United States Census Athens, Athens County, Ohio
Harriett WILKINS Self W Female W 50 PA Keeping House PA PA
Charles WILKINS Son S Male W 26 OH Lawyer PA PA
Lizzie M.WILKINS Dau S Female W 22 WI Teaching PA PA
Lutie WILKINS Dau S Female W 13 OH Home PA PA