WILLIAM W. ROBERTS, Company "C"
---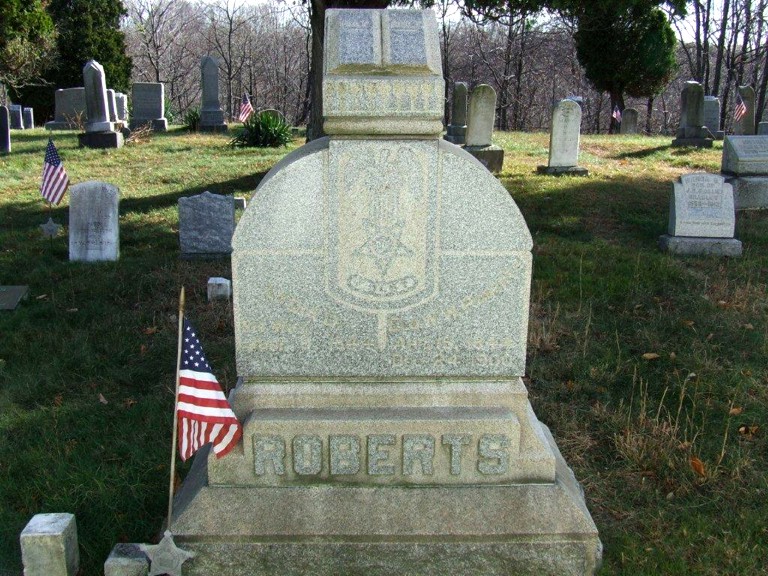 Grave of Lydia D. (Miller) and William W. Roberts
Sand Hill Cemetery, Springhill Twp., Greene County, Pa.
William Roberts, b 15 Apr 1844, died 24 Dec 1900.
(Photo by Brad Jarvis.)
Rev. William W. Roberts, of Cameron, a highly esteemed minister of the Disciple church, was born in Marshall county, April 15, 1844, the son of G. S. and Elizabeth Roberts, both natives of Virginia. The father, born in 1818, is now a resident of Pennsylvania, and is a shoemaker by trade and a revered local minister of the Methodist Episcopal church. His wife, who was born in 1820 and died February 25, 1882, aged sixty-two years, was a devoted member of the same religious denomination, and was one of the kindest and best of women, ever ready for good and charitable deeds. Subsequent to her death, G. S. Roberts was married to Elizabeth Bisset. By his first marriage he had twelve children, and by the second, three. The subject of this sketch received his early education in the schools of Moundsville. On February 2, 1864, he enlisted in Company C, First West Virginia cavalry, and experienced exciting and dangerous service. He took part in the battles of Cedar Creek, Winchester, New Market, Hatcher's Run, Lynchburg, Snicker's Ferry, and all the battles fought in the Shenandoah valley by Gen. Sheridan, serving in Custer's division. He was at Appomattox and witnessed the surrender of Lee. While on Hunter's raid, he was three days without rations, except a quart of oats, which he took from his horse. He was present at the grand review at Washington, and was discharged at Wheeling, July 8, 1865, having served a year and a half during the hottest of the war. Notwithstanding his severe service, he increased in weight during that time from ninety-eight to 172 pounds. After his return to peaceful employment, he worked with his father three years, and then engaged in the ministry, to which his endeavors have since been consecrated. His efforts have been highly acceptable, and he occupies a high rank among the ministers of his denomination. Since 1875 he has served as the committee on the location of meetings at the "annual meetings" of his church. Several times he has with honor to his cause advocated the principles of his church in joint debate. He is liberal and progressive in his views, and has advocated the active participation by women in church affairs. During his ministry he has immersed 1,444 persons, taken over 2,000 into the church, and organized fourteen congregations. He is now in charge at Beeler Station, a congregation of 400 members, organized in 1830 by Bishop Campbell, and one of the oldest and wealthiest in the state. He also preaches at Cameron and Jacksonville. Mr. Roberts is also a member of the Junior Order of American Mechanics, the G.A.R., and is noble grand of Cameron Lodge, No. 36. I.O.O.F. He was married July 8, 1866, to Lydia D. Miller, and they have seven children: Samuel S., who died in infancy; Jenny B., wife of J. F. Hughes, and mother of two children, Robert L. and Estie I. M.; Charles N., George W., Lida M., Daniel F., and Thomas J.
Source: From History of the Upper Ohio Valley,
Vol. I, pages 731-732. Brant & Fuller, 1890.

Submitted by Linda Fluharty.
---