ZACHARIAH A. WHITE, Assistant Surgeon, Company "F"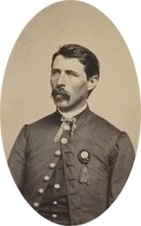 ---
Submitted by Wayne Williams.
ZACHARIAH A. WHITE - Born 1838 in Pennsylvania, he was the eldest son of William W. White, a prominent (W) Virginia abolitionist, and Elizabeth Clyde. He first enlisted in Co. F. of the First (W) Virginia Infantry May 13, 1861 (90 day enlistment), serving as a sergeant. When mustered out after 90 days (8/8/1861), he returned to medical school; later re-enlisted with the 1st West Virginia Cavalry where he served until the end of the war. Was imprisioned at Salisbury, North Carolina for a period of time. After the war he remained in the Pennsylvania-West Virginia area, where he practiced medicine and, also, at the appointment of President Andrew Johnson, acted as Deputy U.S. Revenue Collector in Waynesburg, Pa. He died December, 1867 in Waynesburg. "He met his death very suddenly, when in the act of getting into a stage coach."
Zachariah never married, therefore he never claimed any children. He had many brothers and sisters, one of whom, Vachel Marion White, served in Company G. of the 1st West Virginia Infantry. Much of his family (parents, brothers and sisters) moved to Illinois during the final years of the Civil War (1864-1865). It is thought they were somehow forced to move because of their strong abolitionist views (an uncle of Zachariah A. White, Zachariah G. White, had a church on his property and after an "itinerant local preacher" was killed for giving a sermon on the evils of slavery, see following, they may have thought it wise to move on). There is, however, no proof this was their motive for going west, it may of just been a business decision, but it makes it more of a romantic story than they just moved because the farming in Illinois may have been better. In November of 1867, Zachariah A. White purchased the land next to his brother's farm in Illinois but never relocated because of his "sudden death" the following December.
PENSION APPLICATION, NATIONAL ARCHIVES (Abstract)
ZACHARIAH A. WHITE, ASSISTANT SURGEON, First West Virginia Cavalry.
On June 18, 1864, Zachariah A. White, Assistant Surgeon of the First West Virginia Cavalry was "captured by being left in charge of wounded (by special order from Major-General Hunter) near Lynchburg Va. He was taken first to Macon Georgia and then later to Charleston S.C."
The following two documents relate to the method used to secure his release:
1. From the "Headquarters of the 2nd Brigade of the 2nd Cavalry of W. Va." Stationed "Near Leetown W Va. on Sept 9, 1864"

From Hoffman, J. L.
Lt. Col. Commanding

A "Request that T. Z. Offutt Ass't Surgeon of the 45th Regt. Va. Infantry Confederate Army be held as hostage for Ass't Surgeon White, 1st W. Va. Cav."

The document was sent to the "Headquarters of the Department of West Virginia, in the field on Sept. 9, 1864 where it was forwarded with a recommendation for approval by Major General George A. Custer.

The document was forwarded on to Major General Crook for final approval.

Upon final approval the following document was written;

2. From the Headquarters of the 2nd Brigade of the 2nd Cavalry of W. Va.
Stationed "Near Leetown W Va. on Sept 9th 1864."

J L Hoffman, Lt. Col. of the 2nd Virginia Cavalry, directed that captured "Asst Surgeon T.Z. Offutt" of the 45th Regiment Va. Infantry so called Confederate Army" … "be held as hostage for Asst Surgeon Zachariah A. White of 1st W VA. Cavalry who was left behind near Lynchburg Va. And from whence word has since been received stating that he has been placed under fire at Charleston S.C."
The third document is a newspaper ad from April, 1857 regarding a runaway slave owned by T. Z. Offutt, of Woodstock, Howard county, Md., the doctor for whom Z. A. White was exchanged.
3. The following article appeared in the "Baltimore Sun" on April 11, 1857

$100 REWARD - Ran away from the subscriber, living near Randallstown, Baltimore county, Md., on the night of the 7th instant, a NEGRO WOMAN, OMER BIAS, about twenty-seven years of age, five feet four or five inches high, light chestnut color, rather stout and quite fleshy. Had on when she left home a red striped linsey dress, carrying other clothes in a bundle. The above reward will be given if taken out of the State, or fifty dollars if taken in the State; in either case to be secured in jail so that I get her again. Address Dr. T. Z. OFFUTT, Woodstock, Howard county, Md.
The fourth document is a letter sent by Zachariah A. White to the Surgeon General of the United States following his release and parole from Charleston, S. C.
4. New York City
Sep 11th 1864
Surgeon Genl U.S.A.
Washington D.C.

Dear Sir

I have the honor to state that I have just arrived at this city from the so called Southern Confederacy where I have been held as a Prisoner of War since 18th June 1864. I was captured by being left in charge of wounded (by special order from Maj-Genl-Hunter) near Lynchburg Va. Taken to Macon Georgia and then to Charleston S.C. and released on the 3rd of Sept Inst. By being sent through the lines in Charleston Harbor and was sent to this city by order of Maj Genl Hunter with orders to report to Surg Genl U.S.A. by letter.

In consequence of close confinement, and improper diet while a prisoner, I feel myself physically incapacitated to enter at once upon the duties of a Medical Officer in the field, and would therefore respectfully ask for thirty days in which to report to my command.

Hoping this may meet your approbation and that I may hear from you at your convenience – I have the honor to remain

Very Respectfully
Your Most Obedient Servt
Z. A. White
Asst Surg 1st West Va. Cavalry

Merchants Hotel
New York City
The final document is a "MEMORANDUM FROM PRISONER OF WAR RECORDS" showing where and when he was captured and paroled.
5. Captured at Lynchburg VA. on June 19, 1864. Paroled at Charleston S.C. on Sept 3 1864.
---
THE BLOCK HOUSE ON THE FRONTIER
On Liberty Ridge, about two miles east of Cameron, stood for many years an old church building known as the "True Wesleyans," but referred to oftener as "The Block House on the Frontier," being the primitive church there. The building stood on the farm of Mr. Z. G. White. Nothing now remains of the church but a little debris scarcely sufficient to mark its site. It was built about the year 1848. Among the first members Z. G. White and wife, William Clyde and wife, Rachel Clyde; Sarah Jane Clyde, Benjamin Chambers and Elmer Chambers and wife; Nancy Piles, David Clyde, Noah White, Sr., and wife, Elmer White, Reason and Elizabeth Riggs, Andrew Murdy, and Mrs. Chambers. The church building was not erected until several years after its organization was effected. Prior to this meetings were conducted around in private houses among its members. Rev. William Crooks was the first minister who remained with this congregation two years. He was followed by Revs. J. P. Belker, Caleb Preston and others. Mr. Solomon Hendrickson was also one among the first members of this congregation and who subsequently became an itinerant local preacher. Whilst engaged in preaching in a church located about a mile from the above, was attacked by a posse of enraged men and mobbed as he stepped from the church door. He had been showing up the evils of slavery and made the remark in the course of his sermon that, "We should do unto others as we would they should do unto us; and if that was obeyed, it would destroy slavery." For this observation he was mobbed. He received such internal injuries from the hands of the mob that he died in three weeks from the effects.
(Typed for the Marshall County WVGenWeb by Marguerite Howard.)
From: "History of the From: History of The Pan Handle; Being Historical Collections of the Counties of Ohio, Brooke, Marshall and Hancock, West Virginia. Compiled and written by J. H. Newton, G. G. Nichols, A. G. Sprankle. Published by J. A. Caldwell, 1879.