DAVID BAGULEY
Surgeon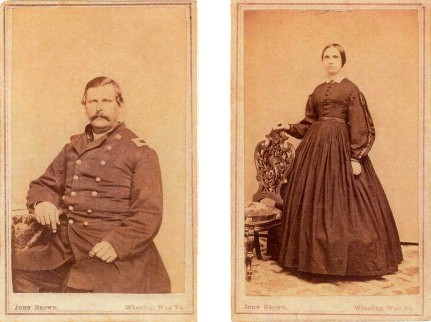 Dr. Baguley and wife, Sarah (Keller).
(CDVs owned by Linda Fluharty.)

BIOGRAPHY

History of the Upper Ohio Valley
Brant & Fuller, 1890; Vol. I, pages 583-584.

David Baguley was born of English parents, in 1822, in Wheeling. His opportunities to secure a liberal education were poor, but we find him at the age of sixteen a country school teacher. He later studied medicine with Drs. Yates and McCoy, and afterward with Dr. Cracraft at Triadelphia. In 1851 he graduated at the Philadelphia College of Medicine, and located in New Cumberland, but after three years removed to Wellsville, Ohio, where he did a large practice. Early in the war, he entered the Union army as surgeon of the First West Virginia infantry, and remained in the service for four years, being in turn promoted to brigade surgeon, surgeon-in-chief of the first division of the army of West Virginia, and medical director of the Ninth army corps. Dr. Baguley established in the army a reputation as a daring and skillful operator, and was a great favorite with the soldiers. The writer, as examiner of pensions, still often hears the old soldiers speak in warmest terms of praise of their former surgeon. Failing health compelled Dr. Baguley's resignation, and he returned to Wellsville and rested for two years. In 1868 he located in Wheeling at the solicitation of his soldier friends, and soon built up a large practice, which continued until stricken down by diabetus mellitus, which terminated his life in 1877. Dr. Baguley early in his professional career formed the habit of recording his important cases. This practice, notwithstanding his lack of early culture, made him a careful, painstaking and observing practitioner. He was highly esteemed by his patrons, and many still love to speak his praises. He was a member of both the state and local societies, and contributed several papers to the former's TRANSACTIONS.
---
1850 Census, Ohio County, (W) Va
#262
BAGULEY, David, 26, Teacher, b Va
BAGULEY, Sarah, 23, b Va
BAGULEY, Catherine, 2, b Va

1860 Census, Wellsville, Columbiana Co., Ohio
#145/#145
BAGUELEY, David, 37, Physician, $800/300, b Va
BAGUELEY, Sarah, 34, b Va
BAGUELEY, Catherine, 12, b Va
BAGUELEY, Charles, 8, b Va
BAGUELEY, Byron, 4, b Ohio
BAXTER, Elizabeth, 17, Domestic, b Va

1870 Census, Ohio County, (W) Va.
#519/#574
BAGUELY, James (obviously an error), 46, Physician, $8000(?), b Va
BAGUELY, Sarah, 40, Keeps Hs., b Va
BAGUELY, Catharine, 19, at school, b Va
BAGUELY, Charles, 16, at school, b Va
BAGULEY, Byron, 12, at school, b Va
BAGUELY, Clarence, 4, b WVa
ENSIL, Ann, 21, Dom. Servant, b Ohio


1880 Census, Ohio County, (W) Va
Page 242D
BAGULEY, Sarah, 50, Widow, Va Va Pa (Typhoid Fever)
BAGULEY, H. B., Son, 24, Physician, Oh Va Va
BAGULEY, Ada A., Dau-in-law, 21, Va, Eng Eng
BAGULEY, Clarence B., Son, 14, Oh Va Va
David Baguley married Sarah Keller in Marshall County, W.Va. on October 23, 1846. (Bk 1, Pg 50)
Dr. Baguley died 10 July 1877 (Diabetes & Cholera Morbus) and is buried at Greenwood Cemetery, Wheeling, W.Va. Sarah died in June 29, 1881 at the age of 54, possibly of the Typhoid Fever mentioned in the 1880 census.
Homer C. Wells married "Kate" Baguley in Ohio County, W.Va. on July 6, 1871 (Bk 10, pg. 22) . Homer Clark WELLS was born 16 SEP 1844 in Wellsville, Yellow Creek Twp, Columbiana Co, Ohio, the son of Alexander Wells and Esther Kemble.
H. Byron Baguely, was also a physician and surgeon in Wheeling. He married Ada A. Tyler, daughter of John T. Tyler, September 11, 1879, in Ohio County, W.Va. They were residing with his mother in the 1880 census of Ohio County.
THE DEATH OF DR. DAVID BAGULEY.
Many of our citizens will be pained this morning to see in our columns the announcement of the death of Dr. Baguley.
Although only a resident among us some twelve years he had earned in that time the respect and esteem of a large number of friends.
He began life under the most adverse circumstances. He was forced to endure hardship and toil while he was yet a mere boy, and was consequently deprived of many early educational advantages which he deeply deplored in after life.
His struggle to qualify himself for the practice of medicine, if succinctly narrated here, would afford ample testimony to the indominitable determination and energy of his character and would be another proof that "Where there's a will there's a way."
Dr. Baguly's peculiar bent of mind seemed to lead him to more especially of the surgical portion of practice, in which he was eminently successful. During the late civil war he was regimental surgeon to a West Virginia regiment and was greatly beloved by all the officers and men. The State board of examiners by whom all surgeons were examined before receiving comissions, unanimously pronounced him, at the close of their examination, to be in all respects most thoroughly qualified; that in fact he had acquitted himself more satisfactorily than any other applicant that appeared before them during the whole course of the war.
He had a large practice and he will be sadly missed, especially among the poor. Some five or six years ago he first became aware that he was laboring under that insidious and fatal disease known as diabetus millitus. His professional brethren lent him, during this time, all the assistance they were able, but it was chiefly to his own exertions and to his study of his case that his life was prolonged for the length of time it was.
Since the first invasion of the disease to its close yesterday, he kept a daily record of his case, setting down minutely every symptom and every change.
Such a record from an intelligent physician, with its daily observance of the symptoms in his own case, cannot fail of possessing data valuable to the profession of medicine. It may be said, too, that not only his own case, but the sufferings and troubles of numerous patients occupied the last days of his life.
Only the day before his death he was busily occupied in visiting from house to house to the bedside of the sick. Upon Tuesday morning about one o'clock he was suddenly seized with an attack of choleric diarrhoea, the discharges were most frequent and profuse and resembled in all respects the rice water discharges peculiar to Asiatic cholera. These were succeeded by a collapse from which the efforts of his medical brothers were powerless to rouse him. He gradually became weaker and weaker, and died in the full possession of his senses at about 4 o'clock P.M. of the same day.
More About the Death
---
BIOGRAPHY OF H. BYRON BAGULEY, SON OF DR. BAGULEY
H. Byron Baguley, M.D., was for over a quarter of a century one of Wheeling's successful physicians and surgeons, and took a very prominent part in the social and civic affairs of his community. His death on May 1, 1908, at the age of fifty-two, was a distinct loss to his profession and citizenship, for he was a man of high ideals and his personality endeared him to hundreds of friends and associates.
Dr. Baguley was born at Wellsville, Ohio, July 28, 1856, a son of David and Sarah K. (Kellar). His father*, who was a native of Columbiana county, was a farmer and land owner and in later years was connected with Meadville College. The Kellar family were the earliest settlers of the Ohio Valley, their original homestead becoming noted as the Klages farm.
Dr. Baguley was educated first in the Wellsville Public schools, and then entered the Ohio Medical College, where he graduated with the degree of Doctor of Medicine in 1881. In the same year he was located at Wheeling, and at once entered upon a professional career in which his high attainments gave him success. He was in the Spanish-American war as chief surgeon, with the rank of lieutenant colonel of the First West virginia Volunteers, and was mustered out at Augusta, georgia, in February, 1899. He was a charter member of the Spanish War Veterans. In the order of Masonry he had attained the thirty-second degree of Scottish Rite, and was a former commander of the West Virginia commandery of Knights Templar. He and his family were also active members of the Episcopal church.
In 1879 Dr. Baguley was united in marriage to Ada A. Tyler, of Martin's Ferry, Ohio, to whom one daughter, Eugenia T. Baguley, was born. Mrs. Ada A. Baguley died in 1904, andher daughter, Eugenia T. continues to live at the family residence at 2216 Eoff street. Dr. Baguley was again married, on Oct. 31, 1906, to Florence E. Hannan, daughter of George G. and Lydia A. (Wheeler) Hannan.
*Note: It is not clear whose father was the farmer. It wasn't Dr. David Baguley. His father? Sarah's father?