GENERAL B. F. KELLEY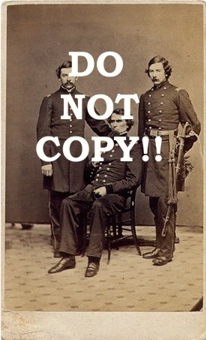 General B. F. Kelley (center) with sons, William B. (left), 1st Lt. 1st W. Va. Infantry,
& John G., Lt. Col. 7th W. Va. Infantry.
(CDV owned by Linda Fluharty.)

BIOGRAPHY

From Generals In Blue, by Ezra Warner; pages 260-261;
Louisiana State University Press, 1964.

BENJAMIN FRANKLIN KELLEY was born April 10, 1807, in New Hampton, New Hampshire. At the age of nineteen he moved to Wheeling, in what is now West Virginia, and in 1851 became freight agent of the Baltimore and Ohio Railroad there. In May, 1861, Kelley raised the 1st (West) Virginia, a ninety-day regiment which he led at the battle of Phillippi on June 3. (*290) He was wounded severely during this engagement and upon recovery was commissioned brigadier general to rank from May 17. Virtually all of General Kelley's war service took place in West Virginia and Maryland, where his principal duty was to guard the line of the Baltimore and Ohio and to fend off the constant incursions of Confederate raides seeking to sever this vital line of communications. In consequence he took part in the pursuit of the army of Northern Virginia after Gettysburg, the dispersal of Imboden's camp near Moorefield in November, 1863, and the engagements at Cumberland, Maryland, and Moorefield and New Creek, West Virginia in 1864. On February 21, 1865, a band of Confederate partisan rangers made a raid on Cumberland, Maryland, and carried off General Kelley along with General George Crook, his superior in command of the department of West Virginia. Both Crook and Kelley were at the time engaged to belles of the town (whom they subsequently married), and the affair created a contemporary furore which has been studiously ignored by the biographers of both men. (291) After a brief sojurn in Richmond, Kelley was released by special exchange. He had been brevetted major general on August 5, 1864, and on June 1, 1865, resigned from the army. During the remainder of his life General Kelley held a succession of Federal positions as a reward for his wartime exploits: President Grant made him a collector of internal revenue for West Virginia in 1866 and superintendent of the Hot Springs, Arkansas, military reservation ten years later; in 1883 President Arthur appointed him an examiner of pensions. He died in Oakland, Maryland, on July 16, 1891, and is buried in Arlington National Cemetery.

(*290) - In the first year of the war the "loyal" regiments recruited in western Virginia were called 1st Virginia, 2nd Virginia, etc. After Congress admitted West Virginia as a state in 1862, the nomenclature was changed accordingly.