ISAAC HARDIN DUVAL.
Major, 1st W.Va. Infantry, 3 Months' & 3 Years' Service.
Colonel, 9th W.Va. Infantry & 1st Veterans
Major General, Second Division of the Army of West Virginia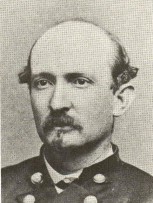 Wheeling Intelligencer, 27 Sep 1864

COL. I. H. DUVAL, who was so conspicuous for his daring and good management during the recent fight in the Valley between Gen. Sheridan and rebel Gen. Early, arrived at his home in Wellsburg yesterday. He has a painful flesh wound in his thigh, which will keep him from active duty for some time, but which is not regarded as dangerous. The Colonel received his wound after the day was won. He was walking up to where a number of officers were resting when he was shot by a sharp shooter. Col. D. has won a record in this war which he could not afford to exchange for any position within the --ft? of the government. He richly deserves to be made a Brigadier General at once.

BIOGRAPHIES

Loyal West Virginia From 1861-1865
Theodore Lang, 1895; pages 351-352.
Also see Lang's History, 1st W.Va. Infantry

General I. H. Duval - was born in Virginia, but left home at an early age for the Far West. He spent 14 years in the Rocky Mountains and on the prairies. Immediately after the annexation of Texas he collected hostile Indians for the Government for the purpose of making treaties, and brought in delegations from 20 different tribes living on the frontier of Texas. He commanded the first company that crossed the plains from Texas to California after the discovery of gold. He had no guide, and traveled the whole distance with the aid of a small pocket compass. He joined the Lopez insurrection in Cuba, and escaped execution by a mere scratch. He returned to this country and entered the U. S. Army on the first call for troops. Captain Duval was elected major of the First W. Va. three month's regiment; reappointed major of the three years' regiment, and later appointed colonel of the Ninth W. Va. Infantry, also colonel of the First W. Va. Veterans. He was promoted from time to time up to major-general by brevet.
While he held the rank of colonel, he commanded at different times the First and Second Divisions of the Eighth Army Corps; was on two occasions assigned by special order to the command of the corps in the absence of General Crook; was wounded twice, once at Port Republic, in the foot, and through the thigh at the battle of Opequan; had eleven horses killed and wounded under him during the war; was assigned to the new Hancock Veteran Corps, and led it down the valley with orders to get in the rear of Richmond to prevent General Lee's escape should he attempt to get away from General Grant, who was then pressing Lee in front of Richmond. It was expected that General Hancock would have overtaken and assumed command of his forces before Duval reached his destination. At Staunton, Va., Duval learned of General Lee's surrender and realized that Hancock's Veteran Corps would not be required for the service which they expected to perform. Duval was in command and captured General Rosser's cavalry, paroled several thousand Confederate soldiers and captured several trains loaded with iron, leather, guns and army supplies belonging to the Confederate States of America.
While at Staunton an attempt was made to assasinate General Duval. While sitting in the house of a loyal citizen, a shot was fired at him, the bullet passing between his arm and body, into the back of the sofa upon which he was sitting.
For several months after peace was declared, General Duval had charge of a subdivision, with headquarters at Wheeling, W. Va., having served for years and nine months in the army, having fought in 34 battles. After the war, General Duval was elected to Congress from the first district of West Virginia; also served four terms in the Legislature of the State for two years, U. S. assessor two years, and 14 years collector of internal revenue for the first district of West Virginia. General Duval told the author that he was most fortunately situated during his service in the war. He had been supported by gallant and efficient officers and men, and his success was mainly due to them. From the start to the finish they never hesitated to do all that was required of them. Their loyalty to country and flag could not be questioned, they were at all times ready to endure hardships, to march and starve, to suffer and die, if necessary, in upholding the Nation's honor.

Prominent Men of West Virginia.

Isaac Hardin Duval - The editors of this volume, as must the public, regret that the modesty of this able General and Legislator prevents our facing this sketch with a hadsome portrait. Just why so brave a soldier thus remains in the dark, we cannot conjecture. He was born September 1, 1824, in Wellsburg, Virginia; received a common school education; spent fourteen years of early life in the Rocky Mountains and in Texas; collected Indians, in 1847, for the Government to hold treaties with, as private secretary of the Commissioner for that purpose; commanded the first regiment that crossed the plains into California after the discovery of gold; was Major of the First West Virginia Infantry Regiment three months; then Colonel of the Ninth West Virginia Regiment Volunteer Infantry. He served through the war; was promoted for merit and valor from time to time up to Major General by brevet; commanded the Second Division of the Army of West Virginia; was in charge of the Sub-Division of Wheeling Department after the close of the war, and was mustered out of service January 15, 1866. He was in thirty-six battles and skirmishes during the war; had eleven horses killed and wounded under him, and was himself twice severely wounded; was State Senator, sessions of 1866-7; Adjutant General of West Virginia from March 4, 1867, to March, 4, 186-; member of Congress from the First District from March 4, 1869, to March 3, 1871; then United States Assessor of Internal Revenue for two years, and Collector for the next twelve. He was elected to the House of Delegates from Brooke county, session of 1887, and re-elected to the pending one of 1889, in which he serves upon Committees of Federal Relations, Military Affairs, Education, Rules, and Arts and Sciences, and General Improvements.