JOHN V. K. & WILLIAM B. EBBERT
Father and Son

1850 Census, 44th District, Ohio County, (W) Va.
John V. K. Ebbert, 33, Cabinet Maker, b PA
Charlotte, 26, b PA
Mary V., 7, b VA
William, 5, b VA
Alcinda, 1, b VA Jarard Wallace, 30, Cabinet Maker, b VA
Alexander Anderson, 18, Cabinet Maker, b Ohio
Charles Louderback, 15, Cabinet Maker, b VA
Catherine Simmon, 16, b Germany

1860 Census, Wheeling War 5, Ohio County, (W) Va.
John Ebart, 40, Cabinet maker, $150, b PA
Charlotte, 36, b PA
Wm., 14, b VA
Alice, 11, b VA
Thos. Beshier, 36, Nailer, b MD
Wm. Copeland, 40, b PA
Walter Kedey, 23, b MD
EBBERT, John V. K. - Enrolled in Company "I" at Wheeling, W.Va.; 43; M/I 05 Nov 1861, Wheeling, W.Va. Miner, born in Durham, England. [Note: Census records show Cabinet Maker, b PA.] Discharged at Fairfax Hospital, Va., 18 Aug 1862, on account of disability date and number of order unknown.
The name of John V. K. Ebbert is found on Captain Richard Ratcliff's' Company Roll dated 02 Jul 1861 and attached to 4th Ohio County Militia, also known as "Pierpoint Home Guards"
John Ebbert is buried in Old St. Mary's Cemetery, Ohio County, W. Va. ["Civil War Soldiers of Ohio County," by Audra Wayne.]
EBBERT, William B. - Enrolled in Company "A" at Wheeling, W.Va.; 18; M/I 25 Sep 1861, Wheeling, W.Va. Clerk, born in Ohio County, W.Va. Re-enlisted as re-mustered at New Creek, W.Va., 12 Feb 1864; transferred to Non-Commissioned Staff by promotion to Sergeant Major, 29 Jul 1864, by order of Lt.-Col. Weddle. After the 1st Infantry mustered out, William still had time to serve on his re-enlistment and was in the 2nd Veteran Infantry, formed by the consolidation of the 1st and 4th Regiments. He was commissioned 1st Lt., Company "H", 17 Apr 1865. The 2nd Veteran Infantry mustered out 16 July 1865.
William B. Ebbert is buried at Mt. Calvary Cemetery, Wheeling, W. Va. ["Civil War Soldiers of Ohio County," by Audra Wayne.] [Conflict: Bio below shows burial at Lewis, Colorado.]

Submitted by BRIAN S. EBBERT
Biography of John Van Kirk Ebbert
(1815-1892)
Sergeant, 1st Regiment W. Va. Infantry Volunteers;
Corporal, Independent Pennsylvania Light Artillery, Battery H
John Van Kirk Ebbert was born on January 8, 1815 in Fayette County, Pennsylvania. He was married to Charlotte Baltzell and made his living as a cabinet maker. He served in the same regiment as his son, William Baltzell Ebbert, but in a different Company. John V.K. Ebbert was a Sergeant in Captain Trimble's Company I of the First West Virginia Infantry Volunteers from 1861 to 1862. He was discharged due to illness. He re-enlisted later in 1862 as a Corporal in the Independent Pennsylvania Light Artillery, Battery H. In 1863 he was discharged again for illness. He died at age 77 at the National Soldiers Home in Milwaukee on April 25, 1892.
In the 1880s Ebbert attempted to collect a veterans pension. In his application for a certificate of honorable service, John Van Kirk Ebbert described his military service as follows (blanks are illegible text):
"Encamped at Romney, Hampshire Co., West Va. in the fall of 1861, was on recruiting duty under Major Newton U. Galt part of the winter of 1861 and 1862, joined my regiment in the spring of 1862. Fought under General Shields, Stone Wall Jackson at _______(Korner ?)______ in the Shenodoah Valley, the Luray(?) Valley and Port Republic, Bristow Station, skirmished at 2 Battles Bull Run, fell back to the Potomac, was removed to hospital at Alexandria, Va., and taken to Fairfax Seminary Hospital, where I was discharged on a Surgeons Certificate of Disability. That some of the officers and soldiers of his company were as follows, viz: Captain John Trimble, Lieutenants, James, 2nd Lieu. James Singleton, Sergeants Harry Atkinson, George Oliver, John Van Kirk Ebbert, R ______, Corporals August Eckey, Wm. L.______Wiers and Privates _________ R. ______, David Bird, Geo. ______, John Darby, Jeremiah ________ and Ben Hark____, that he on or about September 1863 at Allegheny City in the state of Pa., that his Discharge Certificate was lost or destroyed without the privity or procurement of the applicant under the following circumstances.

'I lost my wife in the spring of 1873. In Sept. of 1873 I had a sale of my furniture and in clearing out the bureau drawers in the ______, my daughter and niece gathered some old papers from the bottom of the drawers and burned them (I kept my discharge papers in an old newspaper) - so I had always _been_______satisfied that the papers was burned at that time as it---I couldn't find them, and that he has made diligent search for his said Discharge Certificate and has been unable to recover it, and has no knowledge of its present whereabouts. Therefore I think it was burned.'

This declaration is made for the purpose of securing a Certificate of Service and John V.K. Ebbert the soldier, and the applicant desires that it be sent to him at 225 North Ave. Allegheny City in the County of Allegheny and state of Pennsylvania,

Applicant declares that the soldier was born at Uniontown in the County of Fayette and state of Penn. That is he 69 years of age, 5'8 ½" high, of dark complexion, grey eyes, dark hair, and by occupation, upholsterer. His occupation before or at time of enlistment was that of a cabinet maker."
Like other Civil War veterans, John V.K. Ebbert struggled in later years to collect his military pension. Having trouble obtaining his records of military service, he began writing in the 1880s to men who had served in his Company decades before. One of those men ("Wear") responded with this letter to John Van Kirk Ebbert (blanks are illegible text):
3 May, 1887
Office of Grand Island Marble Works
Walnut Street
Grand Island, Nebraska

Sergt. Van Kirk Ebbert
Dear Sir,

Your letter came to hand all right and was happy to hear from you, but am sorry to say that I could not make out all of your letter, particularly where you wanted some information from me concerning your discharge. Now you know by yourself that we are getting old and our memory is not as good as it was some years ago. Mine has failed so that I cannot tell when I was sent to the hospital at Cumberland, Maryland, neither the month nor the year. I cannot make application for pension on account of my memory. I remember Sergt. Atkinson and Sergt. Bob Grey and I have a faint recollection of you, but cannot remember when, where or how you left the Regmt, but if you will write me the full particulars of your leaving the Regmt it may bring it all to my memory again. Now I know that Bagley is dead, John English, surgeon of 1 & 4 is at Clinton, West Va. And Samuel B Stidger surgeon assist. is at Cameron West Va. And Dr. James Gillespie assist surgeon is at Sistersville West Va. But John English is the only surgeon I think that was with us after we left Alexandria. Now rite me again the full particulars and I will be happy to answer,
I am as ever yours
__ __ Wear
P.S. get some younger and steadier hand at your pen please, as I don't want to miss one word that is written me by one of my old comrades. Do you belong to the G.A.R.?
Ebbert spent his later years living in Allegheny City, Pennsylvania and by 1890 was at the National Soldiers Home in Milwaukee, Wisconsin. It was around this time that he requested assistance from his cousin, Congressman George Ebbert Seney*, in order to secure his veterans pension. After several years of petitioning for his pension, on July 24, 1890, the Bureau of Pensions granted him $12 per month. John Van Kirk Ebbert died at the Central Branch Hospital, National Home D.V.S. on April 25, 1892.
*Note: John V.K. Ebbert was the cousin of George Ebbert Seney, who served as Quartermaster in the 101st Regiment Ohio Infantry Volunteers in the Civil War and who later served in the U.S. House of Representatives, 1883-1891.

Biography of William Baltzell Ebbert
(1846-1927)
1st Lieutenant and Acting Adjutant, 1st Regiment W. Va. Infantry Volunteers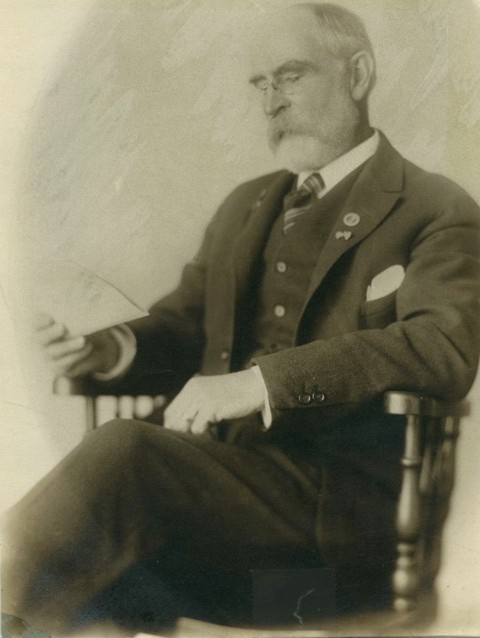 William Baltzell Ebbert was born in Wheeling, (West) Virginia on February 28, 1846. In 1861, at age 15, he enlisted (lying about his age) with the 1st Regiment West Virginia Infantry Volunteers, Company A and later served in Company H. Ebbert was a First Lieutenant and Acting Adjutant. His father, John Van Kirk Ebbert, age 46, was already enlisted in Company I.
After the Civil War, Ebbert moved to Colorado where he became an author, newspaper publisher, state legislator, poet, and farmer. He was first married to Cornelia Blanche Hall, who died during childbirth, and later to Catherine Scheutle. Ebbert was publisher of the Pueblo Review and Standard (1889-90), authored the book "On Colorado's Fair Mesas" (1897), and served in the Colorado General Assembly 1889-90, 1907-1908, 1911-1912. He served as the director of several Colorado agricultural organizations in Otero, Pueblo, and Montezuma counties. He briefly wrote of his experience in the Civil war (below). William B. Ebbert died in Cortez, Colorado on February 27, 1927. He is buried in Lewis, Colorado.
Years after his military service, William B. Ebbert wrote of his experience in the Civil War, in a letter to his daughter:
Now as to my Civil War experience. This is not a proud narrative – I did nothing great. I was just a "kid" as we now say, when I went to war. I enlisted as a private at Wheeling, a town on the border, which furnished both Union and Confederate soldiers, and served mostly in the Shenandoah Valley, Virginia under Gen. Shield, Sheridan and others, frequently facing Stonewall Jackson. The first engagement of our regiment was near Winchester March 25 1862 where we drove back Jackson. We were under the hottest fire at Port Republic afterwards, where we lost nearly half my company – were defeated, routed, and pursued for 14 miles by Confederate cavalry which never ceased firing on us during our retreat. I was in the 2nd Bull Run defeat under Pope and in many small engagements under different commands, was made Sergeant Major of our Regiment after serving 2 or more years; then after another year or more our Colonel surprised my by handing me a commission from Gov. Boreman of W. Va. as 1st Lieutenant, was appointed by the Colonel Acting Adjutant which gave me a horse to ride while on the march and which as Lieutenant, was chiefly interesting to me because my pay enabled me to send home more money to my mother. My pay as private was I think, first $11 a month, afterward $16, as Sergeant Major $26 a month, as 1st Lieut. about $149 a month. I never sought nor expected promotion – for there were better and better looking soldiers than I was, but my promotion happened and I did the best I could with it. Our Col Weddle had a warm spot for me, and thru him my advancement occurred. Our 1st Col (Thoburn) was killed the day of Sheridan's ride, and just before Sheridan reached the front. Weddle had been our Lieutenant Col. Thoburn was ambitious and reckless of his life. Weddle was steady and brave, not pushing his men needlessly into danger.
Here is a long story for you and Mr. Fabrique to read and I don't think I ever wrote it down before. My Reg. was the 1st W. Va. Infantry, I enlisted Sept. 26, 1861 – mustered out July 1865.
Dad
On December 8, 1864, Regiment Adjutant Lucian Gray requested a furlough for Sgt. Major William B. Ebbert to travel home to Wheeling for the purpose of raising funds for a memorial monument for Colonel Thoburn, who had been killed in action. This is a copy of the request: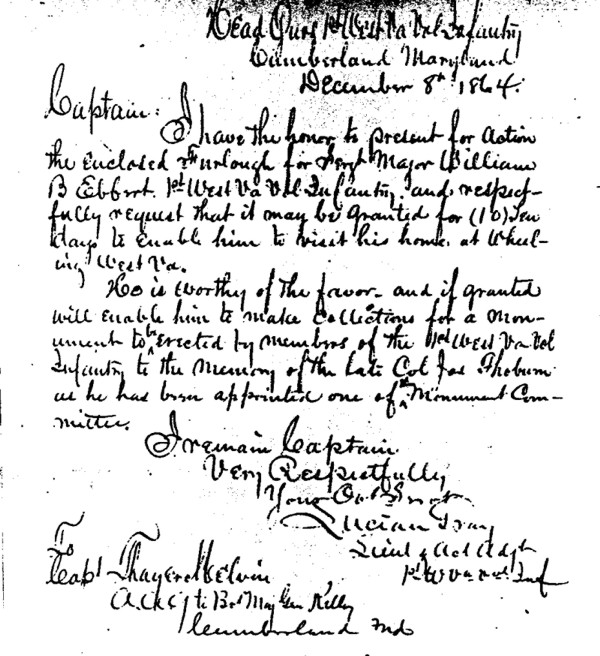 [Ebbert biographical information shared courtesy of Wm. B. Ebbert's great great grandson, Brian S. Ebbert of California; much of this information was researched by great grand niece, Joanne Moulton of Alberta, Canada.]