ENOCH JACKSON EVANS


BIOGRAPHY
Submitted by B. Carlisle Bowling
P.O. Box 1177
Flagler Beach, FL 32136-1177

Telephone 1-904-439-2841/1- 800-771-6640
Fax 1-904-439-1519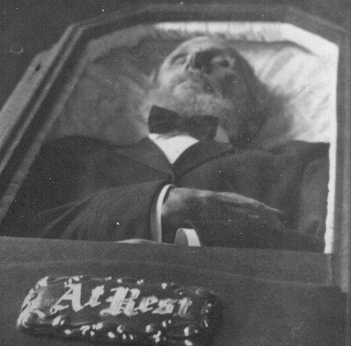 Enoch Jackson Evans, 68, a lifelong resident of the Marshall/Wetzel Counties Border area died on February 6, 1912 in front of the Sherrard Post Office after falling off his horse. He had left home on Sunday evening to attend to business in town, even though he was quite ill with pneumonia at the time. His body was returned to the home in Proctor where he was buried.
Enoch was born on April 16, 1843 in Wetzel County, the son of Samuel and Nancy Evans. He first married Anne E. McGrew, a native Marshall County girl who was the daughter of Finley and Abigail McGrew, on New Years Day of 1868 at the residence of Joshua Garlow. The ceremony was performed by B. Ison, minister of the M E Church of Moundsville. Anne was born in 1847 and was 20 years old at the time of her marriage. The date of her death is not known other than it had to have occurred after 1885 when she gave birth to stillborn twins. Enoch and Anne also parented Mary Ella born in 1869, Lillie born about 1871, George F. born in 1873, James P. born in 1878, Enoch Jackson, Jr. born in 1881, and Abigale born in 1884.
Enoch Jackson Evans, Sr. married his second wife, another native Marshall County girl of the Sherrard area McHenry clan on June 29, 1890 in Marshall County at his residence by Rev. Marion Moore, minister of the Christian Church in Wetzel County, and it is very interesting to note that the license for this marriage was issued in Wetzel County and recorded in Wetzel county even though it was performed in Marshall County (an unusual occurrance in that day and age.) That wife was Ida Lenora McHenry, a daughter of James N. and Martha Ann (Williams) McHenry, who was born on August 4, 1864. Ida died in the 1908 flu epidemic that hit Marshall County and most of West Virginia, on December 17 with the official cause of death listed as "La Grippe". Ida was the mother of Minnie McHenry (born 1888 and raised by Enoch as his own) and she and Enoch parented Alfred Clarence Elmer born in 1891, Benjamin Harrison born in 1893, Bessie Louise born in 1896, Edward who was born in July 1900 and died in September 1900, Jesse Earl born about 1901, and son Hazel Alpheus born about 1905, making a total of 14 children for Enoch.
Unfortunately, Enoch had not planned to fall off his horse and die and therefore, left no will even though he was a widower with three minor children--Bessie, Jesse, and "Haze". An estate was opened in Wetzel County with Mr. C. S. Farmer being named the administrator. The estate, after expenses, came to $134.37 and the following was paid out to close the estate on January 20, 1916 (almost four years after his death): George Evans, Lilly McHenry, Ella Colvin, Gale Gamble, and James Evans each received $12.21. Enoch Evans, Clarence Evans, and Benjamin Evans each were paid $12.22. A sum of $36.66 was retained by the probate court for the $12.22 share each for the three minor children--Bessie Evans, Jessie Evans, and Hazel (male) Evans because there was no guardian for these "infants". There is no indication that the amount was ever paid to these children. I do have personal knowledge that Bessie and Jesse and "Haze" were taken into the home of thier brother Alfred Clarence Elmer Evans at his marriage to Bly Bailey on November 16, 1916 and at least "Haze" remained in the home till adulthood.
Written and submitted by B. Carlisle Bowling
Father of Kyle Zarek Bowling--great grandson of
Alfred Clarence Elmer Evans.

PENSION FILE, NATIONAL ARCHIVES
Soldier's Certificate No. 356899
Rank PRIVATE
Service CO H 1" WVA VOL INF
Can No. 7461 - - Bundle no. 22

Declaration For Original Invalid Pension
State of West Virginia
County of Marshall
On this 8th day of June, A.D. one thousand eight hundred and eighty 5 personally appeared before me clerk, of the County Court, a court of record within and for the County and State aforesaid, ENOCH J EVANS, aged 42 years, a resident of BELLAIRE, county of BELMONT State of OHIO, who being duly sworn according to law, declares that he is the identical ENOCH J EVANS who enterd service under the name of ENOCH J EVANS on or about the 26" day of FEBY 1864 as PRIVATE in company "H" of the 1" regiment of W.VA. VOLS. commanded by THOMAS REED and was discharged at CLARKSBURG, W.VA. on or about the 16" day of JULY, 1865, by reason of (illegible); that his personal description is as follows: Age, 42 years; height, 5 feet 10 inches; complexion, DARK; hair, DARK; eyes, BROWN. That while a member of the organization aforesaid, in the service and in the line of his duty at ---, in the State of VIRGINIA, on or about the -- day of MAY, 1864, he contracted chronic diarrhea. Between Stanton and Lynchburg Va June or July 1864 he contracted disease of heart and kidneys from exposure, hardships and wearing equipments.
That he was treated in hospitals as follows: Hospital at Winchester, Va.
That he has NOT been employed in the military or naval service otherwise than as stated above...
That since the 16" day of JULY, A.D. 1865, he has not been employed in the military or naval service of the United States. That since leaving the service his occupation has been that of a good, sound, physical health, being when enrolled a FARMER.....
Signed by Enoch J. Evans
Witnesses: Hansen Criswell & Joseph Stilwell

History of Disability
(Handwritten by Enoch J. Evans)

Bellair Belmont Co ohio
July 10th 1885
history of Disability of Enoch J. Evans in or about may The first 1864 in The Shanado valey va I contract cronic diraeha and Was treated by doctrs Bagely Bregad dr he is dead also by doctor inglish Regimentel doctor he is dead
Then about June or July 1864 between stanton and lynchburg va i Contracted disease of heart and kidneys caused by exposure hardeshipes etc and Was treated by The above docters i Was under treatment By Them until The 18 or 19th of September 1864. When i was sent to Field hospitle The 20th or 21 day of September 1864 Went to Winchester hospitle staid until the 22 or 23 day of october 1864 Wen i joined my companey at Middel town in shanado valey va and Was on sick list nearley all the time til discharged at Wheeling, Wva I lived on a farm 2 years or more on roberts ridge near Moundsville Marshall Co Wva at Which place i lived 5 or 6 years and Doctor Bruce was my doctor moste of the time i labored parte of that time parte of time i had a little Confectionary or mileners Corner of purdyes St.- Went to BenWood va Was there 6 or 8 years doctor Forde WasMy Famely doctor There i had no studay imployment Worked at diferent Things Then i Were in the Countrey nearly 2 years near St. Joseph Marshall Co Wva Worked some on farm then came to Bellair Belmont Co ohio Wher i now stay
Enoch J Evans Bellair Bellmont Co ohio
in winter parte of time i Worke in Coal Workes in Summer i Work Some Times packing(?) old houses for Mr W G Barnard Bellair Belmont Co ohio
Doctor bagley poste office addres is Wheeling ohio co Wva he is dead
doctor inglish psote office address is Clinton ohio co Wva he is ded i not been able to folow my suael ocupation since i came home out of the armey some tiome, i get some things to do That is not so harde i can Work rite smarte in damp Wet Weather dirhea Worse so is my kidneys in hot weather my heart troubles is Worst i Can't stand the heat John M Black
Washington DC

War Department
Adjutant General's Office
Washington, Oct 9, 1885

Respectfully returned to the Commissioner of Pensions
ENOCH J. EVANS, a PVT of Company "H" 1st Regiment W.Va. Infty Volunteers, was enrolled on the 25" day pf Feby, 1864, at Wheeling, W.Va 3 years and is reported on muster rolls from enrollment to Oct 31 1864 present
transferred to Co "F" 2nd W.Va. Vet Vols on or about Dec 14 1864. Muster rolls of said Co for Nov & Dec 1864 & to April 30, 1865 report him present To June 30' 1865 absent in Cumberland. Cooking for troops.
Mustered out with Co July 16 1865 at Clarksburg WVa.
Regtl returns 1st WVa Vols for May & July 1864 do not report him absent.

Department of the Interior
Bureau of Pensions
Washington DC, January 15, 1898.
Certificate No. 356899
Name, Enoch J. Evans

Sir:
In forwarding to the pension agent the executed voucher for your next quarterly payment please favor me by returning this circular to him with replies to the questions enumerated below.
Very respectfully,
H. Clay Evans, Commissioner

First. Are you married? if so, pleae state your wife's full name and her maiden name.
Answer. Ida L. Evans maiden name McHenry.

Second. When, where, and by whom were you married?
Answer. June the 29th 1890. Marshall Co wva by M Moore.

Third. What record of marriage exists?
Answer. Is recorded in the clerks office Whetzel co wva

Fourth. Were you previously married? If so please state the name of your former wife and the date and place of her death or divorce.
Answer. Anna E. McGrew died March the 27th 1888.

Fifth. Have you any children living? If so, please state their names and the dates of thier births.
Answer. (On separate sheet)
Names of my children
Mary Ellen Evans born April the 20th 1869
Lilly May Evans born February the 16 1871
George Finley September the 26 1873
James Frances January the 14 1878
Enoch Jackson November the 25 1881
Abigail Annie (?) October the 1 1884

Alfred Clarence Elmer Evans born July the 26 1891
Benjamin Harrison september the 21 1893
Bessie August the 4 1896

I put the names on this slip on account of not having room on the form
Enoch J Evans
Pioneer
Marshall Co
Wva
June the 4 1898

Senate
Calendar No., 2421.
58th Congress, 2d Session. Report No. 2515.

Enoch J. Evans
April 26, 1904. Ordered to be printed.

Mr. Scott, from the Committee on Pensions, submitted the following
REPORT
[To accompany H.R. 2976.]
The Committee on Pensions, to whom was referred the bill (H.R. 2976) granting an increase of pension to Enoch J. Evans, have examined the same and report:
The report of the Committee on Invalid Pensions of the House of Representatives, hereto appended, is adopted and the passage of the bill is recommended.
The House report is as follows:

Enoch J. Evans, now 61 years of age, served as a private in Company H, First West Virginia Infantry, from February 25, 1864, to July 16, 1865, when honorably discharged as a Company F. Second West Virginia Volunteers (note: Veterans), to which transferred.
He is now pensioned under the general law at $6 per month on account of chronic diarrhea.
His claim to pension on account of disease of kidneys made under the general law was rejected in February, 1893, upon the ground that a pensionable disability from those causes had not existed since the filing of the claim.
He filed some testimony of comrades tending to show, but very indefinitely, that he contracted disease of the heart and kidneys, aside from chronic diarrhea, while in the service; also testimony of neighbors and acquaintances that he suffered from those disabilities ever since his return from the Army.
When first examined, in July, 1885, the board of surgeons found chronic diarrhea and disease of heart, but no disease of kidneys.
In 1889 he was again rated $2 for disease of heart.
When last examined, on April 16, 1902, the board of surgeons found chronic gastroenteritis, and rheumatism affecting the left shoulder joint, lumbar muscles, both knee and ankle joints, but no disease of heart nor any disease of the kidneys.
A claim to pension under the act of June 27, 1890, filed in December, 1900, was rejected in May, 1902, upon the ground that he was not disabled in a pensionable degree under said act, notwithstanding the fact that the surgeons recommended allowance of the claim.
Testimony filed with your committee in the Fifty-seventh Congress shows that the soldier, by reason of debility from age and other informities, is unable to labor; that he is in very poor health and has a wife and children dependent upon him for support.
In view of the above an increase of the soldier's pension from $6 to $12 per month is justified.
The passage of the bill is therefore recommended.

[next page]

An Act Granting an increase of pension to Enoch J. Evans.

Be it enacted by the Senate and House of Representatives of the United States of America in Congress assembled, That the Secretary of the Interior be, and he is hereby, authorized and directed to place on the pension roll, subject to the provisions and limitations of the pension laws, the name of Enoch J. Evans, late of Company H, First Regiment West Virginia Volunteer Infantry, and pay him a pension at the rate of twelve dollars per month in lieu of that he is now receiving.
Approved, April 28, 1904.

Hon. N. B. Scott, United States Senate
March 10, 1910
My Dear Senator:
In response to your inquiry of the 7th instant, received the 8th, relative to the claim for pension, Certificate Number 356,899, of Enoch J. Evans, who served in Company H, 1st West Virginia Volunteer Infantry, and whose address you give as Rural Delivery Number 1, Proctor, West Virginia, I have the honor to advise you that he is receiving $12 per month under special act of Congress, which is not subject to increase by this Bureau.
He was formerly pensioned under the general law at $2 per month for chronic diarrhoea.
His claim for additional disabilities under the general law was rejected March 24, 1893, on the ground that a pensionable degree of disability had not been shown from the alleged disease of heart and kidneys since date of filing application, January 17, 1888.
Very respectfully,
Commissioner

Washington DC
Wetzel Co
Enoch J. Evans
RFD 1, Box 14,
356899 May 18 - 1904
Proctor, W.Va.

Pvt. H 1" 1 WVA Vol Inf.
Special Act

(INTERVIEW)
1. Correct name at present? Enoch J. Evans.
2. Present address? Proctor, WVa
3. Name under which served?Enoch J. Evans
4. Service? H, 1 Wva vol Infy
5. Any prior service? Consolidated with Co F 20 WVa Vol Infy
6. Date of enlistment? Feb 26 1864
7. Date of discharge? July 26 1865
8. Battles? New market, Piedmont
9. Hospital? None
10. Where born? Wetzel Co WVa
11. Age at enlistment? 19 yrs
12. Name of Captain? Reed & Murphy
13. Names of Lieutenants? Can't recall
14. Name of 1st Sergeant? Marshall Whiteman
15. Certificate. Ctf 356899
16. Compare date of issue. May 18 1904
17. When first applied for pension? About 1871 or 1872
18. Name of wife? dead

ENOCH J EVANS

I certify that I have this day personally interviewed the above named pensioner and I am satisfied that he is the soldier and pensioner that he represents himself to be.
FC Griffin
April 13, 1911

Pensioner Dropped
Department of the Interior
United States Pension Agency
Washington DC
Jul 13 1912
Certificate no. 356899
Class CIVIL WAR. INVALID
Pensioner ENOCH J EVANS
Service PVT H IWV I V
The Commissioner of Pensions.
Sir: I have the honor to report that the above-named pensioner who was last paid at $12, to Dec 4, 1911 has been dropped because of death Jan 26 1912

Very respectfully,
Jno R King
United States Pension Agent.

Letter of Benjamin Evans
Feb 26, 1913
Fulton, WVa.
Dear Sir:
I here write you a few lines concerning the death of Enoch Jackson Evans who died the 21 of January one year ago who was a soldier recieving a pension of 12 dollars a month and he left 2 small boys one 8 and the other 11 years old and I learn they they have the right to a pension till they are sixteen years of age and I think that they ought to have the pension now while they are growing up it would help clothe them while they are growing up. Waiting for an answer
truely yours
Benjamin Evans
133 National road
Fulton, WVa

"Died Jan 26, 1912" is written at the top.

Finance
April 11, 1913
Mr. Benjamin Evans
Sir:
Replying to your communication of the 26th of February, received the 24th ultimo, in the case of Enoch J. Evans, certificate number 356,899, I am inclosing herewith, a blank form upon which to present a claim for pension in behalf of the minor children who are under the age of 16 years. The blank should be promptly executed by the guardian or next friend of the children, and returned to the Bureau, as the date of commencement of pension if granted will be the date the application therefor is filed in this Bureau.
The question of the children's title to the accrued pension will be considered in connection with their claim for original pension, the filing if a separate application therefor being unnecessary.

Very respectfully,
J. L. Davenport
Commissioner