GEORGE COEN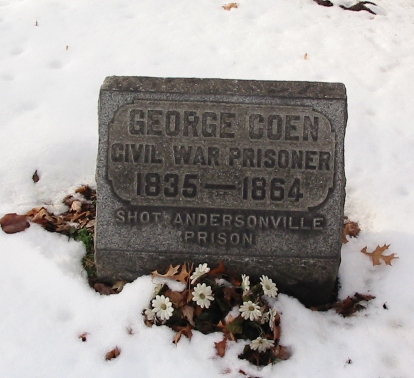 Mt. Wood Cemetery, Wheeling, W.Va.
(Photo by Linda Fluharty)

In the Adjutant General's records for the 1st W.Va. Infantry, George "Cohen" is listed as a deserter. Perhaps the misspelling of the name accounts for the fact that the records do not reflect the real fate of George Coen, Company "H" 1st (W)Va. Infantry. - - He was shot while a prisoner at Andersonville Prison. At least that is what his tombstone says - - if it is his tombstone.

I don't see another soldier of this name among the West Virginia soldiers, in any regiment, but there are numerous conflicts and perhaps this is a misidentification, meaning that possibly the tombstone is that of another George Coen. (Please write if you have information about this soldier.)

The Service Record from the National Archives shows that the George Coen of Company "H" 1st West Virginia Infantry was captured on August 19, 1864. The prison camp he was taken to is not given but it says that he was a paroled at the beginning of March 1865. He was then admitted to the hospital where he died on March 14, 1865 of Chronic Diarrhea. The Record of Death shows that he was buried in Grave #1551 Ash Grove U.S. Cemetery.

George Coen was the son of George W. Coen and Nancy Bear (Bier). They were were both residents of Ohio County when they married in West Alexander, Pa. on Feb 10, 1833. Nancy, born in 1815, died in 1851. George W. Coen, born in 1800, died in 1870. Both are buried in the Coen plot at Mt. Wood Cemetery, Wheeling.
DEATH of George W. Coen in the Wheeling Daily Register: "Cowen, George W., of North Wheeling, 28 Oct 1870, 68y, came to Wheeling in 1803."
Also buried in the Coen plot are other sons of George W. and Nancy: William, born 1844, died 1846; Thomas, born 1846, died 1847; Sam B., born 1842, died 1927; James H., born 1839, died 1901. James' wife, Laura A. (Loveridge), born 1849, died 1918, is interred there, as well.
George Coen and Virginia Peters, both of Wheeling, were married in West Alexander, Pa. on Aug. 19, 1862. It is not known if this was the father or the son.
James H. Coen served in Company "H" of the 15th W.Va. Infantry.
1850 Census of Ohio County, (W)Va:

1539 - COEN
George, 48-M, Laborer, $400, b. Ohio
Nancy, 35-F, b. Va
Charles, 15-M, Laborer, b. Va
George, 14-M, b. Va
Mitilda, 12-F, b. Va.
James, 10-M, b. Va
Samuel, 8-M, b. Va
John R., 2-M, b. Va.

The tombstone of George Coen in the Mt. Wood Cemetery is newer. Did someone from the family have his remains removed from Ash Grove and re-interred at Mt. Wood?