HENRY H. HORNBROOK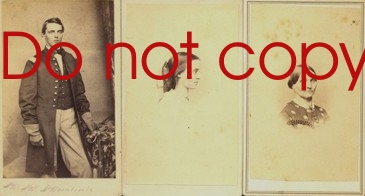 CDV images of Henry Hornbrook (lt), his mother (rt), and his sister, India, are owned by Linda Cunningham Fluharty.
India Hornbrook was the wife of Lt. Col. John G. Kelley, 7th WV Infantry, the son of Gen. B. F. Kelley.

BIOGRAPHY

History of Wheeling City and Ohio County, West Virginia and Representative Citizens
Hon. Gibson Lamb Cranmer, 1902; pages 730-733.

Henry H. Hornbrook, after many years of activity in business circles, is now living a retired life at his sightly home near Elm Grove. He was a vice-president of the Wheeling Iron & Nail Company, and later, manager of the Top Mill department in the Wheeling Steel & Iron Company for several years and was a very successful business man. He was born in Wheeling, West Virginia, December 16, 1842, and is a son of Jacob Hornbrook.
The Hornbrook family is of English extraction, and Jacob Hornbrook was the third in direct line of descent, bearing the name Jacob. Henry H. Hornbrook now has in his possession an old paper, mentioning the baptism of his grandfather. It is as follows: "Jacob, son of Jacob and Barbara Hornbrook, was baptized June 2, 1774, according to the Tavistock Meetings Register. Dated at Tavistock, February 6, 1796. Signed by W. Evans, Tavistock." This paper is kept between plates of glass, and is a relic highly prized, as it is the handwriting of his great-grandfather.
Dr. Jacob Hornbrook, grandfather of Henry H., is the Dr. Hornbrook mentioned in one of the poems by Robert Burns. He came to America, located in Wheeling, and conducted a store on what is now Fifteenth street, as well as a copperas factory in the fifth ward until the time of his death. He and his faithful wife had five sons and one daughter, as follows: Thomas, who owned what is now Wheeling Park; Frank, who was in the ice business; Bickford, whose son is a noted preacher of New York; Edward, whose chief work was on the river; Jacob; and Elizabeth (Bier), all of whom are deceased.
Jacob Hornbrook, father of Henry H., was born near Tavistock, England, and was a small boy when he accompanied his parents to America. He began as a young man on the flatboats, buying and selling produce and engaging in general traffic; at one time he owned a steamboat. He later started a notion store on Twelfth street, Wheeling, was interested in the Union Steamer Line, and was president of the Gas Company, in which he owned a controlling interest. He was interested in the First National Bank, with Mr. Adams and others. Just after the Civil War, he was a member of the legislature and was aide-de-camp to two governors, Pierpont and Boreman - during the war. He was a Whig in politics, and later a Republican, and voted for Fremont and Lincoln. He was a prominent figure in the early days of Wheeling and the business and progressive interests always found in him a willing and powerful supporter. In 1852, he retired from active business and moved to the vicinity of Wheeling park, where William Hubbard now resides. In 1836, he was joined in marriage with Anna M. Killen, who was born near Dublin, Ireland, September 7, 1820, and died March 14, 1886. Four children blessed this union, as follows: Corinna, born in 1837, who is the widow of John E. Wilson and travels extensively in this country and abroad; Henry R., who died at the age of two years; India, who married John G. Kelley, a son of Gen. B. F. Kelley, one of the first officers shot in the Civil War; and Henry H., who was with General Kelley when that officer fell.
Although not yet of age, Henry H. Hornbrook enlisted in April, 1861, in Company C, 1st Reg., Va. Vol. Inf., for three months, participated in the first engagement, after Fort Sumpter was fired upon. General Kelley was shot there, and Mr. Hornbrook stood as sentry, unrelieved for forty-eight hours, where the General lay. Mr. Hornbrook was mustered out and re-enlisted in Company H, 1st Reg. Vol. Inf., reformed, and attached to the Eighth army Corps. He was made 2nd lieutenant and subsequently 1st lieutenant of his company, and was largely in detached service as aide-de-camp and quartermaster with Colonel Thoburn, a physician who later became colonel of the 1st Virginia regiment; he was killed in the Shenandoah Valley, in the engagement in which General Sheridan made his famous ride. Mr. Hornbrook was mustered out in 1865, after more than four years of faithful service, and returned to Wheeling. In 1866, he went to Missouri where he engaged in farming and stock raising for nine years. He then sold out and returned to Wheeling, taking up his residence at his present fine home, which was erected by Samuel Laughlin, and is known as a part of the old Cruger estate. He became part owner of a steamboat, and for several years was actively engaged in that work. He then went to the Top Mill as clerk, and later was advanced to the office of vice-president. In that capacity he served until it was merged into the Wheeling Steel & Iron Company. He became manager of that department of the company, and continued as such for several years, but since July, 1900, has lived in retirement.
Mr. Hornbrook was first joined in marriage with Abigail Carter, a daughter of S. H. B. Carter, who died May 11, 1876, leaving four children, namely: May; June; Jessie; and Percival. Alice Cracraft, a daughter of Dr. George Cracraft, became his second wife, and they have one son, Earl, who is fourteen years of age. Mr. Hornbrook has a very fine homestead, including a large barn in which he keeps several blooded horses. He has 10 acres of land, ornamented with many beautiful trees and devoted to fruit raising and gardening. Politically, he has always been a staunch Republican.

HISTORY OF THE UPPER OHIO VALLEY,
Vol. I, page 325. Brant & Fuller, 1890.

Henry H. Hornbrook, a prominent citizen and manufacturer of Wheeling, and vice president of the Wheeling Iron and Nail company, was born in this city December 16, 1842, being a representative of one of the oldest and most prominent families of the upper Ohio valley. His parents were Jacob and Ann M. (Killen) Hornbrook. The father was one of the pioneers of Ohio county. He was an Englishman by birth, having emigrated to the United States at an early age. Ann M. Killen was born near Dublin, Ireland, in 1820, and died in Wheeling March 14, 1886. She came to this country with her family when about twelve years old. Jacob Hornbrook died November 3, 1888. The parents were married August 10, 1836, and the following children were born to them: Corrina, now the widow of John E. Wilson, residing in California; Henry R., deceased; India H., the wife of John G. Kelley, of Philadelphia, and Henry H. The subject of this biography was reared in Wheeling, and was educated at Morgantown and at Washington college. April 13, 1861, he enlisted in Company C, First Virginia regiment, and participated in the fight at Phillippi, the first engagement that took place in what is now West Virginia. Serving out the first three months' enlistment, he re-enlisted for three years in Company H, of the First regiment, and was elected second lieutenant of his company. He was in the Shenandoah valley and took part in the engagements of that campaign as aide-de-camp to Gen. Thoburn, and was in the field of battle when Gen. Sheridan made his famous ride up that valley. After receiving an honorable discharge at the close of the war, Lieut. Hornbrook returned to Wheeling and remained there until 1866, when he went to Missouri, where he spent some years in stock-raising and farming. Returning to Wheeling in 1875, he engaged in steamboating in the Wheeling Tow Boat and Barge company, and, subsequently he was in the same business with his uncle, Edwin Hornbrook, until October, 1881. He then took a position as clerk in the Top mill, and becoming a stockholder in that concern was made a director in January, 1882, and vice president in 1883. Mr. Hornbrook was married to Abbie H. Carter, September 14, 1866; she was a daughter of S. H. B. Carter, a pioneer of Ohio county, who settled in Elm Grove. Her death occurred May 11, 1876, in her thirty-first year. Five children came to this union. Mr. Hornbrook again married April 22, 1880, this time to Alice J. Cracraft, a sister of Dr. Cracraft, of Elm Grove. One child has come to bless their home.

NOTE: Henry H. Hornbrook died 14 Nov 1918.