WILLIAM HUMPHREVILLE
Companies "C" & "H"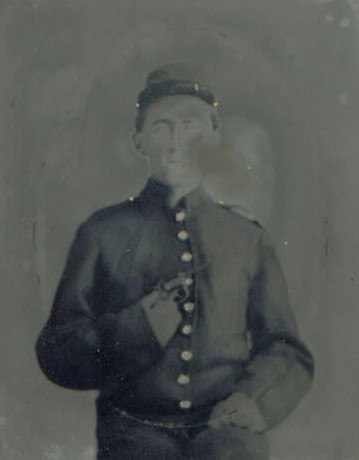 WILLIAM HUMPHREVILLE?
Image owned by Jon-Erik Gilot.

Compiled by Linda Fluharty & Jon-Erik Gilot
William Humphreville, born Jul 1833 [per 1900 census; 29 May 1925 per pension application], in Mt. Pleasant, Ohio, was the son of William B. Humphreville, a native of Lancaster, Pennsylvania, and Sarah Dew, born in North Carolina. This Quaker family lived in Mt. Pleasant, Jefferson County, Ohio.
1850 Census, Mt. Pleasant, Jefferson County, Ohio
W. B. Humphreyville, 4-?, Cabinetmaker, $1000, b Pa.
Catherine, 39, b Pa.
Susan, 19, b Ohio
William, 17, b Ohio
Alexander, 14, b Ohio
Theadore, 12, b Ohio
Julian, 10, b Ohio
Ensley, 8, b Ohio
Frances, 6, b Ohio
Henry, 2, b Ohio


1860 Census, Mt. Pleasant, Jefferson County, Ohio
W. B. Humphreyville, 55, $2000, $1000, b Pa.
Sarah, 49, b Ohio
William, 26, Cabinet Maker, b Ohio
Theodore, 22, b Ohio
Juliane, 19, School teacher, b. Ohio
Fanny, 16, b Ohio
Henry L., 12, b Ohio

According to the West Virginia Adjutant General's summary report on the Civil War soldiers, William, a printer, age 28, born at Mt. Pleasant, Ohio, enrolled at York, Ohio and mustered in at Wheeling 1 Oct 1861. He was promoted to Sergeant and transferred to Company H, Feb 1862. He re-enlisted 15 Feb 1864 and when the 1st Infantry mustered out, he served in the 2nd Veteran Infantry.
In his pension application, William stated that on August 15, 1862, he was treated in a field hospital for two weeks with a severe case of sun stroke, a malady that he claimed added to his debilitated state later in life.
Theodore, the brother of William, served in Company "B" of the 52nd Ohio Volunteer Infantry. Brother, Ensley, served in Battery "D" 1st West Virginia Light Artillery. Sister, Susan, was the wife of 1st Lt. Ephraim Chalfant of Battery "D," commonly called "Carlin's Wheeling Battery."
Following the war, William moved often, living in Ohio, Alabama, Florida, Wisconsin, Georgia & Mississippi. According to William, he "floated around wherever he could find work."
On 4 Jan 1890 William Humphreville applied for a government pension while a resident of Georgia.
In 1900, William, a widower, was a visitor in the home of the John Reed family of Clark Fork, Cooper County, Missouri. His brothers, Ensley and Lewis lived in Cooper County after the Civil War. Sister, Fannah Humphreville, born Sep 1843, was residing with the next family listed in the 1900 census of Clark Fork, that of Silas Rankin.
On October 14, 1902, William was admitted to the Central Branch of the National Home for Disabled Volunteer Soldiers. He would remain there until being discharged on September 30, 1914. On October 29, 1917, Humphreville was admitted to the Mountain Branch of the National Home for Disabled Volunteer Soldiers, where he would remain until June 16, 1920.
At the time of the 1920 census, William, 87, was a boarder in the home of David Harden in District 129, St. Cloud, Osceola County, Florida.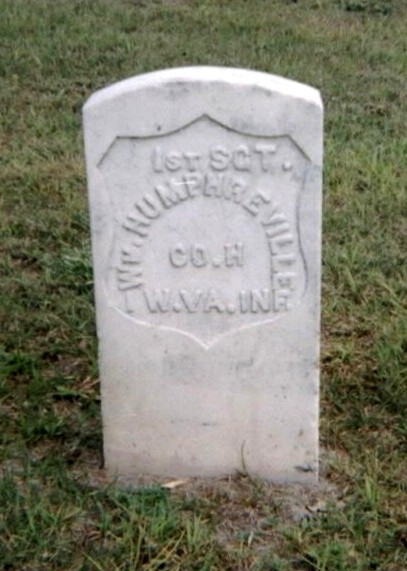 GRAVE OF WILLIAM HUMPHREYVILLE
Humphreville would be re-admitted to the Central Home on May 5, 1921. At this time, the Central Home filed an affidavit with the Pension Bureau, stating William could no longer care for himself and required a personal attendant. At this time, William could not make his bed or get around without help. For an unknown reason, he was discharged from the Central home on September 21, 1922. After being discharged, William moved to St. Cloud, Florida, where he died May 29, 1925 and is buried in Mt. Peace Cemetery.