JOHN HOWARD, SR.


Submitted by Larry Howard.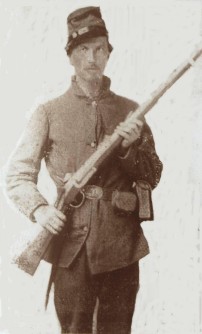 John Howard, Sr.
Probably late May, 1861.
John Howard (born 1 Jul 1836; died 4 Dec 1898) was the son of Reason Howard & Cassandra Burley of Marshall County, W.Va. John married Mahala Clouston (born 1840; died 1911) about 1859 in Pennsylvania.

A genealogy file of the Howard Family,
submitted by Fred Bice to the Marshall County WVGenWeb page.

National Archives Pension File
(Partial)
Provided by Larry Howard; transcribed by Linda Fluharty

War Department
Adjutant General Office
Washington, May 12, 18--

Respectfully returned to the Commissioner of Pensions.
JOHN HOWARD, a Private of Company ---(copy is black) 1st Regiment Virginia Volunteers was enrolled on (blank) day of (blank) 186-, (blank) at (blank) and is reported: No regimental or Company (copy is black) and no Hospital records on file.

Adjutant General

(09 Jun 1871)
"A" Declaration for Original Invalid Pension. "A"

State of West Virginia
County of Marshall
On this 9th day of June A.D. one thousand eight hundred amd seventy nine personally appeared before me Clerk of the County Court, the same being a Court of Record of the County and State aforesaid JNO HOWARD a resident of County of MARSHALL State of W.VA. who being by me duly sworn according to law, on his solemn oath, deposes as follows, to wit:
"I am the identical JNO HOWARD who was enrolled on the 18 day of MAY 1861 in Company H of the 1st Reg't of W.VA. Vols. commanded by Captain JAMES F DONLEY and I was honorably discharged at WHEELING, W.VA. on the 22 day of AUG 1861 and my age is now 43 years. While in the service aforesaid, and in the line of my duty I received the following disability, to wit:
About June 10 1861 at Cheat River Bridge, W.Va. through exposure I contracted diseases of lungs and kidneys from which I have never recovered and on account of which I claim a pension .
I was treated by Surgeon Stidger and sent sent home where I remained ten days.
I have never been employed in the Military or Naval Service of the United States otherwise than set forth above. Since leaving the Service, I have resided at W.Va. and my occupation has been FARMER BUT NOT ABLE TO WORK before my entry into the Service aforesaid. I was of good sound physical health, being at enrollment a FARMER and I am now SO MUCH disabled from obtaining my subsistence by manual labor by reason of my disabilities above stated, received in the service of the United States, and I make this Declaration for the purpose of being placed on the Invalid Pension Roll of the United States. I hereby appoint and empower, with full power of substitution, Nathan W. Fitzgerald, of Washington City, D.C. my true and lawful Attorney to prosecute my claim. My Post Office address is CAMERON County of MARSHALL State of W.Va. "

Signature of JOHN HOWARD
Witnesses, T. S. BONAR & ELIJAH HUBBS, Moundsville

(14 Feb 1881)
General Affidavit for Any Purpose
State of WEST VA County of MARSHALL, ss.
In the matter of PENSION CLAIM OF JNO HOWARD 1st Reg West Va Vol Inftry Co H personally comes the affiant who being first sworn, on oath says: That for 3 years after his discharge he was able to work about one half his time. The ballance of the time I think about one third this I think a fair estimate. Since his discharge to the the present time except three years commencing spring of 1872 and ending spring of 1875 when he moved away from my observation I visited him since -- and prescribed for him two or three times for Rheumatism but cant say how much he was disabled as I only saw him when I prescribed.

Signed by S. B. STIDGER, Surg 1st West Va Infty

(05 Sep 1882)
Affidavit
State of West Virginia
Marshall County ss
On this 5th day of September 1882 Personally before me D H Woodburn a Notary in Marshall County and state of West Virginia M B HELMS late a Private of Co H 1st West Va Vols. to me well known as being ebtitled to Credit who being by me first duly sworn on his oath declares he got acquainted with John Howard late of Co H 1st West Va Vols about the time of enlsitment he was a stout able bodied man of Temperate habits and apparently free from any disease he continued in good health untill about the first of June 1861 when he was detailed and sent with a squad of men to guard Bridges or Tresells on the B& O RR near Powlesburg WVa he remained on duty at the place about one week. During the time the squad was not provided with any shelter and was exposed night and day the weather was very wet. During the time I was with him and about the 10th of June 1861 he was believed he was sick and complaining very much and was not able to do much duty after that time and afterward complained of what seemed to be catarrhal affection of th lungs and inflammatory Rheumatism which continued to grow worse untill about the 5th of July 1861 when he was sent home on furlough he was never able to do any duty to any consequence afterward until he was discharged sometime in August 1861 he complained during the latter part of his service he complained of Disease of Kidneys and Lung trouble having a severe cough at the time of discharge untill a few years oI have seen him frequently and he seems to be in Delegate health and unable to perform more than one third the manual labor of an ordinary healthy man. I know the foregoing facts as I was Detailed and went with him to guard the Bridges or Tresells and have frequently saw him for some years past to the present. My Post Office Address is Cameron Marshall County West Va I have no interest in the prosecution of this claim.

Signed by M. B. HELMS

(17 Sep 1882)
General Affidavit
State of west Virginia
County of Marshall
In the matter of the Pension Claim of JNO HOWARD late a Corporal of Co H 1st Regt WVA Vol Infty
Personally came before me, a Justice of the Peace in and for aforesaid County and State, JAS C CONNELLY aged 47 years whose Post Office address is Kausooth Marshall Co WVa person of lawful age, who being duly sworn, declare in relation to the aforesaid case as follows:
I am well acquainted with the claimant JOHN HOWARD have known him all of my life I was a sergeant in the same company with him in 1861 about the 1st day of June of that year the claimant was detailed and sent in charge of a squad to do guard duty on the B&O RR Trestles near Rowlesburg WVa. He was there about ten days or two weeks when I was sent to relieve him they had no tents or Blankets and was much exposed to the weather during the time they were on duty at the time he was relieved he complained of a very bad cold and was not able to do much duty after he had a bad cough and seemed to have trouble with catarrh which affected the lungs he also complained of Inflammatory Rheumatism and Kidney trouble sometime during his time of service he was troubled with severe Diarrhea and was sent home on furlough he was still ailing at the time of his discharge in August 1861 I have known him intimately since his discharge and he has always continued to complain of the diseases contracted in the service and has not been able to perform but little manual labor I think not more than 1/3 as much as a healthy man he was a stout hearty man previous to enlistment and apparently free from any disease. My knowledge of these facts is derived from intimate acquaintance and personal observation. My Post office address is Kausooth Marshall Co WVa.

I further declare that I have no interest in said case, and am not concerned in its prosecution.
Jas C. Connelly
Late Sergeant Co H 1st WVa Vol Inf

(NOTE: Jas C Connelly gave another affidavit, of similar content, 30 Aug 1882.)

(27 Aug 1887)
General Affidavit
State of West Virginia, County of Marshall, ss.
In the matter of pension claim of JOHN HOWARD Late Corporal Company H 1st W.Va Inf 3 month ---
On this 27 day of August A.D. 1887; personally appeared before me a Justice in and for the aforesaid County duly authorized to administer oaths, J. S. McDonald aged 49 years, a resident of Charleston in the county of Kanawa and state of WVa whose Post office address is Charleston, Kanawa County .... WVa.... well known to me to be reputable and entitled to credit, and who, being duly sworn, declared in relation to aforesaid case as follows:
I was 2nd lieutenant of claimants Company and Regiment on or about June 1861 at or near Grafton, WVa Corporal Howard was detailed with a squad of men to guard the Tressel works between Rallsburg & ---- on the B&O RR and that the men were without tents blankets as over coats and remained there about two weeks and after he returned to the company I recollect of him being sick but the nature of his sickness I cannot now call to memory. He has never been of much force Physically Since he was sick in the Service. He was a Stout an Healthy man Before and at enlistment I knew these facts by being intimately acquainted with the claimant Before enlistment and Since Discharge.

I further declare that I have no interest in said case and I am not concerned in its prosecution.
Signed, John S. McDonald, Late 2nd Sergt Co H 1st WV Inf, three months...

Pensioner Dropped
U. S. Pension Agency,
Washington, D.C.
Jany 7, 1899
Honorable H. Clay Evans, Commissioner of Pensions

I hereby report that the name of JOHN HOWARD Corpl H 1 WVa Infy, 3 months service, who was a pensioner on the rolls of this Agency, under Certificate No. 411.645 and who was last paid at $16, to Sept 4, 1898, has been dropped because of DEATH DEC 4 1898.

Very respectfully, S S ---son, pension Agent.

Application for Accrued Pension
WIDOWS
State of West Virginia, County of Wetzel, ss:
On this 16th day of December, 1898, personally appeared MAHALA HOWARD, who, being duly sworn, declares that she is the lawful widow of JOHN HOWARD, deceased; that he died on the 4 day of Secember, 1898; that he had been granted a pension by Certificate No. 411645 which is herewith returned (or if not, state why not) (blank); that he ahd been paid the pension by the Pension Agent at Washington, DC up to the 4 day of December, 1898 after which date he had not been employed or paid in the Army, Navy, or Marine service of the United States, except (blank) that she was married to the said JOHN HOWARD on the 4th day of january, 1857, at the Residence of Rev Daniel Fletcher in the State of Pennsyulvania, that her name before marriage was MAHALA CLOUSTON; that she had not been previously marrid; tht her husband had not been previously married; that she hereby makes an application for the pension which had accrued on aforesaid certificate to the date of death; and that her residence is Littleton WVa, County of Wetzel, State of WVa and her Post Office is Littleton West Virginia.

Signed (X) Mark of Mahala Howard

Also personally appeared S. C. Connelly, residing at Littleton, W.Va and M. Daugherty residing at Littleton, W.Va., who, being duly sworn, say that they were present and saw MAHALA HOWARD make her mark to the foregoing declaration; that they know her to be the lawful widow of JOHN HOWARD, who died on the 4th day of December, 1898 and that their means of knowledge that said parties were husband and wife, and that the husband died on said date, are as follows:
by living near them and being intimately acquainted with them for about twenty years and seeing the corpse of the Said John Howard after his death.

Signed by S. C.Connelly & M. Daughtery