JOHN BONE PYLE
Company "C"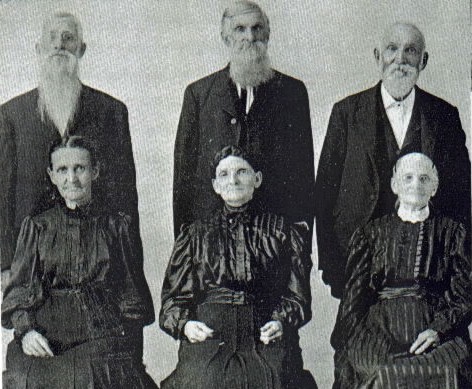 Left: John Bone Pyle and Rachel Bell (Harris) Pyle.

Center: Joseph Amos Pyle and Fanny Charlotte (Pyle) Hunt.

Right: Reuben Krewson Ashton and Elizabeth Pyle Ashton.

Contributed by Jon-Erik Gilot.
"Five Family History: A Sketch History of the Bone, Pyle, Ashton, Bailey and Kiger Families,"
by John Herbert Kiger, 1959.
John Bone Pyle (b. Nov. 2, 1837-d. May 1929) - When John was a younger lad, his older sister, Elizabeth was given a new steel pen. He was looking over her shoulder as she pulled the point from the pen-stock. It came out with a jerk, and the pen point cut John's right eye, destroying the sight. He learned boot and shoe making (probably from his uncle, Benjamin Bone), and helped support the home, so tragically deprived of the supporting husband and father.
The family moved from Mt. Pleasant to Martins Ferry, Ohio and, in 1861, John enlisted in the Union army, 1st Virginia Infantry, and served during the entire war, 4 years and 3 months. Soon after going into camp on Wheeling Island, he married Rachel Bell Harris (d. May 1919). She lived in Martins Ferry during the war, and there a son and daughter were born.
John served actively and with distinction in the Army of the Potomac. He used to relate that he fought in 19 "pitched battles," and had 19 bullet holes in his clothes, including several in a battle before Winchester, where his mackintosh cape was target for a Confederate sharp-shooter. He had "a heel shot off a boot, and his long hair trimmed by a minnie ball, but no skin broke or blood let!" He played a horn in the band, and was sometimes sent to lead a skirmish squad on special missions. On the morning of October 19, 1864, when the Confederates seized the Union camp on Cedar Creek, "with Sheridan 20 miles away" at Winchester, John Pyle and his skirmishers were out on the Winchester road to meet and guard a wagon train of supplies. Just as the first fleeing Yankees came into view to the south, down the northern road from Winchester came Sheridan spurring his foaming black stallion far ahead of his aides. He paused to shout orders to "Pyle", then dashed forward to the famed Cedar Creek victory of the afternoon.
After the war, John Pyle moved to Lansing, Ohio, and there made boots and shoes and taught music. After the death of his wife in 1919, his last years were spent in the home of his daughter, Nettie Beck, in Martins Ferry, where he died in his 92nd year. He was a striking personality in his latter years, tall and straight, with a long, straggly white beard. He was always self confident, tending to dominate any group in which he chanced to be. To John B. and Rachel Bell Pyle were born a son and a daughter in Martins Ferry and 5 sons in Lansing.