JOSEPH AMOS PYLE
Company "C"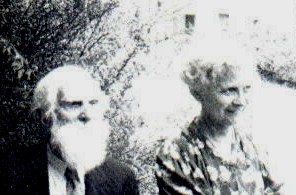 Joseph A. & Addie M. Pyle, 1939

Contributed by Jon-Erik Gilot.
"Five Family History: A Sketch History of the Bone, Pyle, Ashton, Bailey and Kiger Families,"
by John Herbert Kiger, 1959.
Joseph Amos Pyle (b. June 9, 1847 - d. Jan. 8, 1943), was the youngest of John and Sally Bone Pyle's family. He was born at Mt. Pleasant, Ohio, less than 8 months before the death of his father, hence he grew up under difficulties. The Pyles were personal friends of the Thoburn family, and Joseph enlisted as a recruit under Col. Jos. Thoburn, brother of the Methodist bishop of that name, and knew him as a friend till the Colonel fell at Cedar Creek, October 19, 1864. The 16 year old Pyle enlisted February 29, 1864 in the 1st Virginia Infantry, at Wheeling. He served under Generals Siegal, Hunter, Wright and Sheridan. He had the good fortune to be assigned to the same outfit with his brother, John Pyle, who supported him and carried his knapsack when Joseph was sick. He saw much heavy fighting, mostly in the Shenandoah, escaped injury, but while lying behind a low wall in a Lynchburg fight, a bullet struck his shoe heel. He was mustered out July 18, 1865. He attended Hopedale College, a small, private institution at Hopedale, Ohio, for a short time. June 9, 1871, he married a young widow, Mrs. Nancy Jane Armiger (d. April 16, 1901). She was daughter of a Methodist minister, Rev. Levi Alexander, of Baltimore. Her former husband, John F. Arminger, a Union soldier, had died from starvation in a southern prison. She had a son, John F. Arminger, Jr. (b. May 14, 1864 - d. Sept. 22, 1945). He grew up in the Joseph Pyle home, and was a printer by trade, in Wheeling. He married Ella Wensyel, and a daughter has been in the employ of Stone & Thomas stores, Wheeling, for the last 36 years.
Joseph had a grocery in Wheeling for a few years, then a milk dairy in Kirkwood Heights, which he later moved to West Wheeling. After disposing of the dairy, he opened a dishware store in Bridgeport. He retired at about 85, and lived in Aetnaville. The highlight of his last years was his attendance in his 92nd year at the last G.A.R. reunion, on the 75th anniversary of the Battle of Gettysburg in September, 1938. A stalwart grandson, James Pyle, of Boggs Run, took him to Gettysburg.