RICHARD A. RADCLIFF(E)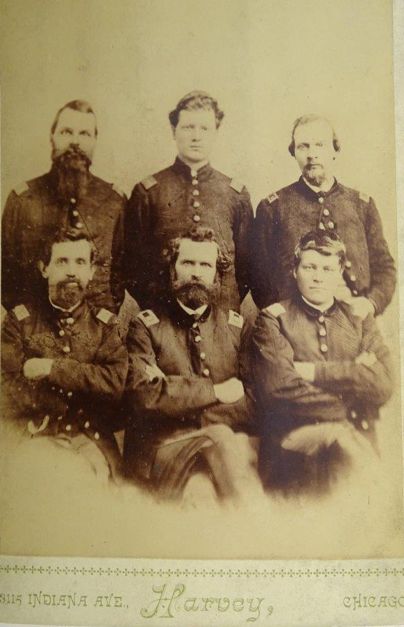 L-R, Standing: Capt. William Robb, Capt. John Craig, Lt. William Singleton.
Seated: Capt. Richard Radcliff, Capt. James McElroy, Lt. Thomas McKee.
(Submitted by John D. Janes.)

BIOGRAPHY

History of the Upper Ohio Valley
Brant & Fuller, 1890; Vol. I, pages 593-594.

Richard A. Radcliff(e) is named in the biography of his son:

William Radcliffe, a member of the firm of Meyer & Radcliffe, which is extensively engaged in the bottling business and deals in mineral waters and carbonated beverages, was born in Wheeling, May 28, 1858, when West Virginia was still a part of Virginia. He is a son of Richard A. and Mary E. (Powell) Radcliffe, and is of English extraction on both sides of the family.
Richard A. Radcliffe was a native of Virginia, and came to Wheeling in 1853, where he married May Powell three year later. He was a boilermaker by trade, but was not actively engaged in that occupation during his later life. He served his country gallantly, enlisting in 1861, at the beginning of the Civil War, when he raised his own company, and started out as captain of Company K, 1st Reg., Va. Vol. Inf., in the famous Army of the Potomac, which was in so many of the severe battles fought during that conflict. He was never wounded or taken prisoner, and had no hospital record, but he served until 1864 as faithfully and bravely as any man. At the close of the war he embarked in the oil business, but discontinued that to engage in keeping a hotel called the Franklin House, at the corner of Twentieth and Main streets. His death occurred at Weston, but his wife is still living in the city, at the age of sixty-four years. Both were members of the Presbyterian church. Mrs. Mary E. (Powell) Radcliffe, the mother of William, was a daughter of Thomas J. and Mary H. (Parnell) Powell, the latter of whom formerly lived at Snow Hill, Indiana. The Parnells are an old and most highly respected family of Maryland. Mary H. (Parnell) Powell had a brother, John, who was in the navy, srved in the War of 1812, and lived to a good old age.
William Radcliffe was the younger of two children, and the elder is deceased. He attended school in the fourth ward at Wheeling, and after finishing his study was engaged in the produce business for several years previous to becoming, in 1887, a member of the firm of Meyer & Radcliffe, in which he still remains. He takes very little interest in politics, and has never held office; he votes for the best man, but is generally Democratic in his views. Fraternally, he is a member of the Knights of Fidelity, of which he is treasurer. He also belongs to the Knight of Pythias.
Mr. Radcliffe married Kate Watson, who was born in Wheeling, and is a daughter of the late Jacob Watson, an old pioneer settler of the city. They have two children, -- C. L., a promising young attorney of the city, as yet unmarried; and Neola, who was a member of the class of 1901 in the Wheeling High School and is now a teacher in the public schools of Wheeling. Mr. Radcliffe has lived in Wheeling all his life. He is a great believer in Wheeling, and has contributed his share to her welfare. He understands his business in all its details, and his is one of the thriving and progressive firms of the city.