WILLIAM J. ROBB
Captain, Company "A", Three Years' Service.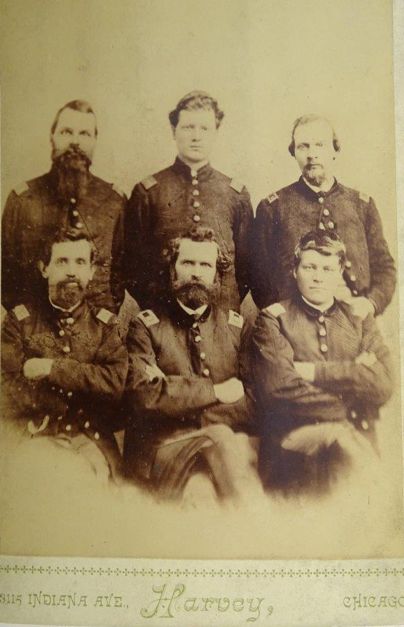 L-R, Standing: Capt. William Robb, Capt. John Craig, Lt. William Singleton.
Seated: Capt. Richard Radcliff, Capt. James McElroy, Lt. Thomas McKee.
(Submitted by John D. Janes.)

Captain William J. Robb, born about 1821, was POSSIBLY the son of James W. Robb, a Chairmaker, and his wife, Mary, both born in Pennsylvania, and found in the 1850 census of Wheeling, Ohio County, (W) Virginia.

William J. Robb married Josephine Neal in Wheeling on 31 Oct 1848. She was the daughter Daniel Rowell Neal and Caroline Bealer Kyger, of Parkersburg, Wood County, (W) Virginia. Daniel Rowell Neal, a widower, was listed as a merchant in Parkersburg in the 1850 census. By 1860, he was a State Senator with $30,000 real estate and $20,000 personal property.

William and Josephine Robb had five sons living at the time of the 1860 census of Wood County. They were James, 10; John, 8; Neal, 6; William, 4 and Henry, 2. However, at the time of the census, Josephine was residing in Parkersburg with her father, Daniel R. Neal. William J. Robb was not found.

It is known that the Daniel R. Neal family sympathized with the southern cause and this may have caused the estrangement of Josephine and William Robb. According to "Southern Sympathizers - Wood County Confederate Soldiers," author unknown, published by the West Augusta Historical & Genealogical Society, at least three of Josephine's brothers are mentioned: John George Neal, born in 1841, the third son of the parents, enlisted in the 36th Virginia Infantry. After serving two years, he contracted typhoid fever and died March 1863 in Wytheville, Virginia and was buried there. Captain Dexter Neal, born in 1836, served in Co. "I" 31st Regiment Virginia Infantry and then became Captain of Co. "G" 20th Virginia Cavalry. Finally, Paul Neal, the oldest son, born in 1832, served prewar as Captain of Co. "A" 113th State Infantry. When the war started, he was ill with typhoid fever. Following his recovery, he started south to enlist but was captured and taken to Camp Chase, Ohio.

Captain William J. Robb, a Union supporter, served as Captain of Company "A" 1st (W) Virginia Infantry. He is mentioned in one incident, at which time he was captured, included in a report of Colonel Joseph Thoburn:
O.R.-- SERIES I--VOLUME XXXIII [S# 60]
JANUARY 27-FEBRUARY 7, 1864.--Operations in Hampshire and Hardy Counties, W. Va.
No. 5.--Report of Col. Joseph Thoburn, First West Virginia Infantry, commanding Second Brigade.
HEADQUARTERS SECOND BRIGADE, New Creek, W. Va., February 14, 1864.

LIEUTENANT: In reply to your communication of the 13th, asking for a detailed report of my operations from the 30th ultimo to the 6th instant, I beg leave to report as follows:
At daylight on the morning of the 30th ultimo Captain Greenfield, with a squad of 20 cavalry, ran into a camp of rebel cavalry, 1 or 2 miles south of Moorefield, and returned, bringing with him a prisoner, from whom we learned that Rosser's brigade with some other detachments was there. I at once notified the commanding officer of the train, then on its way from New Creek to Petersburg, of the threatened danger; also the commanding officer of the Twenty-third Illinois Infantry, then engaged in blockading the road leading from Moorefield to Patterson's Creek Valley.
At 12 m. of the same day information was received from a deserter that Early's command was moving from the valley in the direction of Moorefield, the intention evidently being either an attack on Petersburg or the railroad. Owing to the supplies at the former place being nearly exhausted (only having rations to last until the evening of the 31st), and the uncertainty of the arrival of the train, I determined to evacuate the place, and sent a courier to the wagon train directing it to return to New Creek. But before the arrival of the courier the train was captured, and information was brought back that Rosser's brigade with artillery occupied the road at the Moorefield and Alleghany Junction.
A little after dark a scouting party brought in a prisoner taken from Early, as he was going into camp on the Moorefield road, 6 or 7 miles from Petersburg, from whom we learned that we would be attacked the following morning at daylight.
At midnight, every preparation being completed, the command moved off quietly, taking with us, with some trifling exceptions, all our stores and Government property. The Patterson's Creek road being occupied by the enemy, I was compelled to take an unfrequented and difficult mountain road, through Reel's Gap to the base of the Alleghany Mountains, and from thence to Greenland Gap, at which place the head of the column arrived at 10.15 a.m., January 31. The train was delayed eight hours crossing a spur of the mountain, where I was compelled to abandon several caissons, chests, and other property in order to enable the train to cross the mountain. Since our arrival here nearly all of the stores abandoned at that place have been brought in.
At 5 p.m. we went into camp 18 miles from New Creek. Shortly afterward information was brought in that the enemy was pursuing and was in force within a few miles of us. Having received orders from division headquarters to proceed to New Creek as rapidly as possible, I gave orders to move at 1 a.m., February l, and arrived at this post at 11.30 a.m. The column arrived in good condition, without casualty or disaster on the way, with the exception of a few stragglers that were picked up by the enemy while in a state of intoxication. Among these I am sorry to say were Capt. John Rourke, Illinois Light Artillery, and Capt. William S.[J.] Robb, First West Virginia Volunteer Infantry.
On my arrival at this place the Third and Fourth Pennsylvania Reserves, Fourth West Virginia Cavalry, and the Sixth West Virginia Battery were temporarily assigned to my brigade, and in accordance with orders from division headquarters my command, with the exception of the Ringgold Battalion and Carlin's battery, was moved upon the mountain east of this place called Piano Fort. At 12 p.m. Captain Greenfield, with 100 of the Ringgold Battalion and four companies of infantry, moved out on a reconnaissance to Ridgeville, where a body of rebel cavalry was supposed to be.
At daylight, February 2, information was received that the enemy had evacuated that place the evening before at 7 o'clock. Captain Greenfield moved forward to Burlington, and sent back information that Rosser's command had left that place the evening before, going down Patterson's Creek.
In accordance with orders, I sent to Burlington the Third Pennsylvania Reserves and Lieutenant Kelley's two howitzers, all under command of Major Briner, Third Pennsylvania Reserves. At 4 p.m. I received orders to move to the same place with the First and Fourteenth West Virginia Infantry Regiments, Fourth Pennsylvania Reserves, and Carlin's battery, where I was directed to bivouac and await further orders. On account of delay, caused by bad roads, it was after dark when the battery got down from Piano Fort, and owing to the darkness of the night the command did not reach Burlington until 3 a.m., February 3.
At 5 a.m. a scouting party brought information that Rosser had left Sheets Mill the evening before, and was supposed to have gone in the direction of Romney. I immediately moved forward the cavalry and one regiment of infantry to Moorefield Junction, where it was discovered that the enemy had passed in the early part of the night. Communication was had with Lieutenant-Colonel Thompson, commanding General Averell's cavalry, at Romney, and Lieutenant-Colonel Fitz Simmons, of General Sullivan's command, near Springfield, W. Va. I requested them to move at once in pursuit of the enemy.
In the mean time my cavalry had come up with the rear of the enemy's retreating column, who had camped within 4 miles of the junction. At I p.m. Lieutenant-Colonel Thompson's command (600 strong) arrived at the junction. Lieutenant-Colonel Fitz Simmons with 1,100 cavalry was reported on the way. I at once moved forward with Lieutenant-Colonel Thompson, the Fourteenth West Virginia, Third and Fourth Pennsylvania Reserves, and Carlin's battery being directed to follow. At Purgitsville I was overtaken by Col. James A. Mulligan, commanding division. I then returned to the infantry, and went into camp on William Taylor's farm.
February 4, at 7.30 a.m., I received orders to move forward as rapidly as possible. At Oldfields, the enemy having fallen back from vicinity of Moorefield, I received orders to halt and hold my command in readiness to return to New Creek.
February 5, at 6.30 a.m., the column moved and reached Burlington at 4 p.m. and camped for the night.
February 6, the Fourteenth West Virginia Infantry was directed to remain at Burlington, and with the remainder of the command I moved to this place.
Very respectfully, &c.,

J. THOBURN, Colonel, Commanding.
Lieut. M. J. RUSSELL,
Acting Assistant Adjutant-General.
Another account of the incident that led to the capture of Captain Robb is found in the regimental history book, presented in its entirety on this site:
CHAPTER XX. THE opening of the year 1864, as stated, found the regiment at Petersburg, Hardy County, greatly reduced in number by the capture of Moorefield, in September, of the parts of four companies before mentioned. During the winter a respectable earthwork was built, which could be held by a small body against any ordinary mountain force that would be likely to assail it. In February, owing chiefly to the shortness of transportation facilities and the bad roads, rations, which had been reduced for some time, began to get very scarce, and it was found to be a poor country in which to subsist even a small command for any length of time, hence it is believed that it was the purpose of the commanding officer to evacuate, when probably events hastened this determination.

On the 10th General Early with a strong force was reported in the vicinity and marching on the town. There being no force adequate to dispute its possession with him, preparations were made to retire and leave him the empty place. In order to do this successfully quietness and expedition were necessary, - the point to fall back on being New Creek Station, there being a possibility of securing support at that place. Accordingly, the First, under command of the lieutenant-colonel, was silently withdrawn and started on the road, pushing along all night, securing possession of Greenland Gap, a defile in the mountain which, if once taken possession of by the only practicable route. The men were placed in a good position on the hill, and two pieces of artillery planted commanding the defile. In the morning Early's guns were heard pounding the empty fort, as it afterwards appeared, though at the time it was feared that he had prevented the retreat of the bulk of the command. All fears of this kind, however, were removed during the day by the arrival of all save one, who had ventured too far or remained too long; Captain Robb, of Company A, being the unfortunate one captured. The command had slipped out quietly during the night, and taking an entirely new road, marched all night, arriving in good order, and, without further loss, passed through the Gap. Early advanced no farther at this time, as he doubtless concluded that it would be useless to pursue. The whole command, with train and material, fell back to New Creek without further incident.
Following the war, Josephine and William were still living separately, at least according to the 1870 census. William was a clerk residing at the McLure Hotel. Also at the McLure was General B. F. Kelley. Josephine was in Parkersburg with her SIX sons, the youngest of which, George, age 9, had been born about 1861. Josephine was not living with her father at that time and his death did not occur until 7 Apr 1898.
William J. Robb was not found in the 1880 census but he is listed in the Wheeling City Directory for the years 1188-1889:
Wm. J. Robb
Location 2: rooms rear 1147 Market
Business Name: Fire & M. Insurance Co.
Year: 1888, 1889
City: Wheeling State: WV
Captain William J. Robb died 2 Aug 1890 and is buried at Mt. Wood Cemetery, Wheeling. Following his death, his widow, Josephine, applied for and received a government pension, Certificate #294771.