First served as Corporal, Company "B" 3-month 1st (W) Virginia Infantry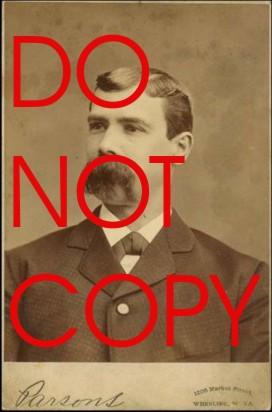 Image owned by Linda Fluharty.

BIOGRAPHY

History of the Upper Ohio Valley
Brant & Fuller, 1890; Vol. I, pages 457-458.

William H. Travis manager of the nail department of the LaBelle Iron works, was born at Wheeling, April 20, 1840, the son of James and Lavina (Pipin) Travis. James Travis was born in Massachusetts, and removed to Wheeling soon after 1830. He was a blower of cylinder glass, and at the time of his decease, January 11, 1852, was a foreman at the Barnes-Hobbs Glass house. He was a whig and active in politics, and was a member of the Universalist church. His wife, who was born in Clinton county, N.Y., of French-Canadian parentage, died in May, 1884. She was reared a Catholic, but at her decease was a member of the Methodist Episcopal church. Five of the eight children born to these parents survive. William H. Travis, at eleven years of age, found employment in the glass house, and remained there four years. He then entered La Belle Iron Mills, and gradually progressed through various grades of work until in 1885, he was made manager of the nail works. Since then he has become a stockholder in the establishment. Mr. Travis is a popular citizen, and has taken an active part in politics and municipal affairs. In 1860, he was the organizer of a campaign club known as Company A, Virginia Wide-Awakes, republican, and in 1868, he was lieutenant-colonel of the republican marching club of Wheeling, and during the last three campaigns he has served as colonel of the same. On May 11, 1861, Mr. Travis enlisted in the Union army, as a corporal of Company B, or the "Iron Guards," First Virginia infantry. He served three months, re-enlisted as lieutenant of Company A, Fourth cavalry, and served eight months. He served two years on the city council, having been elected to the second branch from the democratic ward in which he resides. When the fire and police board was organized he was elected a member of the same, and remained such during the life of the board. Mr. Travis is a member of the Masonic fraternity, of Ohio lodge, F. & A. M., Wheeling commandery, K. T., and Wheeling consistory, Scottish Rite. He is also affiliated with the A.O.U.K. of H., and commander of Phil Sheridan post, 86, G.A.R. He was married in 1865, to Emma, daughter of George Cotts, of Wheeling, and they have had three children: Harry, born October 28, 1866, a machinist and engineer at the LaBelle Iron works; Maude, born December 14, 1871, died November 17, 1876, and William Seybold, born April 12, 1886.