November 17, 2015: Today, the George C. Trimble Collection, owned by Linda Cunningham Fluharty, was donated to the West Virginia State Archives, with the hope that it will be displayed, at times, at Independence Hall in Wheeling. The main items in the collection were Trimble's large, oval image, his Confederate-style beltplate/belt, his inscribed canteen with bullet hole, his cap box, a diary from the 3-month campaign, numerous letters written by important Civil War figures.
---
ABOUT THIS BOOK
A Civil War officer from Wheeling & his superior from Parkersburg
"DISMISSED THE SERVICE" for an alleged act of cowardice...

By Linda Cunningham Fluharty
© March, 2001; November 2006.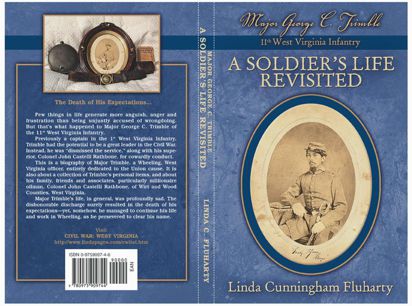 Copyright © 2006
By Linda Cunningham Fluharty
All Rights Reserved
ISBN 0-9759097-4-6
Library of Congress Control Number 2005929728
Published by Linda Cunningham Fluharty
Baton Rouge, Louisiana
Printed by Morris Publishing, Kearney, NE