A NEW BOOK

A Civil War officer from Wheeling & his superior from Parkersburg
"DISMISSED THE SERVICE" for an alleged act of cowardice...

By Linda Cunningham Fluharty
© March, 2001; November 2006.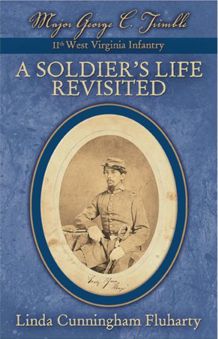 Copyright © 2006
By Linda Cunningham Fluharty
All Rights Reserved
ISBN 0-9759097-4-6
Library of Congress Control Number 2005929728
Published by Linda Cunningham Fluharty
Baton Rouge, Louisiana
Printed by Morris Publishing, Kearney, NE
---
192 pages w/ laminated soft cover (Perfect Binding).
COST: $20, including shipping.
E-mail: LCFlu@aol.com
Site Map: www.lindapages.com
---
THE DEATH OF EXPECTATIONS…
Few things in life generate more anguish, anger and frustration than being unjustly accused of wrongdoing. But, according to Major George C. Trimble of the Eleventh West Virginia Infantry, that's what happened to him.
Trimble, previously a captain in the First West Virginia Infantry, had the potential to be a great leader in the Civil War. Instead, he was "dismissed the service," along with his superior, Colonel John Castelli Rathbone, for cowardly conduct in surrendering their command at Spencer Court House, Roane County, (West) Virginia on September 2, 1862.
This is a biography of Major Trimble, a Wheeling, West Virginia officer, with high ideals and the noblest intentions, entirely dedicated to the Union cause. It is also about a collection of Trimble's personal items, some rare and valuable, and about his family, friends and associates, particularly millionaire oilman, Colonel John Castelli Rathbone, of Wirt and Wood Counties, West Virginia.
Major Trimble's life, in general, was profoundly sad. The dishonorable discharge surely resulted in the death of his expectations - yet, he managed to continue his life and work in Wheeling, as he persevered to clear his name.