JOSHUA WINTERS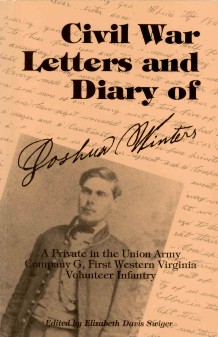 "CIVIL WAR LETTERS & DIARY OF JOSHUA WINTERS"
Joshua Winters, a private in the Union Army, Company "G", First West Virginia Volunteer Infantry, was born in Sand Hill, Marshall County, WV, and, with the exception of military time, he spent his entire life there.
The youngest son of John and Eliza (Davis) Winters, Joshua was born 08 Jan 1843 and died in 1900. He and his wife, Beulah Jane Blake, had two children, Laura Effie Winters, wife of Albert Downing, and Mitchell Blake Winters, who married Lucy Grier Davis.
Joshua's siblings were Kezia Jane, Mary Ellen, Isaac Davis, Elizabeth, Alonzo, Anne Maria, Easter Rebecca, Susan Nancy and Alice Eliza Winters.
The Civil War letters and diary of Joshua Winters were discovered by Elizabeth Davis Swiger as she was working on her upcoming book, "Ancestors and Descendants of Isaac and Keziah (Askew) Davis". She recognized them as valuable primary historical material and published them in 1991. A second printing, with minor corrections and a few added or updated footnotes, was made in 1996.
Many doing genealogy research in Marshall County, particularly in the Sand Hill area, will find this book an interesting and important resource. Allied families include but are not limited to: Heatherington, Rogers, McCracken, Blake, Dague, Davis, Cunningham, Wherry, Creighton, Daugherty, Hartley, Frey, Bonnett, Keller, Reed, Supler, Rodefer.
Joshua's Civil War letters and diary entries can be purchased for $12 from:
Elizabeth D. Swiger
1599 Hillcrest Road
Fairmont, WV 26554
(304) 366-0033
fsa00146@mail.wvnet.edu