MILTON, BENJAMIN F. & SAMUEL D. WORRAL
Company "F"

MILTON WORL married Sarah Conaway 21 Sep 1837 at Belmont County, Ohio. The family is found in the 1860 census of Belmont County as follows: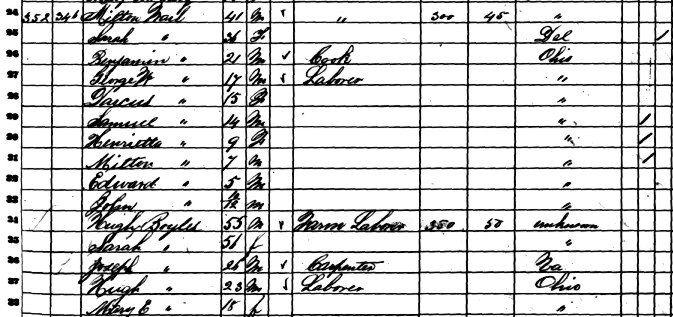 During the Civil War, MILTON WORL and two sons, BENJAMIN and SAMUEL, served in Company "F" First West Virginia Infantry. According to the regimental history, Appendix B, Benjamin and Samuel were both captured at Moorefield on 11 Sep 1863. Milton was apparently captured, as well, and George Stottler, also of Company "F," stated in a depostion: "We were together at Moorefield in Sept 1863 and were captured there with about a hundred others. I was a teamster then. We were together in Libby Prison and Bell Isle about six months. He was paroled a few days before I was."
The Moorefield incident is described in the History of the First Regiment as follows:
"Early in September Companies B, E, D, F, and H, in command of Major Stephens, were sent by the colonel to Moorefield to take possession of that place, and be prepared to meet McNeil and others on their raids through that part of the country. Imboden with his command also frequented those parts, probably in search of supplies, often obtained by capture of the Union wagon-trains. The other five companies of the regiment were left at Petersburg. On the 10th Major Stephens with his command were in quiet possession of the town. Rumors, however, to the effect that Imboden was in the vicinity were prevalent, but it was supposed in no great force. On the night of the 11th Captain Morrow took his company, with details from the other companies sufficient to make a hundred men, with a guide, to effect the capture or rout and dispersion of McNeil's command, reported but a few miles distant; but McNeil stole into the camp of the four companies remaining before daylight of the 12th, and captured the majority of the command, killing and wounding some of them, but few escaping, - the extraordinary precautions that men should use when placed in such a position as this having been neglected by the commander. Captain Morrow failed to re-capture the men, not having sufficient force, though he made the effort; but McNeil's men being mounted easily escaped with the prisoners. It appears that the attention of the officer in command was devoted to the front (in the direction the enemy lay), where the pickets were strong and on the alert. McNeil came in by the rear, his men crawling on their hands past the lone picket at that point, who, it is stated, was asleep. Once inside all was easy, as the men were asleep in their quarters. The loss in this affair was about two hundred and thirty men. This was a terrible blow to the regiment, weak in numbers as it was. Being now reduced to a small battalion, it remained at Petersburg with the fourteenth Virginia and Twenty-third Illinois, Colonel Mulligan in command." (The Regimental History book is presented in its entirety on this site.)
Milton and Benjamin mustered out in November 1864. At the end of December that year, the First West Virginia Infantry consolidated with the 4th Infantry to form the 2nd West Virginia Veteran Infantry. Samuel had re-enlisted earlier and was transferred to Company "F" of the 2nd Veteran Infantry.
The surname is now commonly spelled WORL in the Wheeling, West Virginia area.
In 1870, Milton (misspelled as Martin), Samuel and Benjamin were residing in Pultney Twp., Belmont County, Ohio:

MILTON WORRAL was born in Bridgeport, Belmont County, Ohio. Before the Civil War, he first worked in paper mills in Wheeling, (W) Va. and in the Fulton area of Wheeling. For five years immediately preceeding the war, he worked at a paper mill in West Wheeling, Belmont County, Ohio, owned by David Waggoner (or Wagner). "I ran the engine part of the time and part of the time the paper machine." At the time of his enlistment, his description was 5' 8"; dark complexion; dark hair; brown eyes.
Milton originally applied for a government pension 29 March 1880 while a resident of Chicago, Cook County, Illinois. Another application was sent 24 Dec 1881, at which time he was a resident of Mt. Heron, Darke County, Ohio. In his declarations, he stated that between 20 and 23 July 1863, on the retreat from Port Republic Va and near that place, fell over a precipice of rocks and broke a bone in his right knee. He said he was disabled from his occupation of paper making about half the time. Since the war, he had resided in Nebraska for 3 years and also lived in Ohio. At the time of his knee injury he was in the company of Joseph Dixon and Francis Flood, both of the 1st Infantry. He said he was engaged in several battles after he was hurt: Winchester, Cedar Creek and Fisher's Hill. He was dischared at Wheeling 26 Nov 1864.
In his deposition, Milton stated that he went to Mt. Pleasant Hospital, Washington, in June 1862: "I went with my son, Samuel, who was in the same company. He had Typhoid Fever. I was only there to take care of my son..."
Milton received a government pension 26 Sep 1884, at $4 per month, for injury to his right knee. In a later affidavit, he claimed that while on retreat at the Battle of Fort Republic, 9 Jun 1862, he fell over an embankment of rocks, injuring his right knee. On 3 Mar 1886, his pension was increased to $6 per month. However, questions were raised about the validity of his claim, which resulted in a suspension of his pension on 20 Apr 1887. A Special Investigation followed. Milton stated he had a broken leg before the war but had hurt his knee again during the war. The initial injury occurred when he worked on a steamboat and a barrel of flour fell against his leg, breaking it below the knee. In the meantime, while the investigation was going on, MILTON WORRAL was admitted to the Infirmary of Belmont County, Ohio on 19 Jun 1886. On 7 Jul 1886, he was sent to the National Home for Disabled Veterans at Montgomery, Ohio. He was there until about March 1887, at which time he returned to Bridgeport. He was then sent to the infirmary in Belmont County 22 Apr 1887 and remained there until his death on 4 Aug 1887.
Of interest in his affidavits: After his wife's death, he went to Chicago for a short time and worked as a watchman at the planing mill. The mill burned up a 3 or 4 days after he was hired and he went to see a man near Yankton, Dakota territory. He stayed there for about two months cording up wood for the steamboats. He returned to Chicago and when no work was found, he spent the winter at the National Home for Disabled Veterans in Ohio before returning home to Belmont County, Ohio.
BENJAMIN F. WORRAL, born about 1839, married Mary E. Otto, 16 Nov 1862 in West Alexander, Washington County, Pa.
At the time of his enlistment, his physical description was: 5' 6"; fair complexion; light hair; gray eyes.
In his pension application, Benjamin stated that his wife's maiden name was MILLER. In 1860, she was residing with other OTT family members in the home of Ernest Miller. - Benjamin F. died 11 Oct 1905 and Mary E. died 2 Nov 1913. Their children were George W. Worls born 14 Oct 1865 and Harry A. Worls born 2 Feb 1872.
SAMUEL D. WORRAL [5' 4"; light complexion; fair hair; brown eyes] married Elizabeth Miller 28 Feb 1868. They had no children.
Samuel applied for a government pension (Application #798939), which was granted (Certificate #848660). At the time of his death, 13 Dec 1914, he was receiving $57 per month.
Included in his pension file is the following deposition, given by Samuel on 7 Jan 1892 at West Wheeling, Belmont County, before F. H. Pipes, Special Examiner. Samuel signed with an "X" so the spelling of his name was left to the examiner.
I am about 45 years old - have no occupation, residence as above [West Wheeling, Belmont County, Ohio].
I served as a Pri. Co. F 1 West Va Inf. from the summer of 1861 to the summer of 1865. I was under 15 years old at enlistment but gave my age as 18. I have always lived right here in West Wheeling.
I claim pension under the new law for burnt knees. Both knees are stiff. The left one is straight, the right one is bent.
About two or three years ago I went to the store of ALEX LYLE to buy a chicken and as he was waiting on customers I passed through his grocery into an adjoining room and sat down on a coal box by the stove in which was a fire, it being cold and about this time in the year. I went to sleep almost as soon as I sat down, no one being present that I know of. This was about seven o'clock p.m. I slept till I was awakened by ALEX LYLE who wanted to close his store. I asked Mr. Lyle to go home with me as he lived in my direction. He said he had to lock his grocery up and JAMES DICKSON and JOSEPH BOYLE who was standing in the room when I was awakened spoke up and said they would go home with me and did so, and I bid them good night at my door. I walked alone and we did not stop on the way. I went to bed and did not notice anything wrong with my legs for 15 or 20 minutes when I called the attention of my wife to them. She arose and looked at my knees by the light of the grate fire. I thought I had rheumatism as it had bothered me some after the war. As soon as I looked at my knees which pained me I saw that they were white looking. I did nothing for them then. I went to bed again and the pain awoke me about one oclock at night when my knees looked white still. I slept no more that night. About five oclock my wife called in MRS. MARIN(?) CONNOR amd she opened my knees with a needle and water run out of both of them right over the knee caps. The blisters covered a space as large as half of my hand at the time. My brother B. F. WORRAL came in about six oclock a.m. and went for Dr. V. Wagner who came to see me that morning and he bound my legs up. I don't know whether he put anything on my legs or not. He attended me right along for some weeks and at times for a year. He put medicine on my knees and cut pieces of skin out of my knees until both knee caps had to be cut out.
Dr. Wagner and Dr. Todd of Bridgeport took the right knee cap out some months after the thing happened and a short time afterwards Dr. Frizzill I think and Drs. Wagner and Todd took out the other knee cap. I have not been able to walk without support after I got my knees burnt. I walked around the house a little after I got burnt. Over a year after I got burnt I hobbled to my brothers house on crutches and fell down from the step and hurt my left knee and then the doctors took the cap off.
The skin never grew over my knee caps after I was burnt. I have had to use crutches to walk ever since the accident happened.
I had rheumatism in my shoulders and other parts of my body some time after I entered the army while we lay at Arlington Heights Va. I was sent to some hospital at a place called Rhode Island. They kept me on an island near a town but the name I can't give. My father, deceased, was in the same service and in the same hospital with me. His name was Milton Worral. The rheumatism has bothered me some principally in my shoulders ever since the war. I have had no other disease that I know of. I have had not had any trouble with my chest or shortness of breath.
I never was in any service except as above stated. I did laboring work ever since I was old enough. For 10 or 11 years before my disability was incurred I worked in the paper mill here. I bleached the straw and had to work at the tubs where lime and hot water was used. I don't think that work hurt my knees.
I was at work from two(?) o'clock a.m. to noon at Saturday the day I was injured. I came home from work and eat my dinner with my wife. After dinner I went to Bridgeport one mile away after groceries and to get shaved. I got groceries at GEORGE GIVEN'S grocery and got shaved across the creek at Kirkwood on my way back. My wife was with me all this time. I stopped at Shaffer's saloon and got one drink of whisky. My wife waited outside while I got the drink. I took but one drink of whisky out of a common whisky glass that day. I did not drink any beer or anything else but whisky. I was in the saloon only long enough to take the drink. I think we were absent from home about three hours and got back about five o'clock p.m. I was in the house at home while my wife got supper for ourselves, as we have never had any children. There was was no one at our home after we got back except my wife and I and my wife's sister "DRUSE" MILLER who is dead.
I left my wife at home and went direct to ALEX. LYLE'S store after the chicken. I only had one drink and I was not drunk at all. One drink never made me drunk but I could feel the effects of a single drink. Mr. LYLE did not keep drink in his store. I did not feel the effects of my drink after I got home and got my supper. It may have helped make me sleepy. It was a cold day out and the ground was covered with snow. My work which I followed makes people sleepy so I always understood.

his
Samuel D. (X) Worral
mark

Attest:
F. H. Pipes
John H. Craig