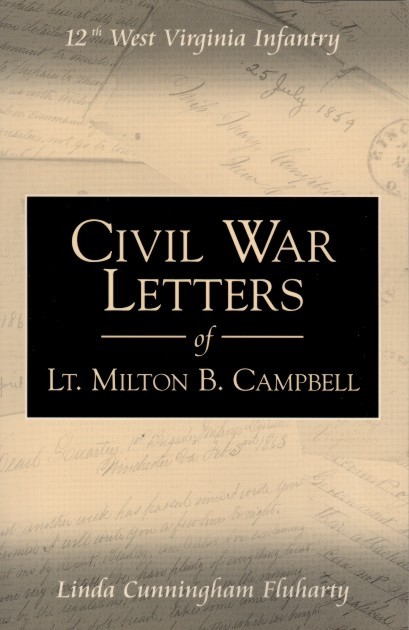 Copyright © 2004
By Linda Cunningham Fluharty
All Rights Reserved
ISBN 0-9759097-2-X
Library of Congress Control Number 2004112166
Published by Linda Cunningham Fluharty
Baton Rouge, Louisiana
Printed by Morris Publishing, Kearney, NE
---
196 pages w/ laminated soft cover (Perfect Binding).
COST: $15, including shipping.
E-mail: LCFlu@aol.com
Site Map: www.lindapages.com
---
The Voice of a Soldier…
Letters written by Civil War soldiers are the closest we have to their voices.
This book contains 37 letters written by Lt. Milton B. Campbell during his service in the Civil War. He was in Company "I" of the 1st (W) Virginia Infantry, organized at the outset of the war to serve for three months. When the 12th West Virginia Infantry mustered into service in August 1862, Campbell enlisted and served with Company "I" until September 1864.
The letters, written mainly to his sister, Mary, later the wife of James E. Brandon, provide a first-hand account of the activities of this regiment - and others - during the war. He names many soldiers in his letters, as well as acquaintances from his hometown of New Cumberland, Hancock County, West Virginia.
Lt. Campbell's perceptions are well-articulated and convey to the reader the increasing intensity of the war, as well as the mounting frustrations of this young officer who was ultimately dismissed.
Despite his dishonorable discharge, Lt. Campbell becomes an endearing figure through his letters. His actual service was not dishonorable and he seems to have fallen victim to the times and circumstances in which he found himself.
Research about the people and events mentioned in each letter is presented to provide context.