Rice, Bucher and Yost Families - Early 1900s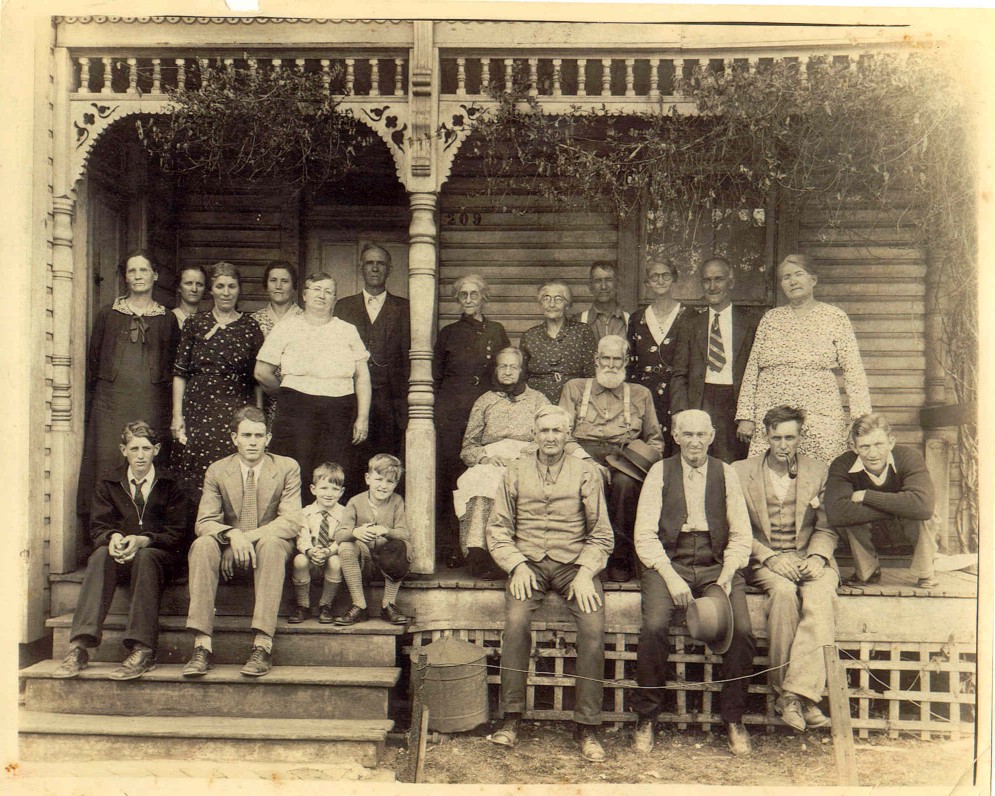 Top Row, Standing: (Written on back of picture; may not be accurate)

L-R - --- Yost, Goldie Rice, --- Carroll, Jenny Rice, Hadie Rice, Andrew Rice, Mary Kidder, Bell Stamm, Okey Rice, Linda Rice, Finley Rice, Allie Rice.

Middle:

Sitting in chairs on the porch are Permelia & Mortimer Bucher.

Bottom Row:

L-R - Fenton Rice, Ralph Rice, Harry Rice, Clarence Rice, Jeff Yost, Emery Yost, Leslie Yost, Paul Rice.
Andrew Rice, pictured, married (10 Oct 1861 in Tyler County) Letha Ann Yost, the sister of Permelia Yost Bucher. They were daughters of Nehemiah and Malinda (Basnett) Yost.
The children of Andrew & Letha Ann were: Mary Florence, Marie Belle, Charles Finley, Melinda Adeline, Andrew Jackson, Okie L., Harry Rice, Winfield Scott Rice.
Jeff (Sanford Jefferson) and Emery Yost were brothers of Permelia & Letha Ann. Leslie, pictured, was the son of Jeff.
---
E-Mail (Excerpt) from Fenton Neil Rice, neilrice@comcast.net - June 3, 2013:
There is some information that needs to be added/corrected:
l. The Yost lady is Marth Yost, wife of Leslie.
2. The lady between Okey and Finley Rice could not be their sister, Linda. She died in 1923. My father, Fenton, was born in 1918 and would have been only 5 when Greataunt Linda died. As you can see in the picture, Daddy was in his early teens at the time the picture was taken. (Go to Tyler County West Virginia cemeteries, click on Middle Fork, and scroll down until you find Linda Rabel. Andrew Jackson and Letha Yost Rice and Andrew Jackson's parents, Jacob and Mary, are also buried in the Middle Fork Church of Christ Cemetery.)
3. The heavy lady in white blouse with right arm behind her definitely is my Grandmother Rice (Hattie Merritt Rice), wife of Okey and sister to perhaps your grandmother, my Greataunt Pierie (or however it was spelled). The spelling shown with the picture is incorrect. It is not Hadie, but is Hattie.
4. Do you know where this picture was taken? My mother thought that perhaps it was at Greataunt Mary's in Paden City, West Virginia.
5. Ernest Rice, husband of Goldie (Eastham) Rice, and son of Finley Rice, was an amateur photographer and would have taken the picture.
---
E-Mail from Doug Rice, drice@frii.com - August 9, 2009:
Hello Linda,
My name is Doug Rice and I have been doing research on my family surname off and on for the past 25 years. I have just recently started again and was fortunate enough to find this picture and information on the RICEs you have posted on your website, while doing a search on Winfield Scott Rice.
I was pleasantly surprised when reviewing the picture and the listed names, as I believe the person listed as "Hadie Rice" is actually "Jenny Rice", my great grand-mother Virginia (Dever) Rice. Her husband was John A. Rice also known as John Q.A. (Quincy Adams) Rice, a brother to Winfield Scott Rice. Unfortunately, your "Winfield Scott Rice" is a different one due to the age differences and his early death.
To reinforce my belief, your picture also lists "Goldie Rice" (who is a daughter of Virgina Rice) and "Clarence Rice" (who is a son). However, I believe "Clarence Rice" is actually Lawrence Rice, a much younger brother. Clarence was the eldest of 12 children by John A & Virginia Rice and approximately 8 years older than Goldie.
The John A. & Virginia Rice are from Chetopa, Kansas. However, they originated from Jasper and St.Clair counties in Missouri. They homesteaded in the Oklahoma Territory around the current town of Welch, OK with John's brother Winfield Scott Rice. They moved to Chetopa, KS between 1909 and 1913 as that's where my grandfather, Homer Elvin Rice, was born on 2/10/1913. John's brother Winfield Scott Rice moved to the Portland, Oregon area about the same era.
The family ties to West Virginia are not surprising, although I had not come across the names of BUCHER or YOST until now. However, Virginia Rice's parents were Henry & Hannah L. Dever. Henry Dever was born in Rocenham(?)County, Virginia and Hannah was born in Pelington County, W.Virginia. Henry and Hannah L. Rice lived around Eldorado Springs, MO and are buried there as far as I know. Unfortunately, I do not have much information on them, only that as it was written in John A. & Virginia Rice's family bible. No information in the bible on John's parents.
I apologize for rambling on here, but I am curious to find out more about your RICEs and to see exactly what the connection is to your "Andrew Rice". Unfortunately, John A. Rice never talked about his family much as far as his children could remember, and they have all passed on now. So it hasn't been easy tracing the family lineage or doing research in Missouri due to destroyed records..........