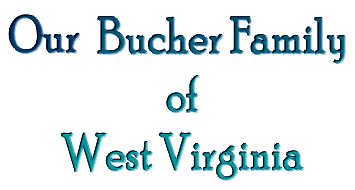 Presented by Linda Cunningham Fluharty
lindapages.com
This Bucher Family site focuses on the family of THOMAS BUCHER and REBECCA SCHMOLL.
Relatives are invited to send their genealogy files, biographies or photos.

---
---
Thomas Bucher, born 15 Jul 1809, was the son of Johann George Bucher and Maria Christianna Schneider. His wife, Rebecca Schmoll, was born 9 Feb 1816 in Pennsylvania. They were married 20 Dec 1835 and moved to Ohio County, (West) Virginia.
While residing in Wheeling, Ohio County, Thomas purchased 1000 acres of land for $500, in Tyler County, W. Va. from Michael Sigler/Ziegler of Pease Twp., Belmont County, Ohio. The deed, recorded at the Ohio County courthouse, is dated 23 Sep 1836 and describes the land as follows: "all that tract or parcel of land situated in Tyler County State of Virginia, being and lying near the waters of Middle Island Creek and bounded as follows. Beginning at a sugartree, corner to John Caldwell and thence with his line South 45o West 270 poles to a White Oak, thence south 45o East 600 poles to a sugartree, thence North 45o E 270 poles to a White Oak, corner to James Caldwell and with his line North 45o. West 600 poles to the beginning containing ONE THOUSAND ACRES be it the same, more or less."
Another Ohio County deed, dated 23 Oct 1838, describes the sale of half (500 acres) of the property Thomas had purchased two years before. "THOMAS BUCHER and REBECCA his wife of the County of Ohio and Commonwealth of Virginia of the first part and FREDERICK C. BUCHER of the City of Philadelphia and State of Pennsylvania of the second part..." The property was sold for the sum of $250. - Presumably, Frederick C. Bucher was the brother of Thomas.
Meanwhile, two years later, the Thomas Bucher family is found in the 1840 Census still residing in Ohio County. The family was extremely difficult to find but, after a thorough search of all census records Ohio County, the name of THOMAS BAUGHER seems to our Thomas. He had one son and one daughter, both under the age of 5. These children would be Amanda, born abt 1837 and George S., born in 1839. It is confirmed that the family was in Ohio County in 1840 because other records show that sons George S. (b 1839) and John Bucher (b 1841), both Civil War soldiers, were born in Ohio County.
On 12 July 1848, the 500 acres of land sold to Frederick C. Bucher in 1838 was sold back to Thomas Bucher for $320. The tract description is slightly different, i.e., the creek is called Point Pleasant Creek instead of Middle Island Creek and the adjoining owner is John Van Camp and not Caldwell - but it appears to be the same property. At that time, Frederick C. Bucher was a resident of New York City.
The 1850 Census of Tyler County, Va./W.Va.
#868/844
BUTCHER, Thomas, 41, Millright, $100, b Pa.
BUTCHER, Rebecca, 34, b Pa.
BUTCHER, Andrew (This is Amanda), 13, b Va.
BUTCHER, George, 11, b Va.
BUTCHER, John, 9, b Va.
BUTCHER, Christ Ann, 8, b Va.
BUTCHER, Frederick, 5, b Va.
BUTCHER, Mortimore, 4, b Va.
BUTCHER, Jefferson, 1, b Va.

Thomas and Rebecca had a daughter, Rebecca, born 7 Nov 1851. She died 27 Oct 1854 and is buried at the Bowser Cemetery, Tyler County, W. Va.
The 1860 Census of Tyler County, Va./W.Va.
#386/386
BUCHER, Thomas, 51, Farmer, $3000, $374, b Pa.
BUCHER, Rebecca, 44, b Pa.
BUCHER, Amanda, 23, b Va.
BUCHER, George, 21, b Va.
BUCHER, John, 19, b Va.
BUCHER, Christian, 18, b Va.
BUCHER, Frederick, 15, b Va.
BUCHER, Mortimor, 14, b Va.
BUCHER, Jefferson T., 11, b Va.
BUCHER, Pierce L., 5, b Va.

Just before the Civil War began, Thomas Bucher sold his real estate and then became involved in lawsuits related to the sale. He had obtained a substantial sum of money but squandered it all for legal proceedings. He would sometimes take what little his wife and children could accumulate and sell it to pay attorneys' fees, etc. It is not known if he sold all or part of the property.
In the early months of the Civil War, both GEORGE S. and JOHN BUCHER enlisted.
BUCHER, GEORGE S., Private, Company "E", 2nd Regiment W. Va. Infantry Volunteers (Subsequently the 5th Cavalry). Enrolled at Wheeling; age 24; m/i 16 Jun 1861 at Wheeling. Farmer born in Ohio County, W.Va. Killed in Battle at Bull Run, 29 Aug 1862.

BUCHER, JOHN, Private, Company "K", 7th Regiment W. Va. Infantry Volunteers ("The Bloody Seventh"). Enrolled 1 Nov 1861 at Sistersville, at age 20, for 3 years. Contracted measles and was admitted 9 Dec 1861 to General Hospital, Grafton, Taylor County, W. Va. Died of Meningitis 26 Feb 1862 (death also reported to Tyler Co.). Death Certificate gives Ohio County as place of birth.
Civil War medals were issued by the State of West Virginia to all soldiers in the West Virginia regiments, as well as the soldiers of the 45th U. S. Colored Infantry who were assigned to that state. The medals were issued about two years after the war. In the case of George S. and John Bucher, their medals were never claimed by anyone in the family. The medals remained in the State Archives until they were claimed in 2000 & 2002 by Gene Fluharty, great-grandnephew of these two young men, a descendant of their brother, Mortimer Charles Bucher.
The medal of John Bucher was a Class III because he died of illness. George was Killed in Battle and his medal is a Class II, of which less than 800 were struck.
See
THE CIVIL WAR MEDALS OF WEST VIRGINIA... WHERE ARE THEY?
The Regimental History book of the 2nd W. Va. Infantry/5th W. Va. Cavalry is online. The medal shown is that issued for George S. Bucher.
See
FIFTH WEST VIRGINIA CAVALRY
Following the deaths of John and George, Amanda Bucher, age 25, the oldest child of Thomas and Rebecca, married JOHN SHEPHERD, age 30, in Tyler County, 2 Oct 1862. The record indicates that both John and Amanda were born in Ohio County, Va.(W.Va.) John was the son of Thomas & Elizabeth Shepherd.
In 1870, Thomas Bucher, 60, and Rebecca, 56, were living in Ellsworth Twp., Tyler County, W. Va. with children Frederick, 24, Mortimor, 22, Jefferson, 20, and Lewis, 15.
Christ Ann/Christina Bucher, age 26, appeared in the 1870 Census as a housekeeper, residing in the home of Edward T. Smith, carpenter, in JACKSON County, W. Va. She had a daughter, Amanda Bucher, age 5. Also in the home is Edward's son, George H. M. Smith, age 23.
Mortimer Bucher married Permelia Yost, 1 Sep 1872 in Wetzel Co., W. Va. Permelia was the daughter of Nehemiah Yost [See Yost-Youst Genealogy] and Malinda Basnett [See Basnett Genealogy].
Frederick Bucher married Virginia Sexsmith, 31 Dec 1872 in Wetzel Co., W. Va.
Thomas Bucher died 16 Jul 1878 and is buried at Bowser Cemetery, Tyler County. According to documents in his widow's application for a Mother's Civil War Pension, his body was found near his place of residence in Tyler County and a Coroner's Inquest was held. However, the records of the inquest were destroyed in a fire.
George H. M. Smith and Christena S. Bucher were married 20 Feb 1880 in Jackson County, W. Va. and the family is shown in the 1880 Census of Jackson County, W. Va.
#386/386
SMITH, George H. M., 33, Farmer, $3000, $374, W.Va., Pa., Ireland
SMITH, Christie A, 35, Va., Pa., Pa.
SMITH, Amanda, 14, daughter, b Va., Va., Va.
SMITH, Edward T., 60, Father, Pa., Pa., Pa.
BUCHER, Jefferson, 18, brother-in-law, Va., Pa., Pa.

Mortimer Bucher, 32, and Permelia, 28, are found in the 1880 Census of Wetzel County with their children, Thomas J., 7, Virginia B., 3, Not named daughter [Alice], born Apr 1880, and John Roberts, a laborer.
In the 1880 Census of Wetzel County, REBECCA BUCHER, a widow, age 63, was residing with her son, Lewis P., a carpenter, age 25.
Jefferson T. Bucher married Zinshrode A. Fulks, 15 Nov 1880, Jackson Co., W. Va. His obituary [Wetzel County] states the following: "JEFFERSON T. BUCHER was born May 14, 1849 and died March 29, 1900 thus almost completing his 51st year. He was born in Tyler County and was a son of the late Thomas Bucher. He was married Nov. 15, 1880 to Miss Ada Folks and of this union were born seven children, all of whom with their widow mother survive. Interment in Walker Cemetery. [April 15, 1900]
In April 1886, Rebecca Bucher, age 70 years, filed for a Federal Pension, based on the Civil War service of her son, JOHN BUCHER, who died of encephalitis (from measles) while enlisted with the 7th W. Va. Infantry.
See
PENSION FILE
It is not known why Rebecca chose to file for a pension under John's service and not that of son, George S., who was killed in battle. It is possible that George had married before his death but no record has been found and no pension claim was filed by a widow. Rebecca died 18 Oct 1895 and she is buried at Bowser Cemetery, Tyler County along with her husband, Thomas, son John, and young daughter, Rebecca.
---
This ends the account of the family of
THOMAS & REBECCA (SCHMOLL) BUCHER
---
Since MORTIMER CHARLES BUCHER is the ancestor of our family, the remaining information will pertain to his descendants. Some information about other children of Thomas and Rebecca Bucher can be found in the aforementioned genealgy and pension files. Relatives are invited to send files and photos for posting separately but may not be incorporated into my genealogy file.
Regarding MORTIMER CHARLES BUCHER, his name has been incorrectly presented in various publications, including in the 1910 Census of Wetzel County. - As shown in the records above - census, marriage - his name is clearly Mortimor/Mortimer. And other records, such as in the sworn affidavits of his mother in her pension application, his name is Mortimor/Mortimer C. Bucher.
Now what the real name of his son "Mart" is, is not known for certain but the census records indicate it is probably Martin C. - Martin Charles. But Mart was not Mortimore C., Jr., nor was his father Martin Charles, Sr. - The only similarity is that they were both M. C. Bucher.
The children of Mortimer C. Bucher & Permelia Yost were:
Thomas F. Bucher, b 1873; m Kate Bushon; d abt 1913

Virginia E. Bucher, b 29 Sep 1876; m Wilbert Carmichael; d 24 Apr 1904

Alice Rebecca Bucher, b Apr 1880; m Wallace Marshall; d ---

Martin Charles Bucher, b 1882; m Bertie Snodgrass; d 1971

Grover Cleveland Bucher, b Jun 1885; m Kittie Cochran-Parsons; d 7 Jul 1921

Laura Bucher, b Jun 1887; d abt 1913

Clarence Bucher, b Jun 1890; m Lula Lantz; d ---

As shown, Mortimer and Permelia outlived most of their children.
In the 1900 Census of Wetzel County, Mortimer C. Bucher, 52, is residing with wife, Permelia, age 50. Their children were Grover, 14, Laura, 12, and Clarence, 10.
As stated previously, Mortimer is listed as Martin C. in the 1910 Census. The wife and two daughters of son, Thomas Bucher, are also listed. Thomas died a few years later and it states that he had been residing in Akron, Ohio. Perhaps he was working there while his family stayed in Wetzel County. At one point, Thomas had a saloon in Reader, Wetzel County.
According to the obituary of Thomas Bucher, his sister, Laura Bucher, died three weeks before he did. She had died of blood poisoning in Wheeling, circa 1912-1913.
In 1920, Mortimer C., 73, and Permelia, 72, were still residing in Magnolia District, Wetzel County on Foundry Street. With them was their son-in-law, Wallace C. Marshal(l), and his two daughters, Mary Virginia, 16, and Hellen Irene, 14. Alice had apparently died, date unknown.
Grover Cleveland Bucher had married Kittie Cochran, daughter of John Parsons and Caroline Cochran, 23 Nov 1912. They had four children: Geraldine, Clarence "Lee", John & Hilda. Soon after Hilda's birth in April 1921, Kittie died of tuberculosis and complications of childbirth. Grover became so distraught that he had to be taken to the State Hospital at Weston, W. Va., where he died of exhaustion a short time later. Their tragic story:
See
THE STORY OF KITTIE COCHRAN
By the time Mortimer Charles and Permelia Bucher died, their only surviving children were Martin C. "Mart" and Clarence.
"Mart" carpenter, blacksmith and farmer, had married Bertie Snodgrass. They had thirteen children and raised them in Wetzel County. They lived in Reader, where Mart operated a blacksmith shop for several years, then they moved to a large farm on Brush Run.
Clarence served in WWI and at the time of his mother's death in 1938, he was residing in Butler, Pa.
---
There is additional information about members of this family in the aforementioned genealogy file:
DESCENDANTS OF JOHANN DIETRICH BUCHER
---
FAMILY PHOTOS