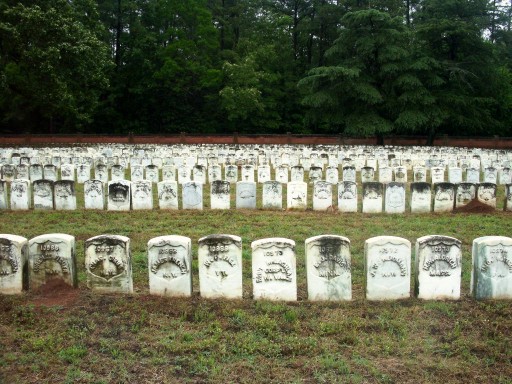 Photo: Andersonville National Cemetery
Copyright © 2004
By Linda Cunningham Fluharty
All Rights Reserved
ISBN 0-9759097-1-1
Library of Congress Control Number 2004109890
Published by Linda Cunningham Fluharty
Baton Rouge, Louisiana
Printed in the United States of America
on acid-free paper
---
LIMITED EDITION!
Only 100 books published.
OUT OF PRINT
E-mail: LCFlu@aol.com
Site map: www.lindapages.com
UNION LIVES LOST is the chosen subtitle of this book because it primarily pertains to the soldiers who died while serving in West Virginia's UNION regiments during the Civil War.
In addition to the West Virginia Union regiments, there were more than 30,000 men, called "Home Guards" and "Scouts," who served in the West Virginia State Militias. These organizations also supported the Union during the war.
This book is a unique presentation of most of the deaths (3500+) of the soldiers in the West Virginia regiments, with an additional accounting of the dead in ONE Union Militia organization, Company "C" of Upshur County's 133rd Militia. The list was not copied from a single existing source but numerous records were carefully scrutinized and sorted out to the extent that was possible.
Featured in the book are biographical sketches of several West Virginia soldiers whose lives were lost during the war. Some are accompanied by items from the Civil War collection of this writer - medals, images and letters. Some of the soldiers are our relatives and they typify the lives and means of death of the West Virginia Union soldiers."
It is a reality that there is not, and never will be, a complete accounting of all of the West Virginia soldiers who died during the Civil War. For example, the status of many who were prisoners at the end of the war is unknown. Some managed to make it home and died days or weeks later but their deaths were not reported. Others died in the prison camps but no records of their deaths or burials exist. And there were countless men whose final status in the official records is, "Missing in action" and "Unaccounted for."
As additional names, dates of death, and causes of death are discovered of West Virginia soldiers who died during the war, they will be presented in the list that follows.
---
ERRATA & UPDATES FOR THIS BOOK
Camp Piatt was in Kanawha County, not Fayette County, West Virginia, as stated in some WV Adjutant General records.
Most references to "Piedmont" mean Piedmont, Augusta County, Virginia, not Piedmont, Hampshire (Now Mineral) County, West Virginia, as stated in some Adjutant General's records.
James O. Mills, Battery "D" 1st Light Artillery, was KIA near Lynchburg, VA, 18 Jun 1864.
John R. French, Martin V. B. Manner & Alexander McKenzie died at New Market, VA.
Asa Kimble (not listed), the brother of John Kimble (listed), died in April 1865 at Florence Stockade. They were in Co. "K" 14th WV Infantry.
Andersonville Prison opened in late Feb 1864. Any deaths attributed to the prison prior to that date are in error.
If a regiment's designation changed, the soldier's death MAY be recorded under the later designation, even if the soldier died while serving under the former name of the regiment.
Theodore Stewart, Company "C" 7 Infantry was KIA at Gettysburg, PA, 3 Jul 1863.
John Cunningham, aka JOHN DAKEN/DACON/DAKAN, Company "C" 12th WV Infantry died while a POW. Death not recorded in West Virginia Adjutant General's records.
Col. Joseph Thoburn, page 57, died at CEDAR Creek, not New Creek.
Philip R. Smith, Company "E" 11th Infantry was wounded in action at Hatcher's Run and was taken to a hospital at Point of Rocks, Maryland on 2 Apr 1865. He was discharged, date and number of order and by whom issued unknown. According to family, Philip died of dysentery 19 May 1865 and is buried in Loudon Park National Cemetery, Baltimore City, Maryland.
Jacob Smith, Company "C" 1st Cavalry, was missing in action 19 Oct 1864, at Cedar Creek, Virginia. He is believed to have died at the end of March 1865 when the steamer General Lyon burned in the Atlantic, off Cape Hatteras.
Jacob Smith, Gilmore's Independent Cavalry, which became Company "L" 2nd WV Cavalry in 1864. He was captured 12 Jul 1863 and his widow stated in pension application that he died "on or about 18 July 1863 in the hands of the rebels." Much confusion between his records and those of the above Jacob Smith.
Lawson Shamblin, Company "G" 3rd Cavalry, died of disease 30 Jun 1865 in Slough Hospital, Alexandria, Va; hospitalized since April, 1865; buried Alexandria National Cemetery, Section B 3075.
John Dillon and Joseph Dillon, Company "H" 1st L. A., both listed in the book, may or may not be the same person; pension/service records should be reviewed. Joseph was also in the 4th Cavalry and applied for a pension in 1930.
Addison Dilley/Dilly, page 87, died 19 May 1862.
Henry C. Harris, page 100, died 21 June 1864.
Sargeant Spears, page 141, died either 19 Mar 1863 or 9 Mar 1862. Was in hospital soon after muster, and was at home in Greene County, Pa.; not "present" in any record.
William Fox, page 94, died 30 Apr 1862, per Service Record.
Jeremiah Lowery, Company "D" 1st Infantry, was captured at Moorefield, Va. 11 Sep 1863; confined at Richmond; died of Chronic Diarrhea 25 Feb 1864 at the CS Hospital at Richmond.
Samuel Dunn, Company "D" 1st Infantry, was captured at Moorefield, Va. 11 Sep 1863; confined at Richmond; died of Chronic Diarrhea 21 Feb 1864 at the CS Hospital at Richmond.
William H. Dunn, Company "D" 1st Infantry, was MIA at Port Republic, 9 June 1862; died of Chronic Diarrhea 3 Nov 1862 at the General Hospital, Annapolis, Md.
Andrew Miller, Company "D" 1st Infantry, was captured at Moorefield, Va. 11 Sep 1863; confined at Andersonville Prison, Ga.; paroled & admitted to McPherson US Gen. Hosp., Vicksburg, Miss., where he died of scurvy 13 Apr 1865.
Jeremiah Pyles, page 129, died 30 Sep 1862.
John Boyce, Battery "B" 1st WV Light Artillery was a POW when he died 9 July 1864 from wounds received at Lynchburg 18 June 1864. His fate was unknown until after the war.
Joseph B. Gordon, 2nd Lieutenant, 1st Infantry, was wounded at Lynchburg on 18 June 1864. His Service Record indicates he was left in the hands of the enemy. He apparently died because his mother applied for and received a pension 10 Apr 1865.
Granville Yates, Company "G" 1st WV Cavalry, was captured at Guyandotte, Virgnia on 10 Nov 1861, and he died a POW at Richmond 25 December 1861.
Samuel Ray, Company "D" 2 Infantry/5th Cavalry, died Sept 15, 1863 at White Sulphur Springs of wounds received at Rocky Gap 26 Aug 1863.
George Good, "B" 7th Infantry died of Chronic Dysentery on 24 Dec 1862 at Camden St. Hosp., Baltimore, MD..
Samuel Good, B" 7th Infantry died of disease at Harper's Ferry on 7 Dec 1862.
William Bassford/Basford's death from disease occurred Aug. 20, 1862 in Falls Church, Va.
William G. Hartley, "F" 7th Infantry, died of Typhoid Fever 7 May 1865.
James M. Johnson, "H" 5th Infantry. Left on battlefield at Lynchburg. Died 24 June 1864.
Jeremiah Lowery/Lowry/LOURY, "D" 1 WV Infantry - Died C. S. Military Post Hosp. Feb. 25, 1864 of Chronic Diarrhea.
Daniel Z. Watkins "A" 11th Infantry was shot & killed by a man in his company.