IRA KIDDER, Company "B"
---
The Civil War Medal of Ira Kidder
---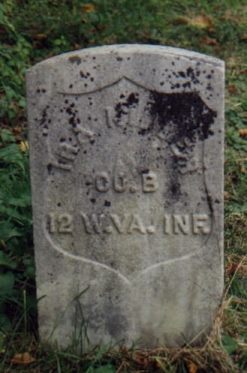 Clay Point Cemetery
Pleasants County, WV.
(Photo by Dave Rader)
---
NATIONAL ARCHIVES PENSION FILE
(Partial)
Transcribed by Linda Fluharty from file provided by Dave Rader.
Declaration For Original Invalid Pension
State of West Virginia
County of Calhoun
On this 17" day of December, A.D. on thousand eight hundred and ninety-four, personally appeared before me, Samuel Ayers, a Notary Public in and for the County and State aforesaid, IRA KIDDER, aged 56 years, a resident of AYERS, County of CALHOUN, State of West Virginia, who, being duly sworn according to law, declares that he is the identical IRA KIDDER, who entered service during the War of the Rebellion under the name of IRA KIDDER on or about the 18 day of February, 1864, as a Private in Company "B" of the 12" regiment of W.Va. Vol. Inf. commanded by Col. Curtis, and was Honorably Discharged at Richmond, Va, on or about the 9" day of August, 1865, by reason of Gen. Order War Department dated July 16" 1865; that his personal description is as follows: Age, 25 years; height, 5 feet 9 inches; complexion, DARK; hair, DARK; eyes, BLUE. That he is now suffering from RHEUMATISM, RUPTURE AND DISEASE OF THE HEART and that the said disability is of a permanent character, and is not the result of vicious habits, and that it incapacitates him from the performance of manual labor in such a degree as to render him unable to earn a support, and that this declaration is made for the purpose of being placed upon the pension roll, under the provisions of the Act of June 27, 1890. That he has NOT been employed in the military or naval service otherwise than as stated above.
That since the 9" day of August, A.D. 1865, he has not been employed in the military or naval service of the United States.
He hereby appoints, with full power of substitution and revocation, George E. Lemon, of Washington, D.C., his true and lawful Attorney, to prosecute his claim; and in consideration of services done, in the premises, he hereby agrees to allow his said Attorney, George E. Lemon, a fee of ten dollars, payable only in the event of the allowance of the claim by the Commissioner of Pensions. That he has neither received nor applied for a pension...
That his Postoffice address is AYERS, County of CALHOUN, State of West Virginia.
(X Mark) of IRA KIDDER
Witnesses: Ruhala Ayers & T. S. Cunningham
Samuel Ayers, Notary Public
---
Claimant's Affidavit
State of OHIO
County of COLUMBIANA
In the matter of claim for IRA KIDDER, C. 10" W.Va. Inf
Personally came before me, a NOTARY PUBLIC in and for aforesaid County and State, IRA KIDDER, aged 59 years, residing at EAST LIVERPOOL, County of COLUMBIANA, State of OHIO,....... who, being duly sworn, declare in relation to the aforesaid case as follows: on or about the 1st of September 1878 I was teaming hauling sum logs with a six horse team in Roan County West Va on the waters of Little Spring Creek. I was comeing up a bank from a run and I wanted to place a skid to pull log up the bank. To get the skid I had to get over a big log about four feet in diameter. I was in a hurry and put one hand on log and jumped over it. When I lit on the other side my left foot sliped and my legs were stradled apart and I partly fell catching myself with one hand after mounting my saddle horse I road about fifty yards and became very sick and had to get off and lay down had severe pain in my lower bowels and crotch. The rupture is on the left side. I suffered a great deal and could not ride a horse. I often had to lay down and get my feet elevated. About three weeks after I was hurt William Starcher who is now dead told me I was ruptured he has been dead for about two years. I was alone when the accident happened there being no person with or near me hence I can't furnish proof of any person who saw it at the time or immediately after. I was following my regular work and was as carefull as I could be and do my work.
(X Mark) of IRA KIDDER
Witnesses: Chas. Peterson & I. A. Kidder
12 May 1897
James N. Rose
Notary Public
SUPPORTING AFFIDAVITS GIVEN BY:
12 Apr 1897 - W. C. Wilson, Lough, Calhoun Co., W.Va.
15 Sep 1897 - Abram Bryson, Moundsville, Marshall Co., W.Va.
15 Sep 1897 - John W. Berry, Moundsville, Marshall Co., W.Va.
03 Nov 1898 - David Bryson, Lima(?), Tyler Co., W.Va.
---
Department of the Interior
Bureau of Pensions
Washington, D.C., Mar. 5, 1898
No. 1162999
IRA KIDDER
---, W.Va.
No. 1. Are you a married man? If so, please state your wife's full name, and her maiden name. Answer: Yes. Mary Ann Berry (Dead).
No. 2. When, where, and by whom were you married? Answer: Feby 26, 1864. In Belmont Co. Ohio. By John Irvin JP
No. 3. What record of marriage exists? Answer: Family Record and Clks Office Saint Clairsville Belmont Co Ohio.
No. 4. Were you previously married? If so, please state the name of your former wife and the date and place of her death and divorce. Answer: No.
No. 5. Have you any children living? If so, please state their names and the dates of their birth. Answer:

Wm. A. Kidder Born Oct 14 1862
David Kidder " June 23 1866
James Kidder " July 24 1868
Ira Kidder " March 4 1871
John Kidder " May 18 1874

Date of reply, June 17, 1898.
IRA KIDDER
---
Declaration For Pension
Act of February 6, 1907
State of West Virginia
County of Pleasants
On this 6th day of November, A.D. one thousand nine hundred and eight, personally appeared before me, a Notary Public within and for the county and State aforesaid, IRA KIDDER, who, being duly sworn according to law, declares that he is 70 years of age, and a resident of St. Marys county of Pleasants, State of West Virginia; and that he is the identical person who enrolled at Pension Department under the name of Ira Kidder, .... as a Private in Co B 12 Regiment and Co C 10 Regiment West Virginia Volunteer Infantry, in the service of the United States, in the Civil War, and was Honorably Discharged at Richmond Va .... 1865.
That he was not employed in the military or naval service of the United States otherwise than as stated above. That his personal description at enlsitment was as follows: Height, 5 feet --- inches; complexion FAIR; color of eyes, BLUE; color of hair, BLACK; that his occupation was BOATMAN; that he was born OCTOBER 2nd, 1838, at WASHINGTON CO OHIO.
That his several places of residence since leaving the service have been as follows: In West Virginia and Virginia.
That he has heretofore applied for a pension No. 986958.
That he makes this declaration for the purpose of being placed on the pension roll of the United States under the provisions of the act of February 6, 1907.
That his post-office address is St. Marys, county of Pleasants, State of West Virginia. (X Mark) of IRA KIDDER
Witnesses: S. B. Williamson & W. L. Skaggs
H. P. Locke, Notary Public
Pleasants County, WVa
---
Family Bible Records

A copy of the Family Record of Ira Kidder:
Ira Kidder, was born October 2nd, 1837
Mary A. Berry wife of Ira Kidder, was born September 14th 1841
Willie A. Kidder was born Oct 14th 1862
David M. Kidder was born June 23, 1866
James Kidder was born July 24th 1868
Ira Kidder was born March 4th 1871
John T. Kidder ws born May 18th 1874
State of West Virginia, County of Pleasants to wit:
I. H. P. locke, a Notary Public, in and for the County and state aforesaid, do certify that the above is a true Copy of the Family record of Ira Kidder, as taken from the record, exhibited, before me, as to the date of the family Bible was printed the date does not appear, but from the appearance of the record it seems to be genuine, as there are no erasures or alterations; and from the Appearance of the writing it looks very much, that the dates and entries were made, about the time and dates given.
Given under my hand and I, have affixed my Notorial seal this 24th day of December, 1908.
H. P. LOCKE
Notary Public Pleasants County,
West Virginia
December 26, 1908
---
Pensioner Dropped
Department of the Interior
United States Pension Agency
Washington DC
Oct 16, 1911
Certificate No. 986958
Class Act of Feb 6, 1907
Pensioner IRA KIDDER
Service Pvt B 12 & C 10 WVa V I
The Commissioner of Pensions.
SIR: I have the honor to report that the
above-named pensioner who was last paid
at $15, to Sept 4, 1911
has been dropped because of Death
OCT 9 1911

Very Respectfully,
Jno. R. King
---