RICHARD WELLS, Company "F"
---
Submitted by Suzan A. Wedig.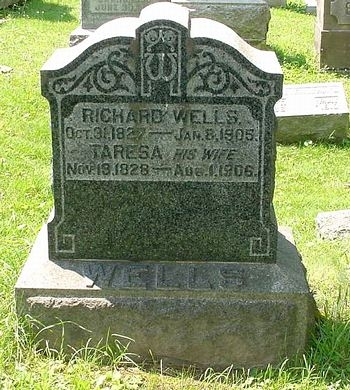 PITZER CEMETERY
Bethel Run, between Farmington & Fairview, in Marion County, West Virginia.
Richard Wells was the son of Richard Wells, Sr. and Nancy "Genny" Evans. Nancy was the daughter of Dudley Evans, a colonel in the War of 1812.
The wife of Richard Wells was Teresa Lough, the daughter of John J. Lough and Sarah Basnett, both from prominent families in the area. See Descendants of Samuel Basnett.
Richard and Teresa had the following children: John, Cornelia, Wilbert, Sarah Alice, Asby L., Leroy B. "Roy," Ida Maud , Cora Myrtle, and Thomas S.
Sarah Alice Wells, the daughter of the soldier, married Anthony Pitzer and they were the great grandparents of Suzan Wedig. - For more about the family, visit Suzan's site: We Dig Genealogy.
---