LOUIS (LEWIS) FRITZ, Sergeant, Company "K"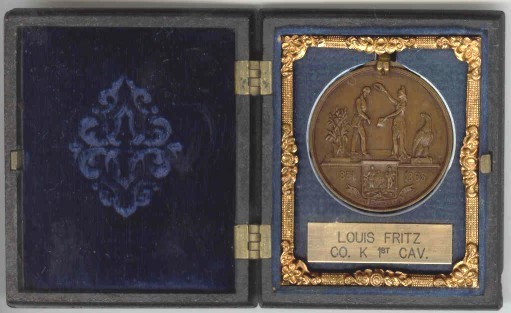 Medallion of Louis Fritz' Civil War Medal.
Research by Linda Cunningham Fluharty.
---
Louis Fritz, the son of Joseph and Katharine/Catherine Fritz, was born in Baden, Germany. According to a biography of his brother, Seigfried Fritz, the family came to United States and to Wheeling about 1852.

In 1861, Louis enlisted in Company "A" of the 3-month 1st (W)Va and then enlisted for three years with the 1st Cavalry. His brothers, Seigfried and Edward, served in Battery "D" 1st W.Va. Light Artillery (Carlin's Battery).
1860 Census, Wheeling, Ohio County, W.Va.
1860/1941
Katharine FRITZ, 52, Labor, $50, GER
Joseph FRITZ, 24, GER
Arthur FRITZ, 21, VA
Louis FRITZ, 19, VA
Seigfried FRITZ, 16, VA
Edward FRITZ, 13, VA

Louis Fritz married Caroline Pebler on 04 MAY 1865 in Ohio County, West Virginia. Caroline was the daughter of Henry Pebler, Sr. Her brother, Henry Pebler, served in Carlin's Battery during the war.
1870 Census, Wheeling, Ohio County, W.Va.
(Catherine Fritz, 64, is #405/402)
406/403
Louis FRITZ, 29, Porter in Warehouse, Bavaria
Caroline FRITZ, 29, Keeping house, VA
Caroline FRITZ, 4, WV
Elizabeth FRITZ, 10 months, b. Aug., WV
Henry PEBLER, 27, Cigar maker, Bavaria
Louisa PEBLER, 26, Keeping House, Bavaria


1880 Census, Wheeling, Ohio County, W.Va.
Louis FRITZ, 40, Iron Roller, GER GER GER
Caroline FRITZ, Wife, 40, Keeps House GER GER GER
Caroline FRITZ, Dau, 15, WV GER GER
Lizzie FRITZ, Dau, 11, At School WV, GER GER
John FRITZ, Son, 9, At School WV, GER GER
Kate FRITZ, Dau, 7, At home, WV GER GER
William FRITZ, Son, 2, At home, GER GER
Henry PEBLER, Father-in-law, Widower, 67, Boarder, GER GER GER

© Linda Cunningham Fluharty, 2000.
---