HUGH P. BOON, Captain, Company "B"
---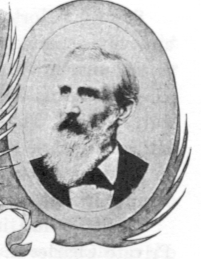 (Photo from Deeds of Valor.)
---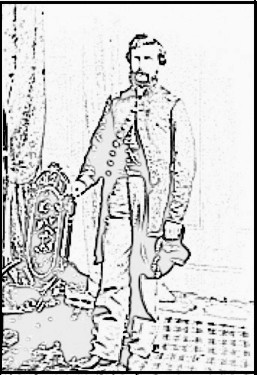 H. P. BOON
---
---
Submitted by Carol Boone Beckenhauer & Norman Davis.

OBITUARIES

The Washington Penn'a. Daily Reporter Jan. 15, 1908

WAS BRAVE SOLDIER AND AN EXCELLENT CITIZEN

After Weeks of Illness, Captain Hugh P. Boone Answers the Last Summons

Captain Hugh P. Boone, a well known citizen and veteran of the Civil War died yesterday afternoon about 3:30 o'clock at his home, 217 Jefferson avenue. Mr. Boone was aged 73 years. He had been ill for some time and his death was not unexpected. He was a member of the W. F. Templeton post, No. 120 G.A.R., and was to be installed as an officer of the post at the open meeting held last Friday evening. It was then known that his death was but a matter of days. The funeral services will be held Friday afternoon at 2 o'clock at the late residence and will be conducted by the Rev. Matthew Rutherford, of the Third Presbyterian Church.

Captain Hugh P. Boone was the son of James and Margaret Miller Boone, former residents of Chartiers and Canton townships. His father was of Scotch-Irish descent. He was born on the farm now owned by Mrs. J. B. Miller on what was formerly known as the Steubenville road, but know known as the Burgettstown road. He was one of a large family of children, of which only two now survive, John Boone of Washington, for several years baggage master at the Chestnut street station, and Mrs. Nancy Lane of Centerville, ILL. A brother, Richard, died in the west. A sister, Margaret, was the wife of the late Rev. D. G. Bradford, of Illinois, her death occurring while Rev. Mr. Bradford was preaching in Allegheny. James, a brother, was formerly a farmer residing at Finney, and his widow, Johanna Boone, now resides on Jefferson avenue. William and Samuel Boone, brothers, died when they were young men. A sister, Mary, was the wife of Dr. Hudson Weirich, of Wellsburg, W. Va., her death occurring about a year ago. Thomas, a brother, was a member of Co. A, 100th Pennsylvania regiment. He died of lung trouble shortly after the war.

Captain Boone received his early education in the schools of the neighborhood of his boyhood days. The family moved from the farm on the Burgettstown road to what was known as the old Louis Hewitt farm, on a portion of which Wolftown now stands. Before the war Mr. Boone was in the grocery business on North Main Street, where the Oliver dry goods store now stands. This business was continued after the war, but he later gave up the store and returned to the farm. He was married Oct. 25, 1866, to Miss Hannah J. Cook, a daughter of the late Henry Cook, a former well known resident of this section. Mrs. Cundall, deceased, wife of the present street commissioner, E. G. Cundall, was a sister of Mrs. Boone, who survives her husband. To this union was born one child, Mattie, who became the wife of J. Wilbert Wallace, of the Dunbar & Wallace Lumber company. She died a few years ago, leaving to survive one son, who resides at the Wallace home at Oak Grove.

For several years Captain Boone had been employed as a clerk. He was formerly in the store of M. Sharp and also worked for E. G. Cundall when he was in business. Of later years he had been employed in the men's furnishing department of The A. B. Caldwell co. store, where he made many friends and was a trusted and faithful employee. He insisted on being at work until within the last few weeks, when his condition became so serious that he was not able to come up town. He was missed behind the counter, for he was a friend of every person employed in the store.

As a soldier captain Boone had a distinguished record. A bullet wound received in the neck during a bloody fight at Withville, Va. was partly the cause of his last sickness. the bullet went through the back part of his neck, just missing the spinal column. When the Civil War first broke out Mr. Boone went out as a private in the three-months' service. Returning to Washington he enlisted in CO. B, First West Virginia cavalry. He went out as a Second lieutenant and a few months afterwards became captain of the company and served with honor during the entire war. that company participated in many hard-fought battles and many brave men, who went out with it never came back. The following surviving members of Capt. Boone's company reside in this general region. David Howell, West Alexander; J. P. Allum, Waynesburg; Hamilton Bell, Nelson Booth, A. T. Anderson, Lewis Hamilton, James. L. Henderson, Joseph Moore, and Marshall Cox, Washington.

For personal bravery in capturing a Rebel Flag captain Boone was awarded a medal of honor by congress, there being only one other man in the county who has such a medal, a Mr. Anderson, of Scenery Hill. Comrades of the deceased speak very highly of the captain and of his war record. The medal of honor came to him deservedly and not through any influence. He took his own life in his hand when he mounted his horse and rode into the rebel ranks, returning with the flag.

Captain Boone built the house where he died, on Jefferson avenue, a number of years ago, about the time Chartiers railroad entered Washington, and has resided there ever since. He was a consistent member of the Third Presbyterian church. His father, who died several years ago, was born near Philadelphia, coming to this section early in life.
---
(Some parts of this obit were very hard to read.)

The Washington Observer
Page S
Thursday, January 16, 1908

ARRANGEMENTS FOR FUNERAL OF CAPTAIN BOONE

The remains of Captain H. P. Boone will be laid to rest tomorrow at noon. Arrangements were made for the services by the W. F. Templeton Post, No.129, G.A.R. to be assisted by the Memorial Squad of Company H, Tenth Regiment, N.G.P. The post held a meeting last evening to complete its plans.
The services will be conducted at the house by the Rev. Matthew Rutherford. The active pall bearers will be members of the Memorial Squad that will march to the cemetery. The honorary pall bearers will be _______Jones, A. T. Anderson, _________, J. L. Allum, Nelson Booth, Hamilton Bell and D. A. Templeton. The members of the W. F. Templeton ______ and old soldiers will meet at the public meeting room of the ____ house tomorrow afternoon at 1:30 where they will form and march to the Boone residence on Prospect______. the firing squad will be composed of members of the Memorial squad.
---
Descendants of John Boon
---
THE BOON FAMILY
Provided by Linda Fluharty.
BOON FAMILY. This is one of the oldest in Washington county. Of the early family of Boons, John was born in Ireland, where he grew to manhood and married. The family came to America many years ago, and first settled in Dauphin county, Penn., where John Boon engaged in farming and distilling, most of the wheat being distilled, as produce brought no profit. He finally moved to Canonsburg, Penn., then to Chartiers township, where he died. Their children were as follows: Mary, Nancy, William, James, Jane, Elizabeth, John, Margaret and Joseph; of whom William, James and John were soldiers in the war of 1812. In politics Mr. Boon was a Whig, and in religion a member of the Presbyterian Church at Miller's Run.
William Boon was born and reared near Wilmington, Del., and was there married to Margaret McHargue. They resided in Delaware some time after their marriage, then moved to Dauphin county, Penn., soon after crossing the mountains to Washington county, the journey occupying several days. They finally arrived in Chartiers township, and Mr. Boon purchased the tract of land now owned by William Russell, which was cleared and cultivated by the Boon family. In 1824 they removed to Smith township, this county, and a few years later settled permanently on the farm in Cecil township, which is now the property of James Boon. William Boon won success by his own untiring efforts, and was prominently identified with the interests of the community, especially those relating to educational matters. In politics he was a Whig and a Republican, and held nearly every local office; in religious faith he was a member of the Presbyterian Church. His children were Levi, Alexander, Sarah, John, Margaret, William and James.
Source: Beers, J. H. and Co., Commemorative Biographical Record of Washington County, Pennsylvania (Chicago: J. H. Beers & Co., 1893); page 923.
---
NATIONAL ARCHIVES PENSION FILE
(Partial)

Transcribed by Linda Fluharty.
A Declaration for Original Invalid Pension
State of Pennsylvania
County of Washington
On this 13th day of August A.D. one thousand eight hundred and seventy nine personally appeared before me Clerk of the Orphans Court a Court of record within and for the County and State aforesaid, HUGH P. BOONE aged 43 years, a resident of the --- of WASHINGTON, county of WASHINGTON State of PENNSYLVANIA, who, being duly sworn according to law, declares that he is the identical HUGH P. BOONE who was enrolled on the --- day of AUG, 1861, in Company B of the 1st Regiment of West Va. Cavalry commanded by HIMSELF and was honorably discharged at WHEELING, WEST VA on the 8" day of JULY, 1865; that his personal description is as follows: Age 43 years; height 5 feet 9 1/2 inches; complexion, FAIR; hair, DARK; eyes, BLUE.
That while in the State of VIRGINIA on or about the 10" day of May, 1864, he RECEIVED A GUNSHOT WOUND IN LEFT SHOULDER AND NECK WHILE IN ACTION AND ENGAGED WITH THE ENEMY, ALSO CONTRACTED DEAFNESS IN LEFT EAR.
That he was treated in hospitals as follows: FIELD HOSPITAL NEAR LEWISBURG, WEST VA.
That since leaving the service this applicant hs resided in the --- of WASHINGTON in the State of PENNA and his occupation has been that of a FARMER.
That prior to his entry into the service above-named, he was a man of good, sound, physical health, being when enrolled a GROCER. That he is now PARTLY disabled from obtaining his subsistence by manuel labor by reason of his injuries, above described, received in the service of the United States; and he therefore makes this declaration for the purpose of being placed on the invalid pension roll of the United States.
He hereby appoints, with full power of substitution and revocation, Geo. Bancroft & Co., of Washington, D.C., his true and lawful attorneys to prosecute his claim. That he has not received nor applied for a Pension. That his Post Office Address is WASHINGTON county of WASHINGTON State of PENNA.
Signature of HUGH P. BOON
Witnesses: JAMES M. MICKEY & B. ?. HASSON
---
War Department
Adjutant General's Office
Washington, February 8th, 1881.
Sir:
I have the honor to acknowledge the receipt of your request of JULY 23RD, 1880, for certain information for use in the consideration of application for pension No. 305259, and to return it herewith, with the following information from the records of this office:
It appears from the rolls, &c, on file in this office that HUGH P. BOON was mustered into the service of the United States as 2d LIEUTENANT CO "B" 1ST REGIMENT of WEST VIRGINIA CAVALRY, to date SEPTEMBER 19th, 1861, to serve 3 years, or during the war as 1st LIEUTENANT to date January 18th, 1863, and as CAPTAIN to date September 1st 1863. Here are no rolls of company from February 29th to September 1st 1864 on file. No regimental return for May 1864 on file.
Regimental casualty list - shows him WOUNDED IN NECK AT WYTHEVILLE May 10th 1864.
Muster out roll of Company dated. July 8th 1865 shows him mustered out with company that date with remark "wounded in action near Wytheville Va. May 10th 1864."
Signed by George D. Ruggles
Assistant Adjutant General
---
Proof of Disability

State of West Virginia, County of Ohio, ss:
In the matter of the Pension Claim of H. P. BOON CAPT. Co. "B", FIRST Reg't WEST VA CAV Vols., personally came before me, a Clerk of Circuit Court in and for the aforesaid County and State, W. A. McCOY, of TRIADELPHIA, County of OHIO, State of WEST VIRGINIA, who being duly sworn, declares in relation to the aforesaid claim that his age is 49 years; that he is the identical person who served as a CAPTAIN in Co. "C", 1st Reg't W.Va., Cav Vols., and knows the above soldier; who was a member of Co. "B", 1st reg't W.Va. Cav Vols. that on or about the 9th day of June, 1862, while in the line of duty, and without fault or improper conduct on his part, at or near PORT REPUBLIC, State of Virginia, said soldier incurred impairment of his hearing by concushion from an exploded shell. At the time this occured I was 1st Sergt of Co B and was present and engaged with the enemy. The shell from enemy exploded at the right of Co "B" wounding J. R. McCoy and killing my horse. I heard the claimant complaining of his head hurting him for several days after the fight. We messed together. On the 15th of June 1862 I was commissioned 1st Sergt. and transfered to Co. "C" which was with Gen. Fremont in the Shenandoah Valley and did not see claimant again for some months at which time he told me that his hearing in left ear was impaired. I have seen the claimant, I think about once a year ever since the close of the war and I have always noticed that in conversation he invariabl turns his right side to you and that he experiences dificulty in hearing you in any other position. I also know the claimant to be an honorabl, upright Christian gentleman.
Affiant further declares that he has no interest, direct or indirect, in this claim.
Affiant's Post-Office address is as follows: TRIADELPHIA, Ohio County, W.Va.
Signed by W. A. McCOY
---
Declaration for a Widow's Pension

State of Pennsylvania
County of Washington
On this 29th day of JANUARY, A.D. one thousand nine hundred and EIGHT personally appeared before me a Notary Public within and for the County and State aforesaid, HANNAH J. BOON, aged 71 years, a resident of WASHINGTON, County of WASHINGTON, State of PENNSYLVANIA, who, being duly sworn according to law, makes the following declaration in order to obtain pension under the provisions of th Act of Congress Approved June 27, 1890, as amended by the Act of May 9, 1900:
That she is the widow of HUGH P. BOON who was COMMISSIONED under the name of HUGH P. BOON at --- on the 6" day of AUGUST 1861, as a CAPTAIN in Co B. 1st WEST VA CAV VOLS. and honorably discharged JULY 8th 1865, having served ninety days or more during the late war of the rebellion. HE ALSO SERVED FOR THREE MONTHS IN CO E 12th PA INF VOLS.
That she was married under the name of HANNAH J. COOK to said soldier in CARRTON --? WASHINGTON CO PA on the 25 day of OCTOBER, 1866 by the REV R. V. DODGE; that there was no legal barrier to the marriage; that she had NOT been previously married...
That the said soldier died JANUARY 14th 1908, at WASHINGTON, PA; that she was not divorced from him; that she has not remarried since his death; and that she is without other means of supposrt than her daily labor and an actual net income not exceeding two hundred and fifty dollars per year.
That the names and dates of birth of all the children of the soldier, now living, and under sixteen years of age at the date of the soldier's death, are as follows: (If the soldier left no children, the claimant should so state.)
THE SOLDIER LEFT NO CHILDREN
That she has NOT heretofore applied for a pension.
That her post-office address is No. 21 Jefferson Avenue, County of WASHINGTON, State of PENNSYLVANIA.
Signed by HANNAH J. BOON, Claimant
Attest: E. G. CUNDALL & ANNA M. TEMPLETON
---