HIRAM ROBINETT, 2nd LIEUTENANT, Company "E"
---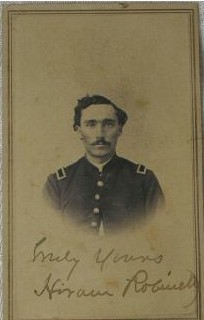 CDV owned by Linda Fluharty.
---
The following was submitted by Curt Robinette, grandnephew.
Hiram Robinett was wounded at Gettysburg and his left arm was amputated at the elbow by Dr. Capehart. After his resignation from the First W.Va. Cavalry, he enlisted in the *Veteran Reserve Corps and served until June 30, 1866. It is probable that the above picture was taken during this latter service.

Commission, Signed by Abraham Lincoln.

Hiram Robinett was born on 31 January 1843 in Waterloo Twp, Athens County, Ohio. His father was Ezekiel Robinett and his mother was Lucinda Gabriel. Hiram was the third child of five, preceded by Andrew Josephus in 1835 and Nancy in 1839, and followed by Charlotte in 1849 and Moses in 1851. Although little is known of Hiram's early life, it is known that his occupation at time of enlistment into the service was listed as farmer. It becomes obvious that he received some formal education, because correspondence in the possession of the author shows an ability to write and to spell. Hiram's mother died approximately 1857 and his father married Jane Swift Gibson, who was apparently a widow with 3 children of her own. Ezekiel and Jane's children were Sarah, Curtis and Minnie.

Hiram never married and on January 7, 1862 he joined the Virginia Mounted Volunteers as a Private. This organization subsequently became the West Virginia Cavalry where Hiram served in Company E, First Regiment. He enlisted for 3 years in Clarksburg, as indicated on his muster sheets. Hiram was promoted 1 March 1862 to Quartermaster Sergeant and then was promoted to 2nd LT. on Jan 18, 1863. Wounded in action at Gettysburg on July 3, 1863, "the wound aforesaid was received in line of duty and while nobly battling for the Flag of his country." Shot through the left elbow causing arm to be amputated the following morning by Surgeon Capehart of the First Virginia Cavalry. Spent some time recuperating in the hospital at Hanover, Pennsylvania. Discharged on Surgeons Certificate of Disability on October 28, 1863.




Letter of resignation

Camp 1st Virginia Cavalry
Near Gainesville Virginia
October 28, 1863

To: C.C. Snydaur
Capt & Asst Adjutant Gen Cav Corps,

Sir

I have the honor to tender the resignation of my Commission as 2nd Lieutenant, Company E, 1st Virginia Cavalry on grounds set forth in Surgeons Certificate - herewith enclosed.

I have the honor to be very respectfully your obedient servant.

Hiram Robinett




Hiram applied for and received a pension based upon his disability.

Certificate of Disability

I certify that 2nd Lieut. Hiram Robinett, of Captain Wm. N. Harris' Company "E" of the 1st Regiment of Virginia Volunteer Cavalry was enlisted by Capt Ham's of the 1st Regiment of the Va. Vos Cavy at Clarksburg, on the 7th day of January 1863, to serve 3 years (or during the War.) He was born in Ohio in the State of Ohio, is 21 years of age; 5 feet 10 inches high; dark complexion; grey eyes; black hair; and by occupation, when enlisted, a Farmer.

I further certify that I personally know of the following facts and circumstances connected with his disability: * While engaged in a Cavalry charge at the Battle of Gettisburgh, Pa., on the 3rd day of July 1863, he received a Gunshot wound through the elbow joint of the left-arm, causing amputation, which was performed on the morning of July 4th, following. The wound aforesaid was received in line of duty, and while nobly battling for the Flag of his country.

N. P. Richmond
Col. 1st Va. Vol.Cav.

* The Company Commander, or other commissioned Officer, will here add a statement of all the facts known to him concerning the disease or wound, or cause of the disability of the Soldier, ...




Declaration For An Invalid Army Pension

State of District of Columbia
County of Washington

On this 4th day of November one thousand eight hundred and sixty three, personally appeared before me, a Justice of the Peace, within and for the county and State aforesaid, Hiram Robinett, aged 21 years, a resident of Chauncey, Athens Co, in the State of Ohio, who, being duly sworn according to law, declares that he is the identical Hiram Robinett who enlisted in the service of the United States at Clarksburgh, Va., on the 4th day of January, in the year 1862, as a Private in company, E, commanded by Captain William W Harris, in the 1st regiment of the Virginia Cavalry, in the War of 1861, and was honorably promoted to a 2nd Lieutenant on the 18th of January 1863, and was honorably discharged on the 28th day of October, in the year 1863 by Special Order No. 189; that while in the service aforesaid, and in the line of his duty, he received the following disability: While engaged in a cavalry charge at the battle of Gettisburg, on the 3rd July, 1863, he received a gun shot wound through the elbow joint of the left arm causing amputation necessary; which was performed on the morning of July 4th following. He further declares that he was commissioned as a 1st Lieutenant on the 12th of August following but was not mustered into service on account of the loss of his arm as aforesaid - and that his post office address is Chauncey, Athens Co., Ohio - and I hereby authorize Stewart, Stevens & Co, of the City of Washington, D.C., to procure for me the Pension which I may be found entitled to under the Act of Congress, approved July 14th, 1862, and to receive and receipt for any certificate which may issue in my favor in connection with the above application.
Hiram Robinette

Also personally appeared N.P. Richmond, of Indianapolis and Henry J. Leasure, residents of Wheeling, West'n Virginia, persons whom I certify to be respectable, and entitled to credit, and who being by me duly sworn, say that they were present and saw Hiram Robinett sign his name (or make his mark) to the foregoing declaration; and they further swear that they have every reason to believe, from the appearance of the applicant, and their acquaintance with him, that he is the identical person he represents himself to be; and they further state that they have no interest, direct or indirect, in the prosecution of this claim.

N.P. Richmond, Col. 1st Va. Cav.
Henry J. Leasure, Lt. 1st Va. Cav.




Hiram went back on active duty on March 1, 1864 as a 2nd Lt. in the Volunteer Reserve Corps in Washington D.C.

*Veteran's Reserve Corps

Record Group 110 - Records of the Provost Marshal General's Bureau, 1863-1866

The organization of an Invalid Corps (IC) was authorized by AGO General Order 105, April 28, 1863, to consist of companies and, if desirable, of battalions. The companies were to be made up of (1) officers and enlisted men then in the fields who were unable to do battle because of wounds received, (2) officers and enlisted men who were in hospitals or other rehabilitative facilities due to wounds received, and (3) officers and enlisted men who were honorably discharged because of wounds received during battle. The IC was renamed VRC by AGO General Order 111, March 18, 1864, apparently because of the effects on morale of the confusion of the initial letters "IC" with the same letters when used by inspectors to mark condemned property (that is "Inspected and Condemned".)

At this point, it is not known how he served in this capacity but he received mail at 447 Pennsylvania Avenue, Washington D.C. He was honorably discharged on June 30, 1866 which indicates that he served well after the end of the war. In December 1866, he reapplied for his pension of $15.00 a month, retroactive to July 1 of that year.

Hiram apparently owned farm property that his father and step mother lived on with Charlotte and Moses. He lived there until his death on March 24, 1868 from pneumonia. He was 24 years, 3 months, and 25 days old at his death.

The Will of Hiram Robinett:

I, Hiram Robinett of Dover Township Athens County and State of Ohio do make and publish this my will and testament.

Item 1st. I give and devise to my beloved Father Ezekiel Robinett all of the farm which he now resides situated in Dover Township Athens County Ohio containing about 40 acres of land more or less during his and my Step Mother's natural lifetimes and all the stock and Household goods of every kind belonging to me. Also I give and devise to my father Ezekiel Robinett all monies on hand or may come to hand now due me or may come due hereafter.

Item 2nd. I devise and bequeath to my brother Moses Robinett my watch.

Item 3rd. I devise that at the death of my father and step mother that the property above devised to my father and step mother be equally divided between my brother Moses Robinett and my sister Charlott Robinett.

In testimony hereof I have hereunto set my hand and seal this 24th day of March AD 1868.

The Records of Death, Probate Court for Athens County, Ohio 1868, Volume 1, Page 6 states that Hiram died on March 24, 1868. Single. 24 years, 3 months, 25 days old. Place of death - Dover Twp. Place of birth - Waterloo Twp. Occupation - unknown. Mother and Father not listed. White in color. Pneumonia cause of death. Place of residence - Dover Twp, Athens Co, Ohio. Reported by T. H. Bingman, Minister of the Gospel.

Hiram is buried in Nye Cemetery, Chauncey Ohio. His tombstone is approximately 6 feet tall and resembles the Washington Monument. According to notes found at Ohio University Library in Athens Ohio, it was paid for "by his friends in Washington D.C. who held him in the highest regard."




Update by Curt Robinett, 11/12/01:

Beth White co-authored an article on the 1st West Virginia Cavalry in the Gettysburg Campaign which appears in Civil War Regiments. A copy of the article has not yet been obtained, but in it, she describes the wounding of Hiram (at the Devil's Den, I believe) at Gettysburg on the 2nd night of the battle. H. W. Berryman of the 1st Texas states in his diary that he was nearly overran by a cavalry charge, but he held his ground and killed a captain and wounded a lieutenant. She explains in the article that if Berryman wasn't exaggerating, the soldiers he was referring to would most likely have been Captain Harris and my uncle.
[NOTE: If Berryman did, indeed, kill a captain and wound a lieutenant of the 1st West Virginia Cavalry, the possibilites are limited by the fact that Captain Harris was the only 1st Cav captain killed and Lt. Robinett was the only lieutenant wounded. -- LCF]
---
This letter, obtained from the West Virginia State Archives, was written by Newberry W. Wheeler, Captain, Company "E," regarding the position of 2nd Lieutenant vacated by Hiram Robinett.
Camp 1st Virginia Cavalry, Near Stevensburg Va Dec 8th 1863

To his Excellency A. I. Boreman
Governor of the State of West Virginia,

Sir:
I have the honor to request your attention for a few moments on behalf of Joseph Humphrey 2nd Lieut of the 1st Regiment Virginia Cavalry. I trust your Excellency will pardon me for addressing you direct. On some occasions and at such times as the present it is very hard to get satisfaction through the Military channel. No difference as to the circumstances of the man, hence; I approach your Excellency. Joseph Humphrey has been Commissioned by your Excellency, 2nd Lieut to rank as such from the 12th day of August 1863, Vice Lieut Robinett promoted. By virtue of an order issued from the War Dept to take effect on the 20th day of June 1863. No 2nd Lieut can be mustered into the United States service if the company is short of the minimum number. Company E is short. Lieut Robinett was commissioned by your Excellency 1st Lieut, Vice Lieut N. W. Wheeler promoted. Lieut Robinett has been honorably discharged the service as 2nd Lieut. Now it is for your Excellency to say whether or not Lieut Humphrey shall be commissioned 1st Lieut to take effect from the 12" day of August 1863 or not, in order that he may be mustered and receive his pay. I leave the case for your consideration.

Yours Very Respectfully,
N. W. Wheeler
Capt Co E 1st Va. Cav

(Note: Humphrey was commissioned 1st Lt. to date 25 Nov 1863.]
29 Oct 2012: Curtis Robinette sent an Athens, Ohio newspaper that contains a letter written by Hiram Robinett to the widow of his friend and comrade, Sidney Knowles, who was killed at Gettysburg. The article is posted on Knowles' webpage: http://www.lindapages.com/wvcw/1wvc/1wvc-knowles.htm
10 Mar 2014: Curtis Robinett submitted this ADDITIONAL INFORMATION ABOUT HIRAM