EBENEZER B. McELROY
Company "B"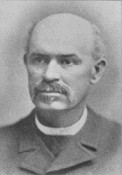 Ebenezer B. McElroy
(Photo & Info from Oregon Department of Education Website; used with permission.)
Ebenezer B. McCoy, the son of James and Mary (Smith) McCoy, was born 17 Sep 1841 in Washington County, Pennsylvania. He enlisted in the First West Virginia Infantry in 1861 and was discharged by Order the Secretary of War. In 1863 he enlisted in the One Hundreth Pennsylvania Veteran Volunteers. In 1873, he moved to Corvallis, Oregon. He was County Superintendant of Schools for 6 years and elected State Superintendant of Public Schools for three terms (12 years).

The wife of Ebenezer McCoy was Agnes McFadden, a grand-daughter of Alexander Campbell, the founder of the Disciples Church. They were married in Washington County, Penna., about 1869.

Name: Ebenezer B. McElroy, Superintendant, Oregon Department of Education
Tenure: Sept. 11, 1882 - Jan. 14, 1895

Ebenezer McElroy was born in Pennsylvania and was educated in the public and state normal schools of that state. He served in the Union army from 1861-65 and taught in Pennsylvania and West Virginia. After coming to Oregon, he taught in Corvallis from 1873-75. He was a member of the Corvallis College (Oregon State College) faculty and served as Benton county school Superintendent from 1878-82.

OREGON REPUBLIC LEAGUE:

Republican League Register of Oregon: The Register Publishing Company, 1896; page 243.

MCELROY, E. B. [Ebenezer Burton], of Eugene, was born in Washington County, Pennsylvania, September 17, 1842. His common school education was supplemented by a course at the State Normal School. He began his career as a teacher in 1861. In September of that year he enlisted in the First Regiment, West Virginia Volunteers, and served till 1863, when he re-enlisted in the One Hundredth Pennsylvania (Roundheads), and served till the end of the war. He then attended college two years, and subsequently taught school in Pennsylvania and West Virginia. In 1873 he came to Oregon and located in Benton County. He taught in the public schools, and in 1875, was elected to a chair in the Agricultural College, remaining till 1882, when he was elected State Superintendent of Public Instruction. He was re-elected in 1886 and again in 1890. Upon his retirement from office in 1895, he was offered and accepted a chair in the University of Oregon. He is a prominent member of the G. A. R., and in 1890 was elected Department Commander for Oregon.

The Research of Linda Cunningham Fluharty.
Charlott Jones of Hood River, Oregon wrote to say she had a copy of Captain James McElroy's account of The Battle of Port Republic. The document had been given to Charlott by Alicia Nolte when they both lived in Sherwood, Oregon. Alicia stated that Captain James McElroy was her great uncle.

Charlott went on to say that she didn't know how Alicia was related to the soldier.

As it turns out, Alicia Hunt Nolte was the granddaughter of Ebenezer McElroy, the brother of Captain James McElroy. And, as shown here, Ebenezer also served in the First West Virginia Infantry.

Ebenezer McElroy married Agnes Chapman McFadden, the daughter of Thomas McFadden, born 20 Dec 1822, and Alicia Chapman, born 11 Mar 1826.

From the West Virginia Adjutant General's records:

McELROY, Ebenezer - Enrolled Middletown, Pa.; 22; M/I 03 Oct 1861, Wheeling, W.Va. Farmer, born in Washington County, Pa. Transferred to the Band. Discharged by order of the Secretary of War, on account of disability. Date and number of order unknown.

1870 Census, Cross Creek Twp., Washington County, Pa.
53/53
Ebenezer McElroy, 27, Farmer, $1500, b Pa
Agnes, 21, Keeping House, b Pa.
Willie, 4 mos, b Feb, b Pa.

1880 Census, Cornwallis District, Benton County, Oregon
299/307
E. B. McElroy, 37, School Teacher, Co. Supt of Schools, b Pa
Agnes C., 32, Keeping House, b Pa.
Willis E., 10, Son, At School, b Pa.
Lucien G., 8, Son, b Pa.
Maggie M., 3, Dau., b Oregon

1900 Census, Eugene, Lane County, Oregon
Fifth Street
Ebenezer McElroy, b Sept 1841, 58, mar 31 yrs, Univ. professor, b Pa., parents b Pa.
Agnes, Wife, b Feb 1848, 52, b Pa., parents b Pa.
John Q., Son, b Sept 1880, 19, At school, b Oregon
Lillian, Dau, b Sept 1880, 14, at school, b Oregon

Ebenezer B. McCoy died 4 May 1901 at Eugene, Oregon. OBITS

His widow applied for and received a government pension. - See Pension Card, National Archives - & Newspaper Article

Warren John Hunt married Lillian McElroy 29 July 1909 at Multonomah County, Oregon.

At the time of the 1910 Census, Agnes McElroy, 69, was living with her sister, Alicia Bell Frizzell, in Salem, Marion County, Oregon. Alicia's husband was Jason Porter Frizzell. He died 4 Mar 1917, and she died 2 Sept 1938. Agnes McElroy died in Jan 1919. See OBIT 1 - OBIT 2

1910 Census, Salem, Marion County, Oregon
1770 State Street
Warren J. Hunt, Head, 23, Married 1 for 1 yr., Musician, b Ill.
Lillian McE., Wife, 24, 2nd marriage 1 yr., Musician, b Oregon, parents b Pa.
Agnes L., Dau., age illegible (2/12, 2 or 3 but known to be ALICIA born in 1910), b Oregon, father b Ill, mother b Oregon

1920 Census, Salem, Marion County, Oregon
Oak Street
Warren Hunt, Head, Rents, 34, Musician, b Ill, parents b Ill
Lillian, Wife, 33, Musician, b Oregon, parents born Pa
Maud Atlea, Dau, 9, b Oregon [Again, this has to be ALICIA]

The preceding residents in the census, but on Leslie St., are William H. and Julia Anna Hunt, both born in Ill. Likely, they were the parents of Warren Hunt.

It is not known if the Warren Hunt died or if he and Lillian divorced; the latter is suspected.

On 22 Nov 1925, Lillian McElroy Hunt married Byron J. Taylor in Benton County, Oregon. [Source: Book 9, Page 257b]

1930 Census, North Corvallis Pct., Benton County, Oregon
Byron J. Taylor, Head, Owns Home, $8500, 45, Hotel Clerk, b OR, father b LA, mother b MO
Lillian M., 45, Wife, Musician Opera House, b OR, Parents b Pa.
ALICIA HUNT, Step-daughter, 19, Stenographer State College, b OR (father's state of birth not stated)

Lilllian is buried at Corvallis and her name is engraved on the same stone with the names of her parents and other family members. PHOTO - PHOTO [Photos provided by Louise-Annette Burgess.]

Following the murder-suicide in 1932, Lillian's daughter, Alicia Hunt, married Howard Milton Nolte in 1933.




OBITUARIES OF ALICIA HUNT & HOWARD MILTON NOLTE

ALICIA H. NOLTE
Oregonian, The (Portland, OR) - July 16, 2002


A memorial service will be at 10 a.m. Friday, July 19, 2002, in Sherwood United Methodist Church for Alicia H. Nolte, who died July 14 at age 92.

Alicia H. Hunt was born May 27, 1910, in Salem. She was a homemaker who taught Sunday school for 51 years at Rose City Presbyterian Church. She moved to Portland in 1942, then settled in Sherwood in 1962. In 1933, she married Howard M.; he died in 1992.

Survivors include her son, Howard; daughter Eloise Halford; four grandchildren; and five great-grandchildren.

Remembrances to Sherwood United Methodist Church. Arrangements Attrell's in Sherwood.




H. MILTON NOLTE
Oregonian, The (Portland, OR) - April 30, 1992


H. Milton Nolte of Tigard, a retired insurance salesman, died of causes related to age Saturday in a King City care center. He was 79.

A memorial service will be at 2:30 p.m. Friday in Sherwood United Methodist Church.

He was born July 3, 1912, in Lakeview, where he was raised and graduated from Lakeview High School. He attended Oregon State College, now Oregon State University. He married Alicia Hunt on Dec. 23, 1933, in Portland.

Mr. Nolte worked in a number of fruit canneries in Idaho as a young man. After moving back to Lakeview in 1940, he and his father established the Nolte Inrurance Co. The following year, he moved to Portland to work as a recruiter for the Kaiser Shipyards.

After World War II, Mr. Nolte opened City Realty Co. in Portland. He later worked for the Continental Insurance Co. until his retirement in 1974.

In 1962, Mr. Nolte and his wife moved to Sherwood, where they raised Christmas trees and flowers for a number of years.

A skilled marksman, Mr. Nolte was a past president of the Oregon State Rifle Association and the Portland Rifle Club. He was a member of Sherwood United Methodist Church.

Survivors besides his wife, Alicia, include his son, Howard, and daughter, Eloise Halford, both of Portland; brother, Lawrence of Hillsborough, Calif.; sister, Lois VanWinkle of West Linn; and four grandchildren.

Disposition was by cremation.

The family suggests remembrances be contributions to the Sherwood United Methodist Church or to William Temple House.



(To Appendix B)