William Grant Cunningham 1,2
Born: 10 Nov 1865, Marion County, WV
Marriage: Nettie Florence Atkinson 4 Nov 1886, Ritchie County, WV
Died: 17 May 1937, Marshall County, West Virginia, at age 71
Buried: Mt. Olivet Cemetery, Rt. 88, Marshall County, WV


General Notes:
William "Grant" was a posthumous child, born in Marion County, WV, seven and one-half months after his father's death.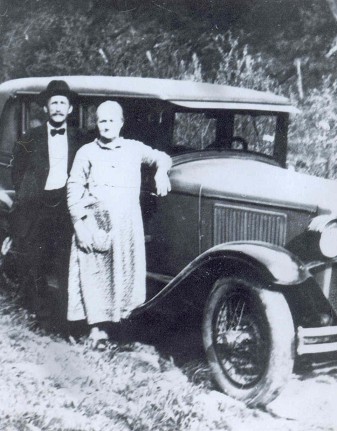 OBITUARY OF WILLIAM GRANT CUNNINGHAM

Wheeling, WV Newspaper

Former Truant Officer in Marshall County Succumbs Monday Evening

William Grant Cunningham, 71, former truant officer in Union district, Marshall County, and a retired millworker, died Monday evening at 7:10 o'clock at the home of his daughter, Mrs. William Tappe, Boggs Run Road, after a heart attack.

Mr. Cunningham was well known in the Union District where he had made his home for the past 32 years.

Born in Marion County, W.Va., a son of David and Rebecca Bollinger Cunningham, he had spent his early life there. For a number of years he was employed in the tube department, Benwood plant, Wheeling Steel Corporation. He retired a number of years ago and later was the Union District truant officer.

Mr. Cunningham was a member of the Methodist Church. He was affiliated with the Concord Lodge, No. 19, I.O.O.F.

Surviving are his wife, Nettie Atkinson Cunningham; two daughters, Mrs. William Tappe and Mrs. Cora McCardle, both of Boggs Run Road; eight sons, Elmer, John, Floyd, Herman and Harold, all of Boggs Run Road, James, of Wheeling, Elza, of Lynn Camp, W.Va., and Clyde Cunningham of Glen Easton, W.Va; 29 grandchildren and one great-grandchild.

The body was removed to the Tappe residence today from the Cooey-Bentz funeral home.

Services will be conducted at the residence Thursday afternoon at 2:30 o'clock. Rev. A. R. Bennett, pastor of Benwood M. E. church, will be in charge. Burial in Mount Olivet cemetery is to follow.



William married Nettie Florence Atkinson, daughter of George Templeton Atkinson and Sarah Agnes Britton, on 4 Nov 1886 in Ritchie County, WV. (Nettie Florence Atkinson was born on 27 Aug 1869 in Washington County, Ohio, died on 2 Nov 1944 in Marshall County, WV and was buried in Mt. Olivet Cemetery, Rt. 88, Marshall County, WV.)